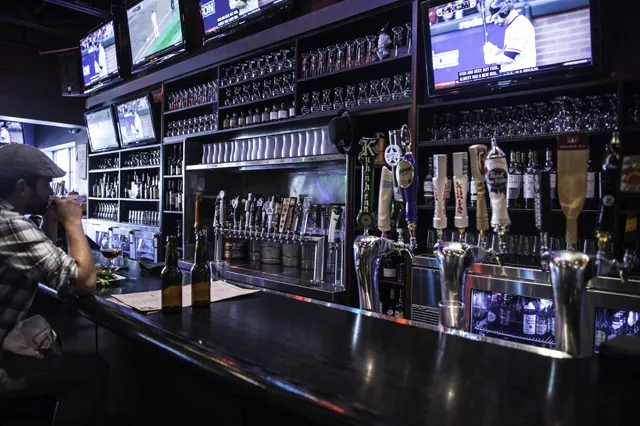 One Eyed Betty's Beer Bar and Kitchen
175 W. Troy Ave., Ferndale
248-808-6633
oneeyedbettys.com
Open 4 p.m.-2 a.m. Monday-Friday, 9 a.m.-2 a.m. Saturday-Sunday.
One Eyed Betty's hasn't even been open a year, but Ferndale residents have not been shy about showing the town's signature craft beer bar some love. With more than 44 different craft beers on draft and 100-plus different beers in a bottle, the hipster crowds that descend upon Betty's with regularity and gusto each weekend can sip their drinks contentedly knowing that those other, yellow, fizzy beers can't be ordered here.
The craft beer community will be happy to note several IPAs on the menu, like Dark Horse's Crooked Tree or Sam Adams' Dark Depths Baltic. You might also try the Soft Parade, a fruity beer from Short's or even root beer pulled the old-fashioned way — from a beer engine that sits on the bar.
But Betty's isn't just about the beer. Recently, they've started a promotion to get the word out about their impressive whiskey selection. Every night of the week, Betty's chooses a different whiskey and features it at $3. And they're not just picking the cheap stuff either. "We're taking quite a hit on it," Betty's owner, Beth Hussey, admits, "but we think by offering some of the more interesting stuff for $3, we can educate our guests and make people a little bit more adventurous in that department."
As Hussey will remind you, however, the name of the establishment is One Eyed Betty's Beer Bar and Kitchen, because they also serve a nice selection of gourmet bar food, all of which is either cooked with beer or pairs classically with beer (as with "oysters and stout"). One of their more famous offerings is the classic Bacon with a Side of Bacon — which consists of braised pork belly served with a thick cut of apple-smoked bacon and a fried poached egg. For dessert, try Betty's homemade doughnut and cruise over to one of the five pinball machines for a game.
If you're really serious about your beer (and your food, for that matter), you might consider getting tickets to one of Betty's (almost) monthly beer dinners. The folks at Betty's select a brewery (or a brewery selects them) and feature some of that brewery's special beers — "the highly allocated kind that tend not to be sent to bars to pour," Hussey says. Betty's chef then pairs a dish with each beer — which comes out to about five or six courses when all's said and done. As an added bonus, a brewery representative is on hand throughout the night to educate guests about the beer and the process behind each brew. Now that's tasty.