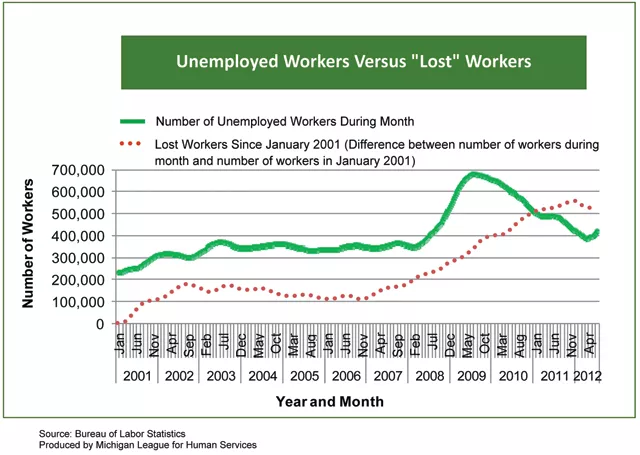 With Labor Day just passed, and the big parade behind us, News Hits is here to cast some dark shadows on any lingering afterglow you may be enjoying.
No need for thanks. That's what we're here for.
The news we bring has to do with Michigan's unemployment rate, which has been in decline since peaking at 14.2 percent in August 2009. In the three years since then, the rate has dropped to 9 percent.
That's still a depressing number, especially when compared to January 2001, when the rate was just 4.6 percent.
Even so, the rate has improved significantly in recent years. So, what's the problem?
Well, according to a report just released by the Michigan League for Human Services, even that 9 percent figure is deceptively encouraging because there are so many fewer people looking for jobs.
Back in 2001, when the unemployment rate was at 4.6 percent, the state had 5,189,000 workers. As of last month, the number of people in the workforce had shrunk to 4,661,632 a drop of more than half a million.
"In other words," as the report from the Lansing-based nonprofit explains, "Michigan's improving unemployment rate is driven less by an increase in employed workers and more by a decrease in unemployed workers in the total workforce."
As the report points out, there are several reasons why the number of job seekers has shriveled:
"Retirement of an aging workforce, unemployed or underemployed workers moving out of state to find work, and discouraged workers stopping their job search and leaving the workforce (in some cases to go to school or take care of children full time, in other cases retiring early and taking a financial loss, in a few cases becoming part of an underground economy, and in yet other cases just giving up).
"Regardless of the reasons, a workforce that is shrinking that rapidly is cause for concern."
As bad as things are in the state overall, the situation is far worse for African-Americans.
In fact, only 42 percent of the state's adult African-Americans age 16 and above are employed.
Which means that the state, "in addition to developing strategies for reviving Michigan's economy as a whole, needs to develop strategies for reviving the urban centers in which the majority of the state's black population resides," the report's authors contend.
Even if people are working, things aren't all that great for many of them. More than 10 percent of the state's working families were living in poverty last year. Twenty-seven percent of the state's workers are struggling to survive on the income from low-wage jobs.
Michigan also stumbles when it comes to gender equity, with the median salary for women $3.84 an hour less than what men are paid. That places Michigan eighth in the nine-state Midwest region and 40th nationally.
One reason for this, the report notes, in the number of Michigan women stuck in low-wage jobs.
So, what's the solution to making things better? In a word: education.
Which brings us to a second report recently produced by the Michigan League for Human Services and its partners in the broad-based Workforce Development Coalition.
That report, issued last month, makes its point clear in the opening paragraph:
"Employers choose to start up in, remain in, and move to states that can offer a pool of workers who are able to acquire in-demand occupational skills. Such an environment helps businesses thrive and grow and encourages them to stay in the state. Workers with in-demand skills have greater job security and mobility, more disposable income with which to support other businesses and, in some cases, they choose to start their own businesses. Investment in building the skills of the workforce to align it with the demands of current and future jobs is an important component of turning Michigan's economy around."
The problem is that there's been a disinvestment in this kind of training.
As the report points out, from the late 1990s to the early 2000s, Michigan put $80 million a year into funding adult education. Since 2004, however, such funding has been decimated, cut to between $20 million and $24 million a year. As a result, the number of students enrolling in and completing adult education programs has dropped significantly.
In other words, the state has been pursuing a course that hurts not only the individuals who would like to improve their own lot, but also the overall economic health of Michigan as a whole.
Restoring the funding cuts would go a long way toward helping put us on the road to recovery.
There are other common sense investments that would also help.
"Transportation from home to community college, a child care provider or a job is a challenge for many low-income workers in rural areas and urban centers alike. In Detroit, for example, many people need a car to drive from their home in the city to a job in the suburbs because there is not a regional transportation system. Child care also provides a challenge for low-income workers, and the cuts in subsidies for child care make it even more difficult. The Legislature should restore and strengthen the child care subsidy for low-income working parents. It should also consider transportation innovations such as light rail, regional transit systems and subsidized employer-sponsored transportation programs."
It's pretty simple, really. As a state, we can use tax money to help improve the lot of folks who are struggling to get by, and in doing so make things better for everyone.
Or, we can continue to impose austerity measures, including cuts to education funding, while at the same time handing out tax breaks to businesses. Do that, and our ship of state will no doubt continue hitting rough waters, with workers jumping to seek opportunity elsewhere or simply giving up completely.
Having just run the risk of seeing what's left of our brains explode from watching even bits of the Republican National Convention on the TV, we can tell you that the GOP is talking much about the need to grow jobs. But in their Ayn Randian worldview, the only way to do that is by cutting taxes, slashing the size of government and abolishing regulations.
Given the prevalence of this discredited philosophy on the right, the gloom and doomers here at News Hits have little faith that the conservatives now calling the shots in Lansing have either the will or the brains to put us on a course toward prosperity. That said, the authors of the Workforce Development Coalition report end things on a note of optimism:
"There is a growing consensus among policymakers, employers and service providers that Michigan must include addressing the skills needs of low-skilled adult learners in its strategy for building the workforce and turning the economy around. It is penny-wise and pound-foolish to cut funding for programs and strategies that facilitate basic skills development. On the other hand, investing in programs that build skills and reduce barriers to work will reap benefits down the road, as skilled workers have more disposable income to spend in the economy, pay more in taxes, and are less likely to need public assistance. These are investments in Michigan's future."
Gov. Snyder, are you listening?
News Hits is written by Curt Guyette. Contact the column at 313-202-8004 or [email protected]