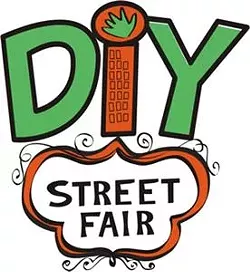 The three stages of the Ferndale DIY Street Fair operate from Friday to Sunday, Sept. 14-16, plus an added one-stage kick-off Thursday, Sept. 13.  Full details at diystreetfair.com. Here are just some of the bands performing. 
Lettercamp
Electro-pop genius from Björk-inspired locals who keep threatening to get huge. One of these days, they're gonna actually do it.
Smudge Candy
Kinda like a whole band of young Amy Gores, these girls revitalize the spirit of the all-girl Motown groups and add a healthy splash of pop suss and punk 'tude.
Loretta Lucas
The Sisters Lucas and Mirror Twin are on hold, and Loretta is going it alone for a while. Everything she's put her name so far has been great, so why should this be any different?
FUR
Moody Cure fans start a band, get songs on a few TV shows, and get increasingly better at writing tunes. This might well be one of the sets of the festival.
Old Empire
Hard rockers Old Empire say on their Facebook page that they "like to melt faces." That's pretty much what they do so get down in front for this lot.
Illy Mack
These guys create a smooth blend of funk, rock and hip-hop that doesn't sound at all contrived. If the sun's out, Illy Mack will be the perfect festival band.
Javelins
Experimental indie rock from these avant-garde Velvet Underground fans. Don't expect sing-along tunes.
Ryan Allen & His Extra Arms
Taking a break from Destroy This Place (who are playing the festival pre-party on Thursday), Allen is breaking out his solo project for his hometown festival.
The Strange
Garagey, dancey, heavy goodness from these sex-obsessed rockers.
Child Bite
They can play jazz, they can go hardcore punk crazy, but Child Bite always sounds like Child Bite, and that's good enough for us.
Electric Graffiti
Like a punk Debbie Gibson, these incredibly young girls will bring a burst of energy and simplistic, catchy pop songs that only the most cynical will hate. It's a festival, damnit. Soak it up.
Bars of Gold
Curveball punk rock that sends the listener one way before dragging them in another direction entirely. They'll kick you in the face, and you'll thank them for it.
The Barrettes
Want to hear a female a cappella group that merges Metallica's "Enter Sandman" with the Chordettes' "Mr. Sandman"? Voilà.
Augie & Korin
Not the Hard Lessons, but the two main peeps, suggesting that this will be an acoustic set. Whatever, it'll be interesting.