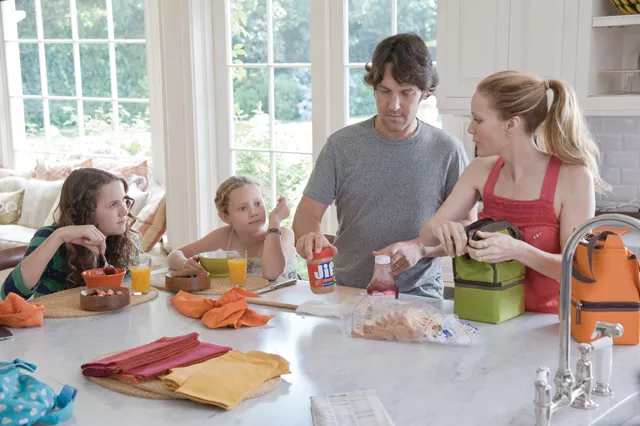 This Is 40 | C
Essentially a lengthy home movie about the fabulously successful and esteemed comedy director Judd Apatow and his photogenic family, This is 40 instead casts as its lead the more handsome and endearing Paul Rudd. Apatow's real-life wife Leslie Mann, and their daughters Maude and Iris, play very thinly disguised versions of themselves. And since the travails of movie moguls and actresses aren't usually very sympathetic to audiences, Apatow has recast his perpetually squabbling lead couple as, respectively, the owners of an indie record label and the proprietor of a trendy, funky little Melrose Avenue fashion boutique. You know, just like regular folks.
There is no real plot, just a varyingly amusing collection of snapshots, leading vaguely toward a touchstone joint birthday party that neither member of the lead couple seems all that fired up for. Faced with mounting debt, creeping middle age, marital ennui and the daily struggles of parenting, Pete (Rudd) and Debbie (Mann) squabble, moan, complain and then squabble some more. There are no minutiae too small to bitch about, no messy detail too intimate to zoom in on. We are treated to scenes of Debbie's OB/GYN exam and her colonoscopy, and extended shots of Pete, on the toilet, where he retreats to play online Scrabble, in a vain attempt at privacy. 
There is a profound tone deafness to This is 40, yet another overly long, overly whiney and overly crude exploration of Apatow's bloated ego, coming on the heels of the overly long and messy intimacy of Funny People, and the endless, oversharing scatological cutesiness of Knocked Up, which this movie is ostensibly a sequel to. I say ostensibly, because Pete and Debbie originated in the earlier film, though none of the other characters appear, most glaringly Debbie's sister, who was played by the singularly grating and divisive Katherine Heigl, which may explain why she doesn't pop up here. Fortunately, some actually talented people show up, such as Chris O'Dowd and Melissa McCarthy (both of Bridesmaids' fame), Robert Smigel, oddball comic Charlene Yi and, all too briefly, Judd's wunderkind protégé Lena Dunham (Girls). Hell, there's even good work turned in by sexbomb tabloid disaster Megan Fox, as Debbie's sneakily clever nympho employee. Albert Brooks does wonders as Pete's mooching, neurotically needy but warm dad, a good counterbalance to Debbie's aloof, absent patrician father, nicely underplayed by John Lithgow. A subplot about Pete's efforts to market a comeback by cult '70s power popster Graham Parker seems mostly an excuse for Apatow to pal around his idol.
Nice as the supporting players are, they're just distractions from more exhausting bouts of kvetching from Rudd and Mann, who grumble about their sagging breasts, bad habits, career disappointments and how their apparently storybook lives would be even better with more cash. Oddly enough, Apatow's films would probably be better with less cash, as fame has come with a lack of boundaries, or anyone who'll tell him to trim down his excessive, only moderately funny feasts into more digestible bites. mtTHIS IS 40| C