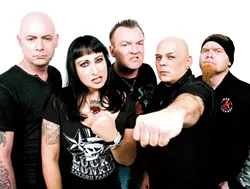 60 Second Crush plays the Magic Bag on the Last Rites Tour on Friday, Dec. 7 with Superlast; 22920 Woodward Ave., Ferndale. 248-544-3030. The band plays the Blind Pig in Ann Arbor on Saturday, Dec. 15, and Rack n Roll in Riverview on Friday, Dec. 28.
When 60 Second Crush formed 15 years ago, it is unlikely that the core trio of bassist Dana Forrester (also of fetishy industrial band Crud), guitarist Peder Seglund and vocalist Tommy Harman would have envisaged that the groove-based heavy metal beasts still be around a decade and a half later. After all, their very name suggests brevity. But survive they did. As band members and musical styles came and went, 60 Second Crush stuck it out, releasing four well-received albums, getting their tunes on a ton of TV shows and picking up an armful of Detroit Music Awards for Best Hard Rock/Metal Act along the way. It's all over now though. Kinda.
Harman has decided that he's done with this "being in a band" business and wants to go the regular-life route. The remaining members, completed by drummer Ryan Schimming and guitarist Brent Hall, are sticking together in an as-yet unnamed new outfit, but it certainly won't be "60 Second Crush with a new singer" (although they are getting a new singer: Robert Libres, formerly of Mansfield Park).
Harman will inevitably be missed. The frontman came from a punk rock background, and he added a slab of bulldog punch to the metal band. When the Crush cites their influences as including the Stooges and the Clash, Harman is bringing that sleazy grit. "Tommy really is the consummate frontman," says Forrester. "I rocked with Rob Tyner from the MC5 when he was alive, and currently [Sponge man] Vinnie Dombroski in Crud. I think Tommy's up there, one of the top frontmen in Detroit. He just really brings it to every show. Every show with him is personal. He brings 1,000 percent — the energy, the performance and the vocals. It's so much fun."
So, Mr. Harman, why the split? "It's time," he says. "There's not really any drama or anything like that involved. I just thought that it was time for me. We've been doing this for 15 years. I'll miss performing. I won't miss the people because I'm sure we'll remain close. But stepping on stage and performing – that gets in your blood."
60 Second Crush has toured Europe twice and played venues as prestigious as the Viper Room in L.A. and the now-gone CBGB's in NYC, but Seglund says that the most memorable gig was in Mexico. "We played Mexico for the year Y2K and we actually won a contest of some sort by a name brand radio station," the guitarist says. "We had this beautiful contract written out, so we thought, 'Hey, what could go wrong?' The promoter thought that because it was Y2K and everything was supposed to go sideways with the computers, Mexico would be a great place for the show because nothing works there anyway. We end up there in the middle of the night and outside of the show, with nobody around, there was a burning bush. It was literally like Moses, and we should have taken that as an omen. We get inside, and it looked OK at night. However, the accommodation was literally huts. The drummer pulled back the sheets and four spiders ran by, plus the heated shower was a bag of water in the sunshine and you had to allow an hour between people to let the sun heat the water. It was a gravity shower. The reservoir was a toxic cesspool. Finally, the show was delayed. I had to strong-arm the guy at the gate for $367 and that was everything the guy had in his pocket."
Harman laughs like a goon when recalling a particularly riotous Whitney Garden Party. "We were probably a band about two years in, maybe three," he says. "We got banned from the Whitney Garden Party for lewd behavior. We were all drinking and had a good time with it. That stood out to me. We were just having fun, but I think we got props in Detroit for that. Maybe four weeks later, we played downtown Ferndale at an outdoor festival, and we were approached by the city council and told that they expect a clean show from us."
"One time in Germany, they thought we were the Red Hot Chili Peppers," says Forrester. "I'm not kidding. I don't look like Flea at all. We toured with this band called Megaherz, who are like Rammstein. Huge in Germany. Backstage they would have canisters of oxygen to re-energize after the gig. Playing in Amsterdam with table bongs was also very odd, playing clubs with hazy weed smoke and a menu to order from."
Seglund says that, when all is said and done, he's most proud of all the TV play that the Crush managed to get. "The fact that people find a product we created worthy of commercial marketability," the guitarist says. "Every few months we'll get a royalty check, which isn't huge, but you see that it's been played in Japan and Brazil, places you didn't know you were played. That's fun, that these people we don't know about are listening to our music in the background of shows. It was a viable product. We always saw ourselves on Tarantino films and B-movies."
All of the Crushers agree that they want the band to be remembered as an outfit that did things their own way, Sinatra-style. "We booked our own tours, we toured Europe, we played SXSW, we played the Rock and Roll Hall of Fame three times, we enjoyed doing it and we think our fans enjoyed it as much as we did," says Forrester. "We had so many shows when we invited fans on stage. We're getting a lot of feedback on Facebook about how much fans are going to miss that. It's just a big rock 'n' roll family. I think that's what kept us together for 15 years, and what we're all going to miss the most."
"We've seen the 'it' bands come and go, no disrespect to anyone," adds Harman. "Detroit has a great music scene, but we've seen bands come and go over two or three years and then they're off to another one. Longevity – we've stuck around for 15 years. We never jumped on any bandwagons. We played our music our way."
60 Second Crush is playing three local shows — the Last Rites Tour — before calling it a day, and Seglund says that guitars will get smashed. "It's going to be an event like we always had, but even more so now," he says. "The pressure is off now that the press is out and there's no going back. There will probably be some guests from the bands we hang with. We'll go out with a bang, and wish each other well. That's the best way to go out."
So what of this new, forthcoming project? "We hope to do a Velvet Revolver out of the ashes of Guns N' Roses sort of thing," says Seglund. "All of the band is staying together – we have a good relationship."
"The new singer [Libres] is like Myles Kennedy meets Chris Cornell," adds Forrester. "Tommy is more like Ian Astbury meets Iggy Pop. They're different animals."
Finally, the moments before a band's breakup are obviously the best time to ask about a potential reunion. Harman isn't ruling it out. "Never say never," says Harman. "Things are open. If something would develop, I'd definitely be on board with something like that for sure."
Goodbye 60 Second Crush. For now.
Brett Callwood writes for Metro Times. Send comments to [email protected]