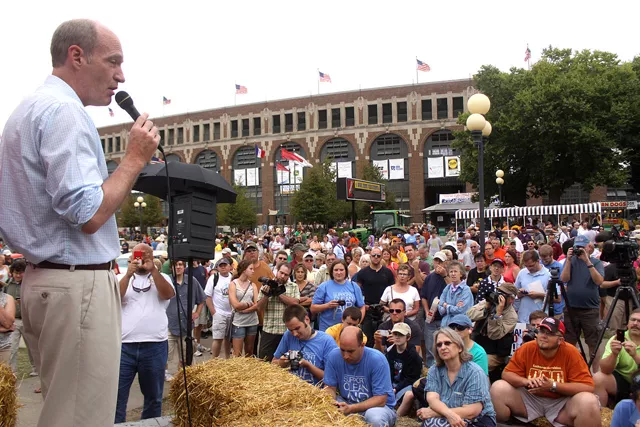 There is, in fact, some new evidence that this may be so, based entirely on hard data and their own testimony. Just before the primary election last week, I watched all three contenders for the GOP U.S. Senate nomination on the PBS show Off the Record.
Nothing really surprises me anymore, but to my mild astonishment, they all said that God, indeed, wanted them to run. Randy Hekman, a forgettable former judge from some forgettable west Michigan place, pretty much said God told him to run.
'Pistol' Pete Hoekstra said that the night he lost the primary for the 2010 governor's race, he and his wife knew it meant God had another plan for him. Clark Durant agreed God wanted him to run, too, but it wasn't clear whether he had confused God with Adam Smith, or if they were one and the same. Anyway, I was deeply fascinated to see how the Good Lord would hash all this out.
Frankly, I assumed that what this meant was that Michigan would end up, thanks to divine intervention, with three Republican senators, and that Debbie Stabenow and perhaps Carl Levin too would be cast into the lake of fire, or, maybe worse, the lake of Erie.
But God works in mysterious ways. Hekman didn't realize that Jehovah apparently wanted to humiliate him, which He indeed did. Way more than 90 percent of people casting ballots in the primary voted against Hekman. He even finished behind another religious nut, Gary Glenn, who was still on the ballot even though he had followed what were presumably God's instructions to drop out and support Durant.
Durant, the intellectual powerhouse of this group, mostly thanks to a subscription to National Review, managed to lose every county in the state, even his intellectual mecca of Hillsdale.
Hoekstra actually won the primary easily, but sources close to heaven indicate that was only because Yahweh wanted to give him the biggest humiliation of all, which is to be crushed by Debbie Stabenow in November, which all polls indicate he will be.
Ah, the Lord works in mysterious ways. But if the Great One indeed doesn't like Republicans, there shouldn't be any great mystery as to why. They don't like the rest of us very much, and tend to think rules were meant for other people, not them. 
For example, consider what happened in last week's statewide primary, a scintillating affair in which four out of every five citizens who were registered to vote didn't bother to show up.
Suddenly, however, word came that some voters were being denied ballots. Secretary of State Ruth Johnson had ordered clerks not to allow people to vote unless they were willing to answer a question on their ballot as to whether they were a citizen.
Rich Robinson, president of the nonpartisan, nonprofit Michigan Campaign Finance Network, wasn't allowed to vote after he refused on principle to answer it. "I was quite sure the Department of State was asserting a right it did not have to deprive me of my fundamental rights as a citizen," said Robinson, a citizen since birth.
"Not even an elected constitutional representative can promulgate laws ad hoc to deprive citizens of their rights. I had to stand for the rule of law," he added.
What makes this especially astonishing is that the Legislature passed a law requiring the citizenship test this year — and Gov. Rick Snyder vetoed it last month! He said it would cause confusion at the polls, and our job was to make voting easier, not harder.
Ruth Johnson wasn't happy about that veto, and so she decided to do what every radical leftist and petty crook does with laws they don't happen to like; she just ignored it.
But the standard wasn't universally applied. Some people were forced to say they were a citizen; at other places, nobody apparently asked. (When I got an absentee ballot the week before, nobody asked if I was a citizen. A friend who had knee surgery just had her city clerk's office send her one, apparently not worried she was really Rosa Luxemburg hiding out in Oakland County.)
With complaints coming in and the media taking up the case, our not-ready-for-prime-time secretary of state then issued a new set of instructions the afternoon of Election Day. If somebody refused to answer the citizenship question, the election workers were to read this sentence to them: "Under the Michigan Constitution and election laws you must be a citizen of the United States in order to vote."
Then they were to give them a ballot.
If you think this all sounds stupid, it is. Asking voters at the polls about citizenship is meaningless, because you have to be a citizen to register to vote. There's also no record of significant voter fraud in this state. Johnson, who clearly needs a course in time management, said she examined more than a million presidential primary ballots and found two improper ones.
What really is going on, of course, is a classic, if ham-handed, attempt at voter intimidation by Republicans. The idea is to scare poor or uneducated or newly naturalized citizens away from voting.
They tend to vote Democratic, you see. Interestingly, we didn't hear a peep out of Johnson when Republican state Rep. Roy Schmidt and Speaker of the House Jase Bolger tried to rig an election.
Schmidt tried to pay some grocery clerk to falsely say he was a Democrat and lived in the district, and then put his name on the ballot. The Republican prosecutor in Kent County somehow decided that wasn't illegal. For all her pious concern about election fraud, Johnson never said a word, so far as I can tell.
Remarkably, she says she will insist on doing some version of her asinine citizenship test again in November, when close to four times as many people may vote. Or maybe not; a coalition of nonpartisan groups may sue to make her stop.
Looking at this as the theologian I now am, all I know is that Republicans better clean up their acts. We have a vengeful God out there. Friday night, he racked up L. Brooks Patterson in a car wreck that broke both his wrists. Later, Jesus told me the only reason he wasn't killed was that at least Brooks doesn't beat up on gays.
Just askin': Michigan Attorney General Bill Schuette has announced a whole host of charges against four aides to former U.S. Rep. Thaddeus McCotter, who was knocked off the primary ballot after his petition signatures were found to be fraudulent. Schuette had fairly harsh words for his fellow former GOP congressman:
"He appears to have provided no guidance, no supervision whatsoever to his staff members, and as a result, the McCotter crew acted as if they were above the law, that the law didn't apply to them."
But what about McCotter himself? Not only was he responsible for this mess, he walked away from his job, meaning the people have to spend $650,000 to hold a special election to fill a seat in Congress for less than two months. What charges were filed against him?
None, of course. Relieved, the guitar-playing egomaniac refused to talk to the press, but did issue a statement. "For my family and I, this closure commences our embrace of the enduring blessings of private life." 
"Was that all?" you might ask.
Whatever happened to the idea of ultimate responsibility, the idea our leaders used to have that the buck stops with them???
Hahahahahahahahaha.
Jack Lessenberry opines weekly for Metro Times. Send comments to [email protected]