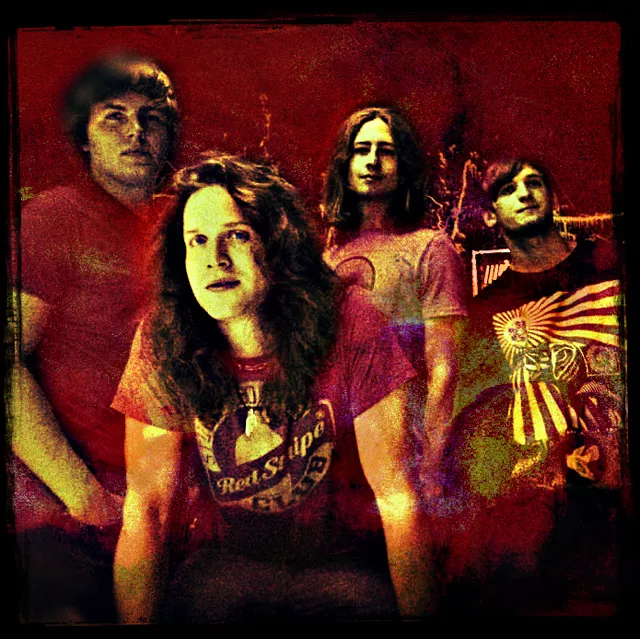 On Thursday, Oct. 25, the  Red Stone Souls play Callahan's Bar and Grille, 2105 S. Boulevard, Auburn Hills; 248-858-9508; wsg Soleil Moon.
What is it about the 1970s that has such a hold on so many young musicians of today? We blame Cameron Crowe and Almost Famous although, to be fair, a lot of great music was created in that decade, from Sabbath to the Stones, Elton John to the Ramones. The fact that it was followed by the disposable '80s definitely helps the  cause of the '70s in the "cool" stakes.
Taking retrospective note are the members of Red Stone Souls, a group of 23-year-old, Fenton-based rockers who stop short of saying that they wish they were born 40 years ago, but only just. The Red Stone Souls has actually only existed under that name for about six months, though the same lineup (singer-guitarist Ian Kirwan, guitarist Beau Felix, bassist Kevin Bernard and drummer Travis Erickson) existed previously as the NiNeS.
"It derived from a former project that me and Kevin had," Kirwan says. "We were in bands together for four or five years, one called the Midnight Rendezvous. Before that, I was in '80s hair bands in high school. After doing Midnight Rendezvous for about six months, we wanted to get into a garage blues thing as Kevin and I are big fans of the Black Keys and the Red Hot Chili Peppers. We got to do a little more of what we wanted when Beau got out of college. By that time, we were called the NiNeS."
Previously obsessed with '70s (and earlier) blues and blues-rock, the band really found its sound when it allowed a few contemporary influences to creep in. Now, Kirwan describes the sound of the band as, "roots, fuzzed-out blues. Definitely a '70s influence, but with a modern twist to it. You can't be a '70s band in 2012, no matter how much I want to be. We're marketable, but I still have my heavy side. We keep it groovy, and you can understand the words."
Beau Felix is quick to point out that Beau is, in fact, his real name and not a rock 'n' roll stage name, though he admits that it is a happy accident. He joined the NiNeS when it was a Grand Funk-influenced power trio and it is his versatility as a backing vocalist, lead guitarist and keyboardist that has taken the band to the next level. "I grew up on the Beatles, so I'm big on George Harrison and John Lennon," he says. "Also ELO and the '60s and '70s early psych rock, and the Stones, from '68 to '74. Some hair metal bands too, as Ace Frehley [of Kiss] was a childhood hero with those riffs."
The band is doing this interview very soon after playing a triumphant headlining show at the Millennium Room in Ann Arbor, and Kirwan, still buzzing, firmly believes that the show represents his band's biggest achievement thus far. "We've played in front of bigger crowds before when opening for big bands coming into town, but it's different when it's your crowd," the frontman says. "We had 275 people in the Millennium Room. We got three party buses and drove people down from East Lansing, from Pontiac, and from Hartland, and got great support. We have a great fan base, great family and everything, and we're starting to snowball a little bit. It really paid off this Friday, after a couple of months of promotion. That was probably our biggest achievement as this band so far."
However, it was a night opening for metal-heads Fuel at the Machine Shop in Flint that Kirwan believes is the band's wildest rock 'n' roll night up to now. "We were the NiNeS at the time but it was this same lineup," he says. "We played in front of 580 people, sold out at the Machine Shop. Twenty seconds before we went on stage, I realized why I wanted to do this for a living. Just the sound of the crowd and everything. We went out there and they just erupted from the front to the back. We probably had 100 of our fans there, but Fuel brings a huge crowd. It was another level for us. I don't really get nervous normally, I get anxious. But I got nervous that night."
"It was cool playing at St Andrew's in Detroit," Felix adds. "I didn't think we'd be playing there so quickly. That was a couple of months after I joined up. We played with Kenny Olson, who wrote and played with Kid Rock."
The humility projected by these boys is impressive, and they know that they are going to have to work hard at their craft to get anywhere. As James Taylor once said, "music is a blue-collar profession." 
"We had a show just before the name change, playing at some dive," says Kirwan. "The Lions were in the playoffs and there was a snowstorm. We played to ourselves and whoever we had in the cars with us. That shit happens though. We think of it as an orchestrated practice. I don't mind the occasional intimate night."
They're not above groupies though. Or band-aids. "They aid the band," says Kirwan. "Our girlfriends are great, we can't thank them enough for what they do for the band. Kevin and Travis have got all their groupies following them around. It's always a good time for sure. At least there's some eye candy at the shows."
Both Kirwan and Felix agree that the Black Keys or Jack White would be an ideal act for the Red Stone Souls to open for, as all share a love for fuzzed-up, fucked-up blues-rock. "John Q Public always says that we sound like the Black Keys," says Kirwan. "That'd be awesome. If the Stones ever got on tour again, that'd be sweet. Any of the '70s bands."
For now, the guys are keeping their ambitions low-key. "Ten years from now, if we had a couple of CDs out and I was making a living doing this, that'd be amazing," Kirwan says. "To me, 'making it' isn't being a millionaire and living in a mansion; 'making it' is making a living playing guitar. Pay for the roof over my head, pay for my food and my family. Just get up in the morning, go to the studio, go on tour — that'd be making it to me. That'd be unbelievable."
This week, the Red Stone Souls play Callahan's in Auburn Hills and, while the guys don't know exactly what the night will offer, they promise a great set. "It'll be us and Soleil Moon," says Kirwan. "It's our first time there so I don't know what to expect. Obviously you're going to get a great show from us. Maybe there'll be some new songs or a new cover or two. We have a lot of loyal fans who come to a lot of shows, so we try to keep them interested with something new and fresh. There'll be some cool things happening. It's an awesome room and we have to take advantage of that."
Finally, we ask Kirwan where the band got that name. "We named the band Red Stone Souls after this old bar in Detroit called the Red Stone Lounge that they shut down in the late '60s," Kirwan says. "My grandpa and Beau's grandpa used to get into fights there back when Detroit was thriving."
Ain't that sweet?