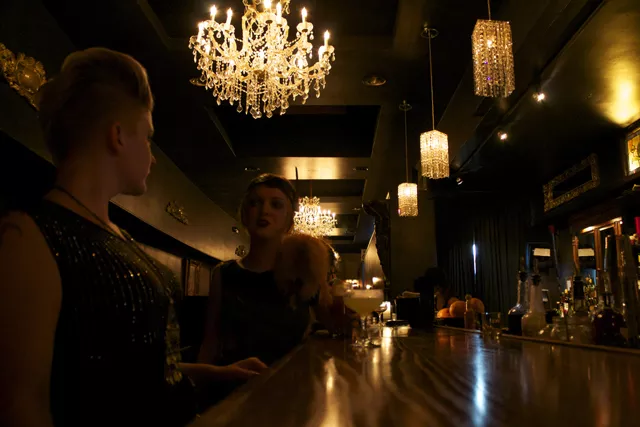 The Oakland Art Novelty Company
201 W. Nine Mile Rd., Ferndale
248-291-5295
For a few years now, metro Detroit has seen coastal cocktail culture slowly creeping in from the coasts. From the East Coast comes an emphasis on classic recipes and exclusive, almost candlelit interiors; from the West Coast, it's more an emphasis on fresh ingredients and complex flavor profiles. Luckily, we seem to be getting the best of these two worlds, as cocktail joints informed by both trends have opened their doors this year, such as Detroit's Sugar House in Corktown, and the Oakland Art Novelty Company in Ferndale.
The Ferndale spot, better known as "the Oakland" to its guests, is the creation of thirtysomething husband-and-wife team Sandy and Heather Levine. Sandy Levine says the genesis of the Oakland dates to 2007, when, having moved back to metro Detroit after traveling with his wife quite a bit in their 20s, he couldn't find one bar or liquor store that had absinthe or rye. The two had been a wee bit spoiled by the resurgence of the cocktail on the coasts, and so they opened the Oakland in July of last year.
It's a moody, atmospheric spot decorated with candles and chandeliers a la the 1920s, which Levine calls "arguably the most stylish of any time. It creates a special atmosphere. When we were doing build-out and design, we were inspired by bars in New York and Chicago that had an element of not just nostalgia but timelessness. For instance, there aren't windows, it's very dark. We play specific music that's not necessarily all old but we try to create an environment where you forget about the outside world."
The intention to create a haven away from the modern world means low music and no TVs. With few distractions, good chatter has a way of blossoming. 
"That's a huge topic in terms of feedback. People say, 'It's nice to be in a bar where I can talk to my friends and actually hear them.'"
To preserve the mood they've worked so painstakingly to create, the Levines do have some house rules that are slightly more involved than at a typical bar. Guests must be seated to be served. Sometimes, as with large parties, that can cause problems, but it certainly is appealing to sit at a bar and not have customers standing behind you, shouting orders at bartenders. The Oakland also discourages cell phone use, because, as Sandy Levine puts it, "your guests would value your company more than your mobile device."
While most customers appreciate the rules, there has been some push-back. "No question about it," Levine says, "some people resist the house rules. The biggest one is our seating policy; we stick to it. And if you use your phone, please do it quietly. And about being able to hold your liquor and not being rowdy and raucous, most regulars are into that. Of course, there's a small group of people that are against that. We get online reviews occasionally that say, 'I don't want to be told what to do when I go to a bar. I want to shout and be rowdy.' Well, we go to those dive bars mostly patronized by people like that. But we want to provide a more relaxed atmosphere where you can have a classy drink, be able to hold your liquor, and taste what you're drinking and savor it — instead of gulping and chugging, which certainly has its place."
Levine continues, "There are 1,000 different ways you can do a bar and all 1,000 have some element of merit and can create a cool place. There's nothing wrong with having a sports bar with 1,000 TVs. We just feel this is one sort of bar that was underrepresented here."
In a way, the Oakland is more than a bar: It's a social experiment, trying to push people a little bit to expose themselves to things they haven't had 1,000 times before.
"Sometimes people say something about the drinks being a bit more expensive," Levine says, "but we try to make up for it by making them strong. And with vermouth that's, say, $25 a bottle instead of $3, hopefully it makes a difference by tasting better. It makes a big difference when you start with fresh ingredients and better spirits.
"We don't keep any soda — except homemade — no Coke or Red Bull, no cranberry juice. ... Basically anything that comes in a box or a jar, we don't have. All the juices are squeezed daily, we make the syrups and bitters in-house here. There are a couple drinks we even scrape our own fresh nutmeg over the top of. Our Manhattan even has real maraschino cherries, grown on a farm up North and soaked in Maraschino liqueur. Any one of those things may or may not make a difference, but when you do seven or eight things right together, I think it makes a difference."
Having tried the Oakland's Manhattan, we can assure you of its excellence. After finishing off one of these creations, we wished we could strike every so-called Manhattan we'd ever tried. After the second one, we forgot where we were. These drinks weren't cheap, but they were worth every penny. And, as the success of the Oakland shows, quality — in product and environment — is something today's drinkers are willing to put a premium on. —Michael Jackman