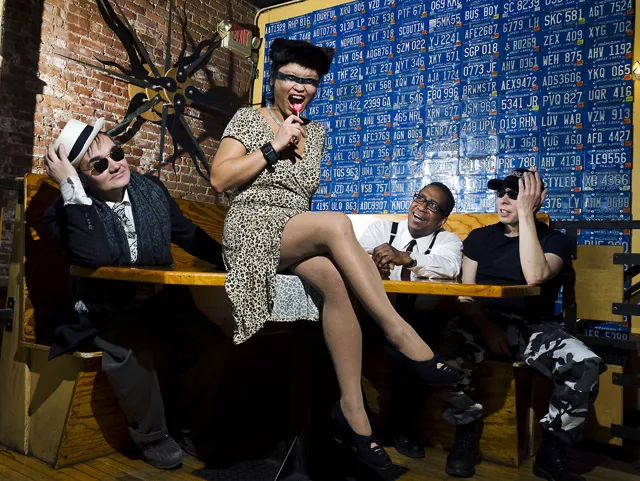 Jeecy & the Jungle's Twist and Scream Psycho Circus, celebrating the release of the EP of the same name, features Six & the Sevens, Phantom Cats, the Crooks, Steffie & the Dirty Virgins, burlesque by Chloe Bowie, Detroit Circus performers, the Retro Girls and Eddie Baranek. It's all at the Magic Stick, 4120 Woodward Ave., Detroit; 313-833-9700; doors are at 8 p.m.; $7 21 and older, $9 18-20. 
Gerald Collins says he just wanted to take old-school rhythm & blues and "try something modern with it." 
That resulted in a magnificent mutation of herky-jerky, soul-splintering, prog-boogie jams rocked by local quartet Jeecy & the Jungle. 
Local audiences were immediately astounded, discerning ingredients as disparate as King Crimson, Bad Brains, James Brown and the MC5. Wait, what's this? Rhythm & garage? New wave & blues?
"I feel like sometimes if you can recognize what the influences are," singer-guitarist Collins says, "then it's time we throw in a couple more." Just to keep throwing listeners for a loop.
The element of surprise is integral for Jeecy & the Jungle. They baffled crowds at their debut during Blowout 2011 with their erratic elegance. Here was a group no one had heard of just tearing it up, at floor level. People were jostling to get closer and closer to the action. Given that presence, it sounds odd when Collins says he "tricked" his bandmates into joining the group.
Bassist Raquel Falcon, drummer Dana James Ares and keyboardist Paul P. Meyers were coaxed by Collins into rehearsing a few songs he'd prepared for a special one-time-only jam at his New Year's Eve house party, dubbed the "Party of the Century." Former WDET music host Ralph Valdez recalls the insanity of a "houseful of people crammed into a small basement" with "TV monitors covering the performance set throughout the house for people he couldn't fit downstairs."
"He's thoughtful like that," quipped Valdez, who played bass with Collins back in the early '80s in their new-wave-punk project the Algebra Mothers, "Not to mention, he's sometimes overly ambitious."
With Collins feeling so good about this new group, "all of them from different parts of my life," he angled for a spot on the forthcoming Blowout festival. Falcon was "so moved" by the "instant connection" and enthusiastic response "that we thought something was being pumped into the room through the vents or something." 
Falcon half-joked that her initial onstage makeup (big band across face at eye-level, recalling Daryl Hannah in Blade Runner) was preemptive disguising just in case that show went bad. Surprise — it was a marvel. 
"So we said: 'Maybe we should keep doing this,'" Collins remembers, "and we went into overdrive. I said, 'I'll see how long I can keep these guys on the bus before any of them realize: 'Hey...I wasn't supposed to be doing this. ...'" 
Valdez said Collins seems "drawn to the idea of a band being a fun family of unique people," each representing "a different gender, race, sexuality, musicality, worldview or whatever" and each adding something special to the mix. 
He also credits Collins with an "adventurous, kaleidoscopic, encyclopedic" musical mind. While he and Collins were taking cues from the No-Wave scene back in the A-Moms days, they were both digging a "jagged noise-rock style." 
Jeecy, Valdez says, is a logical extension of the veteran Collins' previous projects, including groups out in New York during the '90s such as Warrior Soul and 67 Riot (the latter considered "a Detroit band stuck in New York," as Collins puts it).
And Valdez calls Jeecy's 17-month whirlwind a display of "high energy, deconstructed blues-punk-funk amalgamations." And it's all translated from stage to disc on the new Twist and Scream EP thanks to savvy live-style producer Jim Diamond. 
For the release, Collins aims to top his "Party of the Century" this time with a "Psycho Circus." Burlesque diva Chloe Bowie joins the acrobatic contortionists of Detroit Circus for dynamic mingling between a packed bill of performing rock-pop bands. 
"Take it all the way up to the top where it would almost kill you and pull it back a notch," Collins says.
Now, sure, Collins is a bad-ass guitarist, he's dazzlingly cool and crazy up on stage, but he can also be affably down-to-earth. He sums up the psycho-circus idea with a Seinfield reference: "Why would anybody wanna do 'regular pain relievers' when they know there's a 'maximum-strength' available? There'll be things moving constantly, no waiting to be entertained; people should be afraid to go to the bathroom." 
Falcon is a wickedly talented bassist and busy musical collaborator in her own right (you may have seen her in Waka Jawaka and Slumber Party). She said she proved to Collins she could "possibly handle this music" when they dabbled with a prog-rock trio (including her husband, Kerry Gluckman) called Chromophobia. She's as easygoing and self-effacing as Collins, and likewise genuinely taken aback by the response to Jeecy. She's also enjoying the challenge inherent in the band's fierce-flying style: "Every show's like an Indiana Jones movie. ..." 
One thing that hasn't changed since Collins' A-Moms days: There're still those due-paying shows to slog through with shoddy sound systems or hustled sets without a sound-check. One thing that has changed: "More bands, more styles, more clubs and real supportiveness. There used to be unhealthy competitiveness. I sense more of a coming-together of people, from different bands. There's so much going on you almost feel bad mentioning any one band specifically. Detroit's music scene has come a long way." 
Since his stint with the A-Moms in the '80s, Collins has been known for coming back onto the scene with a band, then disappearing for years at a time. Unconventional day jobs like low-budget filmmaking, screenwriting and "anti-stand-up" acts kept him busy, along with "pushing food and alcohol." Then, a few years ago, he "came to his senses and started playing music again." 
He had various ideas for how he wanted to rework R&B and finally decided the only way to make this work was to just start mixing styles and musics together. See what happens. You might surprise yourself, right?
"Sometimes it's better to have things come out of nowhere. If you plan for things, sometimes you just end up running and hiding."
Jeff Milo always appreciates a circus for Metro Times. Send comments to [email protected]