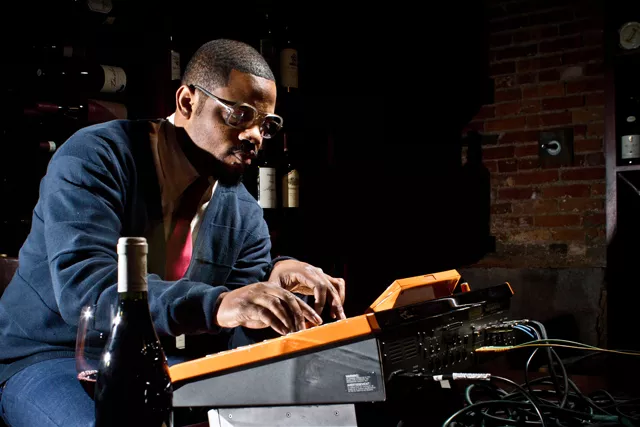 The 37-year-old drummer Karriem Riggins has a résumé that reads like two separate careers entirely. 
In certain circles, Riggins — born and raised in Detroit and back in the area after sojourns in L.A. and New York — is pure hip hop, with production credits for J Dilla, Slum Village, Common, Erykah Badu, the Roots, Madlib, Talib Kweli, and other recognizable names. 
Yet while he was consistently laying textured production for some of hip hop's biggest talents, he was also playing jazz clubs around the world as the drummer for contemporary jazz artists such as Diana Krall and Roy Hargrove — and with a number of the greats of yore who've passed away in recent years, including Ray Brown, Hank Jones, Oscar Peterson and Betty Carter among them.
A musician his age could consider himself lucky to get consistent work within either jazz or hip hop, but Riggins is the type of drummer and producer who embodies what sports fans used to call "slash." 
Riggins recently saw the release of his debut solo album, Alone Together (Stones Throw Records), marking the latest step in his evolution: putting music out there as his own. 
It's a record that skews heavily toward experimental beat-making. For many of the album's 34 tracks (which still clocks in at less than an hour), Riggins puts down his signature Vic Firth drumsticks and lets his drum machines do all the talking instead. It's a gorgeous project and full of sonic nods to Detroit, Brazil and other scenes that influence him musically. 
"Much of it was created on the road," Riggins says. "I did a tour of Eastern Europe in 2009-2010 with Diana Krall, and each night I would just turn the back of a tour bus into a lab. I had my [Akai] MPC, my Native Instruments Machine, and I would just create all night." 
Is it ironic that drummer Riggins created a hip-hop beat album with his drum machines while on a jazz tour? Not really. That's the way his brain works. 
When asked if some of his ardent jazz followers would potentially feel misled by a debut album that is mostly head-nod hip hop, Riggins pauses and then laughs a retort.
"A lot of the people that I work with, they're so open-minded musically ... respect for music is respect for music." Riggins says. "It's a beat album. Nobody should feel misled."
If anything, Riggins does a good job of being almost post-genre on Alone Together and letting the music speak the loudest. The one time that his jazz/hip-hop stylings are briefly addressed on the new album is near the end of the composition "Water," where listeners hear a 50-second interlude of an interview with longtime jazz critic and Metro Times editor W. Kim Heron discussing Riggins' relevance in both worlds. 
After numerous deep listens to Alone Together, it becomes clear that Riggins doesn't want to simply embody people's classifications of him as the hip-hop jazz guy who is adroit at fusing styles of music. He's certainly more than capable, but he's not going to force it merely because that's what people want him to do.
"These two genres are not the end for me," Riggins says. " I enjoy playing and producing all types of music. No genre in particular." 
Riggins is the son of pianist and Hammond B3 organ player Emmanuel Riggins, who played for years with jazz guitarist Grant Green and Detroit trumpeter Marcus Belgrave.
Belgrave was one of Karriem's first teachers as a child.
"I've known Marcus since I was 3 or 4 years old because my dad played with him a lot in the '70s '80s and '90s," Riggins says of his former mentor and instructor. 
"All throughout middle school, I'd say from, 7th grade to 11th grade, I studied jazz with Marcus each week. He used to have these workshops every Sunday, at the Serengeti Ballroom. He would bring in all these charts and we had to interpret, read and play them. That's where I learned to develop different styles and tempos." 
During his time at Southfield High School, Riggins was so good at drums that he not only played with his school marching band but also played the quads (an arrangement of four drums) in Cass Tech's marching band alongside Ali Jackson — another jazz heavyweight in the making. When asked if that was even legal to play there since he wasn't a student, Riggins laughs and says, "I don't think so." 
(Jackson has since become an in-demand jazz drummer himself, swinging the sticks for Wynton Marsalis' Lincoln Center band.)
All of that training paid off. It wasn't long before vocalist Betty Carter recruited Riggins out of high school for her "Jazz Ahead" program, which took him to New York. He arrived wide-eyed and ready to pursue music full-time. Since then, he's been on quite the odyssey, developing rhythmic patterns and styles that make him a sought-after session player for some of the biggest names in music. 
Last year, Paul McCartney recruited him to play drums on his 2012 album, Kisses on the Bottom. 
"I got the call, and initially, I didn't know who the session was with," Riggins says. "They said they booked it but couldn't tell me who it was. When I found out it was Paul McCartney, it was crazy. I played 9 or 10 songs on his last album. It was a great experience and Paul's people took care of us quite well." 
A DVD recording of McCartney playing the entire album inside of the Capitol Records studio featuring Riggins prominently is set for release this month. 
Riggins plans to tour Alone Together nationally and he promises a proper jazz album next year as well. 
Undeniably, these are good times for the hometown product. Well, mostly. Now that Alone Together is out, his only scheduled release party is New York. He tried to put together a Detroit release party, but a certain music venue (which we won't name) hasn't returned his phone calls. 
The quintessential Detroit story — famous elsewhere but not loved nearly as much at home.
"It's crazy, man. When I lived in L.A., I'd be pumping gas and folks would pull up and shout, 'Yo, aren't you Karriem Riggins? ... Love your music,' yadda yadda. In Detroit, I don't get a double-take or nothing," he says, laughing. "But at the same time, I love Detroit. The energy here is like no other place in the world."
Jonathan Cunningham last appeared in these pages with a story about DJ House Shoes. Send comments to [email protected].