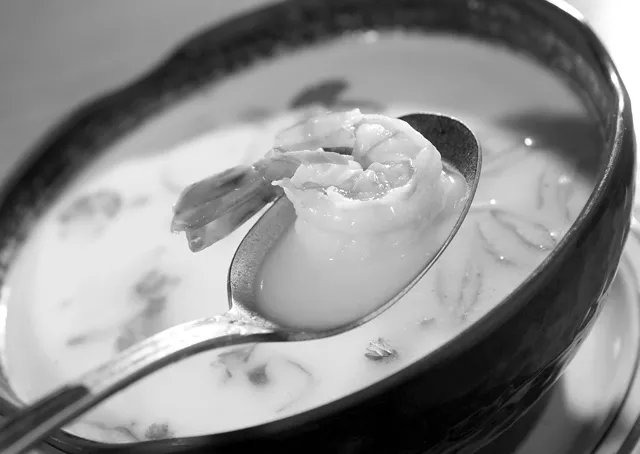 T. N. Thai Bistro
17100 Kercheval St., 
Grosse Pointe 
313-885-2695
Handicap accessible
Entrées: $10.25-$16.95
Open 11 a.m.-9:30 p.m. Monday through Thursday, till 10 Friday, noon till 10 p.m. Saturday, and noon till 8:30 p.m. Sunday.
Fun fact: Last year CNN International ranked the Thai dish massaman No. 1 of the "world's 50 most delicious foods." No. 1? Better than baby back ribs? Better than tres leches cake? A later survey ranked it only 10th — still pretty high.
The massaman at T.N. Thai Bistro might not make it into my top 10 in the world, but it is definitely excellent, one of the home runs in a series of hits and misses. My east-side companion, a veteran of the place, says she never orders anything else. This is a curry of Muslim origin, as you might guess from the name, and its noteworthy feature is potatoes, not a standard Thai ingredient. It's spicy with chili and tamarind, nutty with peanut sauce, and sweet with coconut milk and sugar, and it's as massive as it is appetizing.
Co-owner (with his sister Naly Yang) Tom Lee says the secret of his massaman and of his red curry sauce is lots of coconut milk. He shared the secret (or, if you will, accusation) that many Thai restaurants substitute cheaper half-and-half for as much as 80 percent of the coconut milk in a recipe. I didn't verify.
Such a strict policy certainly makes a difference in tom kha, which I liked even better than the massaman. This creamy-silky soup has a lot going on, from the sexy texture and shape of straw mushrooms to extraordinarily fresh vegetables (get the vegetarian choice) to an appropriate amount of cilantro. A biggish bowl is just $3.25.
Lee and Yang are from a family of restaurateurs; when they came to open the first Thai place in the Pointes six years ago, he says, "all the names were taken" (and often more than once or twice; think of "Bangkok"). That's the origin of T.N., for Tom and Naly. The siblings chose a lovely decorating scheme, with oblong white plates, understated pictures, and muted red and gold curtains on full-length windows looking out on Kercheval.
Lee differentiates his Pad Thai from that of other restaurants as well, saying he uses a tamarind base — both sweet and tart — rather than vinegar.
Let me say right here that I'm coming off a long string of disappointments with Thai restaurants. I'm thinking of one with Bangkok in its name that would be a strong competitor on my list of all-time bad places to eat. I'm starting to wonder if the lightness of Thai dishes that I remember from their first appearance in the metro area is a mirage. T.N. Thai's pad thai has the right toppings, done well: crisp bean sprouts, crumbled egg, ground peanuts. But the rice noodles themselves are too sweet and gloppy, tamarind or no. Readers, am I misremembering that the whole dish, 20 years ago, used to be a sight closer to ethereal?
I went for another standard, drunken noodles, and found that bourbon had been added to match the name. Usually, the recipe includes no alcohol. The flavor was quite strong and good but the noodles were disconcertingly undercooked, which I assume happens rarely.
A couple of non-noodle dishes could have benefited from more integration. A giant red snapper was cut up, breaded and fried and served with a vegetable sauce featuring onions, but the snapper was too separate.
For the duck dishes, I should have listened to the waitress, who recommended either of two stir-fries. I chose instead Crispy Duck, clearly labeled as having a sweet chili sauce served on the side, and then felt it needed more to bring the two parts of the dish together. The duck is deep-fried and served over water chestnuts, carrots and baby corn, cooked to the right degree of undoneness, and that chili sauce does help.
For appetizers, a diner could do worse than Spicy Squid, though mine came out unspicy. They're well breaded and stir-fried with a little bell pepper and supposedly some jalapeños. One evening gyoza (pot-stickers) were offered as a special and were crisp and pungent, though I'm not sure I would have identified their filling as pork without a hint.
If other places are skimping on coconut milk in their coconut ice cream, Lee and Yang certainly are not. The flavor is intense and it's topped with toasted peanuts and toasted coconut — making it almost as delicious as the tom kha. Shrimp chips are also stronger in umami than most, for an encouraging start to the meal.
T.N. Thai has a liquor license, and I enjoyed one of the cheaper Cabernets. A sushi bar offers a whole 'nother side to dining there, which will have to wait for another visit.
Jane Slaughter dines for Metro Times. Send comments to [email protected]