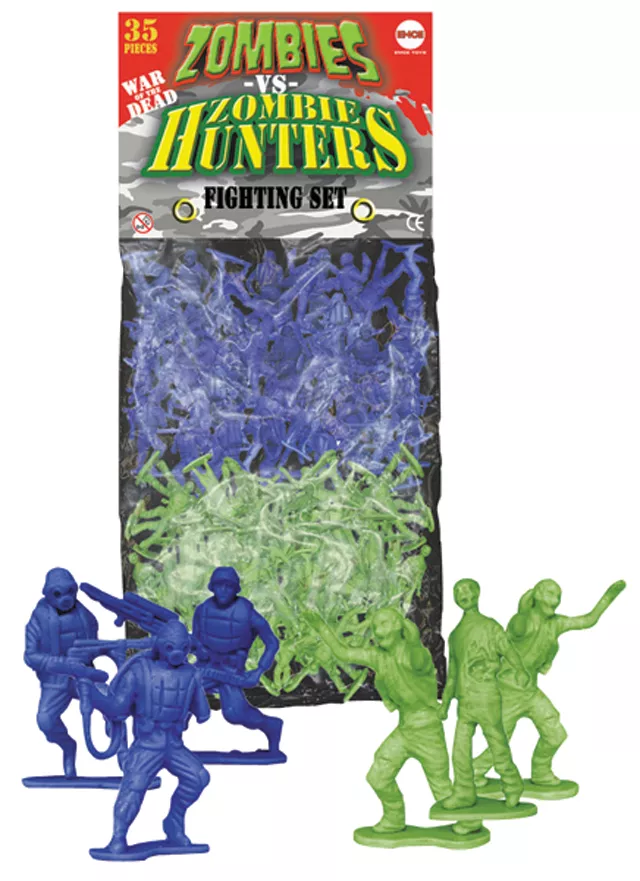 Silent Night, Deadly Night
Zombies are the new black. Or, at least, they've replaced vampires as our monster du jour. If that means fewer pouty tweens and twinkly neck-biters, I guess I can't complain, but personally, I don't get the fascination. As far as supernatural threats go, zombies are a pretty boring bunch. They're slow, stupid and have terrible hygiene. Sure, they make a good metaphor for the social Darwinism that libertarians and extreme capitalists embrace, but otherwise they lack the psycho-sexual allure of werewolves, vampires, and demons. Still, there's no denying that The Walking Dead is a huge hit, and lots of undead movies are slated to hit the silver screen soon. There's World War Z, which stars Brad Pitt, 28 Months Later, Zombieland 2, Pride and Prejudice and Zombies, Cockneys vs. Zombies and, for couples who just can't stomach another Kate Hudson flick, the zombie rom-com Warm Bodies. 
So, what do you get for that loved one who can't get enough of those lovable flesh-eaters? How about a pile of plastic walkers? You can get a bag of 10 army men-sized zombies ($12.99) at the online seller BigBadToyStore.com or a bag of Zombie vs Zombie Hunter figures ($9.99) at Amazon.com. For the zombie sophisticate there's the glass zombie head decanter ($19.99) available through boingboing.net's online shop. It's perfect for your favorite brain cell-killing beverage. Finally, why stuff stockings with tangerines and candy canes when there's Zombie Jerky ($4.99) to be had at ThinkGeek.com. After all, when the zombie apocalypse hits it's eat or be eaten.
Filmmaking the Buster Keaton Way
Maybe you haven't noticed but there's an enthusiastic retro culture thing going on when it comes to audiovisual technology. Vinyl records are still alive and kicking and Instagram has created an entire aesthetic movement, setting digital photography back a few decades with its old timey images. 
So, what about the video hound in your life, the one who complains that digital technology is killing cinema? Well, film geeks who long for the days when LCD viewfinders were but a distant dream can find solace in the Lomokino 35mm Film Movie Camera, a cheap throwback to the days when cameras shot three to five frames a second and Hollywood studios hid their star's homosexual proclivities. If you can ignore the fact that this hand-cranked camera is made of plastic, it looks like something you might find on the set of a Charlie Chaplin movie.
The Lomokino accepts just about any form of 35mm film there is and requires no batteries — just some steady wrist muscles. Load the film onto the spools, seal the case and — voilà! — you're ready to capture vintage-style movies in all their analog glory. Keep in mind you'll need to get your film developed (there are several online companies that should fit the bill for black and white or color slide film; drug stores can still handle other color film if you're not fussy) but the cost can be a lot less than you might expect depending on what film you're using.
So, how do you get your footage into an editing program and online? Request a photo CD, drop each frame into a video editor, and remember to reverse the colors (unless you're using color slide film). Ta-da! You can also see the film – at your hand-cranking speed — if you spring for a LomoKinoscop viewer. It ain't Instagram, it's the real thing.
You can purchase The LomoKino starter bundle at Lomography.com for $129.