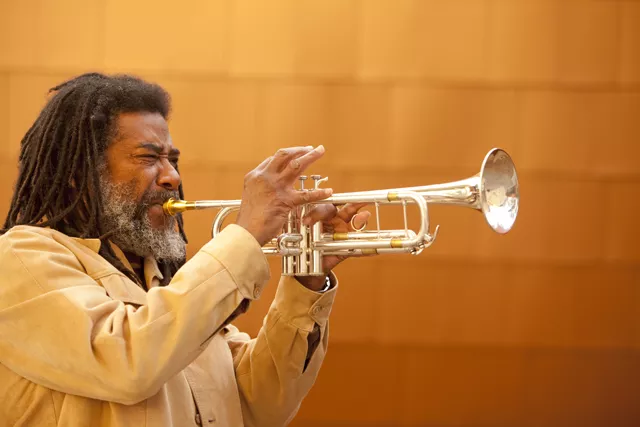 The 16th Annual Edgefest (theme: Worldly Measures) takes place Oct. 31-Nov. 3 at Kerrytown Concert House and a few other Ann Arbor locations. Smith's Ten Freedom Summers is performed Nov. 2-3 at Kerrytown, 415 N. Fourth Ave., Ann Arbor; 734-769-2999.
Single performance tickets are $10-$15, day passes are $50 and full-fest passes are $135 (including a dinner with festival artists). Full schedule at kerrytownconcerthouse.com.
Think big. As elsewhere, so it is in jazz. Size — the breadth of vision — matters.
Think of Ellington's precedent-breakers like his Carnegie Hall concerts of the 1940s through his late-life spiritual concerts. Charles Mingus had his 1962 Town Hall concert, whose brilliance was only clear in the music's posthumous revival as Epitaph in the 1990s. Ornette Coleman and John Coltrane had their double-quartet extravaganzas (Free Jazz and Ascension, respectively), and Coleman had his Skies of America symphony. Anthony Davis had his Malcolm X opera X in the '90s. Wynton Marsalis' big-project successes have included his Pulitzer Prize-winning oratorio Blood on the Fields. And what about Anthony Braxton's composition for orchestras in multiple galaxies?
But down on earth of late there's Ten Freedom Summers, an epic undertaking by trumpeter Ishmael Wadada Leo Smith, one of the original luminaries who defined the Chicago avant-garde of the late 1960s. A collection of 19 pieces written over 34 years, it aims to reflect in music the historical arc of the civil rights movement. And although it's centered on and dominated by the 1960s, the era of Dr. Martin Luther King and his contemporaries, Smith foreshadows that era by going back to the Supreme Court's endorsement of slavery in the Dred Scott decision. And he continues the musical narrative through the Vietnam War memorial and 9/11.
At its most expansive expression, Ten Freedom Summers comprises three nights of music performed with Smith's Golden Quintet, plus a nine-piece chamber ensemble. That's the way it premiered last year in Los Angeles to rave reviews, and that's the version released earlier this year in a four-CD set on the Cuneiform label. It's a dynamic, engaging work, at turns explosive and meditative, brash and mysterious, celebratory and reflective in a manner that sometimes sounds like Miles Davis' In a Silent Way going to church. 
For Jeff Von Der Schmidt, the classical conductor who helped shepherd the massive work to its premiere, it's the African-American answer to Wagner's Ring cycle. "A monumental evocation of America's civil rights movement," wrote Bill Shoemaker in England's The Wire, a leading chronicler of jazz beyond the mainstream.
"This project is just so momentous," says Kerrytown's founder-director Deanna Relyea. "It's very lovely." She calls it the "culminating work at the moment" for Smith's long career. 
And in an email the other day, Smith gave a more poetic interpretation to what he'd done: "It's a vision that I had, realized as a music-object that came through reflective-meditations. And now, it's in the eyes, hearts and minds of the musical lovers. Insh'Allah, I will keep moving through the world doing this mission of offering this music-light to the lovers."
Three-night, combo-plus-chamber group versions of Ten Freedom Summers have been restaged twice, and in Ann Arbor, Smith will perform a two-concert version for jazz quartet alone. "It too is a premiere," he said in his email. He'll perform with Pheeroan akLaff  on drums and John Lindberg on bass, both veterans of the premiere, who, coincidentally, originally hail from metro Detroit (the city and Royal Oak, respectively). Up-and-coming Cuban pianist, a Jane Bunnett protégé, David Virelles rounds out the quartet. 
Relyea notes that there's no official designation of Smith as headliner for the festival since in the nature of this festival, now entering its 16th year, "Everybody has their own idea of who the headliner is. We think all our performers are pretty special." 
As is the festival itself. You'll travel to Guelph, Ont.; Victoriaville, Quebec; or New York City for the nearest annual events with a similar focus. You can travel the rest of the world and not find many more. 
And Kerrytown touts the intimacy of a space where you can't help but interact with the musicians, since the front row is virtually in the performers' space and the back rows aren't that far away. Seating capacity is a mere 110. 
Among other festival highlights:
Smith performances with the University of Michigan Creative Orchestra and as leader of the annual Edgefest Parade leaving from the concert house on noon Saturday.
• A band of leading musicians exploring where jazz meets the traditions of the Indian subcontinent: Rudresh Mahanthappa's Indo Pak Coalition (with guitarist Rez Abbasi and percussionist David Weiss).
• The overlapping bands of violinist Jason Kao Hwang and trumpeter Taylor Ho Bynum. Bynum's band includes the much-talked-about guitarist Mary Halvorson. For one of his two sets, Hwang will augment his quartet with Kerrytown's Relyea, a mezzo-soprano, and Ann Arbor reed player Piotr Michalowski.
• A tribute to the music of the recently deceased Faruq Z. Bey led by former Griot Galaxy bassist Jaribu Shahid, with former Griot saxophonist Tony Holland in the horn section along with Skeeter Shelton and Mark Carey.
• Saxophonist Marty Ehrlich's Fables, in which he joins up with klezmer star Hankus Netsky (piano and accordion) and Marcus Rojas (tuba).
• Ben Allison Band, about as mainstream as this festival gets. Allusions to Brit rock, Neil Young and Brazilian pop are fair game for Allison, but hardly the point of the game.
• "Double Dutch Threat" billing luminaries from the uniquely off-kilter Netherlands scene: the team of violaist Ig Henneman and saxophonist Ab Baars, plus solo piano from Fred Van Hove.
• The duet team of singer, Navajo flute player Mary Redhouse and bassist John Lindberg.
W. Kim Heron is editor of Metro Times. Send comments to [email protected]