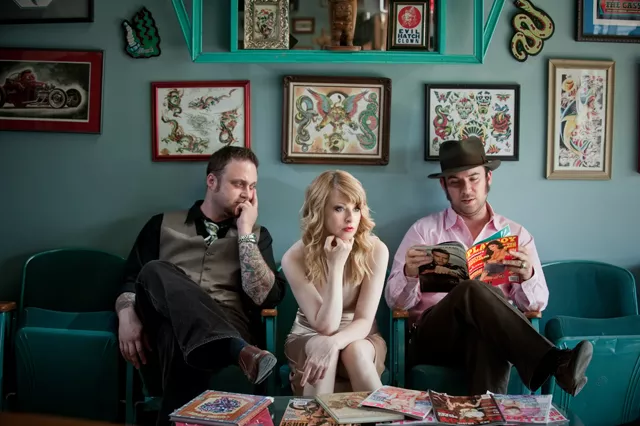 Regardless of whether a Detroit muso plays jazz, death metal or anything between, the holidays in December have a way of bringing out the best in people. We might all complain about consumerism, the way Christmas lights seem to emerge earlier every year, and the shitty sweaters we receive, but there's something about the music, the smell of cinnamon and nutmeg and, yes, the presents that makes the hardest heart melt.
With that in mind, we spoke to a bunch of our local musicians to ask what gets their egg noggy, their red noses shiny and their bellies shaking like a bowl full of jelly.
Happy Christmahanakwanzika.
Jeremy Porter (& the Tucos)
One of my favorite holiday memories was Christmas dinner with my wife at the iHop Miami airport a few years back. We were traveling over the holiday and had grandiose plans to find something traditional and maybe a bit romantic, but the iHop beckoned, with its fluorescent glow and maple aroma. Best damn fried egg and ham sandwich I ever had. No regrets.
Don "Doop" Duprie
When I was a kid, my dad rode bikes, so he bought me a '70s Honda 80 dirt bike to learn how to ride on. He later sold it to a guy in our neighborhood. About five years ago I came back from Nashville right before Christmas and the same exact bike was sitting in my living room, totally restored. He saw the guy he sold it to one day at the gas station and bought it back from him and did all that for me. Nothing can compare to that.
Jennifer Westwood
I still have a teddy bear I got from Santa when I was 5. It's flat as a pancake now, but it will always be Christmas morning and so many other things to me. It has kept a lot of secrets, carried many innocent and carefree memories, and a lot of tears have fallen on it. For Christmas [this year], I would like a good monitor mix, preferably on a beach somewhere in Central America on New Year's Eve, and to be able to write.
Suzi Quatro
X-mas is my favorite time of year, by far. I guess my favorite memory would be the usual Christmas carols around the organ, which my dad played, real festive. I still can't hear "Silent Night" without crying. My best gift by far was my first bongos at age 7. For me though, it is never about the gifts I get, but the gifts I give.
Kate Hinote (The Blueflowers)
I've always loved the holiday season and miss the excitement of it as a kid. This year I'm looking forward to experiencing Christmas as a new parent, and, although in the past I have scoffed at the piles of presents kids get, I'm excited for my kid to be on the receiving end of it.
Liz Girard (Shotgun Soul)
My favorite Christmas gift was last year, when my boyfriend got us tickets to see Wicked at the Detroit Opera House. I'm a huge theater nerd so it was perfect for me, and it was an amazing performance. This year, I'm hoping to get a really cute teapot. I like tea a lot.
Mae Day
My greatest Christmas memory would have to be when I was a really young ... I can't remember the exact year, but I just remember wanting a Gameboy ... badly. Well, my mom got me everything but a Gameboy and I just remember being over a family member's house and telling them that I didn't get my Gameboy. So that family member [an adult] suggested that "maybe Santa made a mistake and dropped it, so you should check the fireplace-chimney to see if it fell in there." I brushed it off at the time, but when I got home I checked the fireplace and there it was. I was tripping out on multiple levels off of that! "Santa" probably never felt more real. LOL! Good times.
Eric Abbey (1592)
One of my greatest holiday memories is playing carols on my trumpet as a kid on my grandparents' porch. This year, I am hoping for the people in power to get the courage to stop making things personal. This is destroying our way of life. Not mine or yours, but ours.
Asia Mock (Pretty Ghouls)
My greatest Christmas holiday memory involves a piece of candy (a peppermint to be exact), a living room full of family members and a seemingly harmless game of charades. I must have been about 5 or 6 years old. The family was playing the game in the living room; I was being blatantly disobedient toward my mother by leaving the living room and winding up in the kitchen looking for the candy she didn't want me to have. Lo and behold ... a bowl of mints. You can probably figure out the rest. Candy, hands, mouth, throat, annnnnd now I'm choking. I make my way to the living room with my hand around my own throat (clearly choking). Surprisingly it took my family about four guesses before they realized that a) I was choking and b) I was serious.
Nicole New
Unwrapping all the ornaments one by one from a very large Christmas box is equally as exciting as unwrapping presents. When I finally get to my favorite one, a (boy in a snow globe), I know it's Christmas.
Eddie Baranek (The Sights)
My favorite Christmas holiday is about five to seven years ago when my father asked me to work with him Christmas morning. He owns a landscaping and snow removal company, and he told me we'd get a big snowfall Christmas morning — and would I work? It was cool as hell to be plowing houses with my dad throughout the night and as the sun was coming up. We'd be pulling into a large house in the Grosse Pointes, and we could see little Timmy through the bay window of each home, opening up his presents. It was eerie and funny; I can't quite put my finger on the feeling. My dad told me later on that that was the best present I could have ever given him. I was proud to be his son that day.
Rick Ruiner (The Ruiners)
Proposing to my bandmate Nina, on stage, on national TV last December.
Matt DePlancke (Writhing)
My greatest holiday memory was Christmas Eve 1991 when my grandma bought me my first guitar. I believe it was a Harmony acoustic, likely ordered from a Service Merchandise catalog. What I am looking forward to most is the coming apocalypse during which Writhing will rule over the scorched earth and enslave the rest of humanity.
Liz Wittman (Lettercamp)
The greatest gift I ever got was when my sister's partner, Mel, bought me a ticket to go be with my family in New Mexico for Christmas a few years ago. I had not met her yet. It was the nicest, kindest gift anyone has ever gotten me. I was dirt poor and otherwise would be slumming it in a tiny apartment for Christmas. Mel is the best. This year? I just a want a pony.
Carolyn Striho
The train set I received when I was a little girl was awesome. Also, my first pair of riding boots from Hudson's when I was a teenager. I wore them to bed, to school, to shows, onstage. Also, the ice skates I got as a kid. The best gift recently was my surprise engagement ring at the holiday — shocking and great! For Christmas 2012, I hope to not be sick for the holidays, and to finish my CD. OK, and a new pair of spectacular, shiny riding boots, an autographed copy of an original edition of A Catcher in the Rye, a new Maine Coon kitten. Also, an autographed copy of The Bell Jar by Sylvia Plath.
Al Jacquez (Savage Grace)
I spent Christmas 2011 with immediate family. The day was simple and slow. I was able to focus on the birth of Christ. This year, I would like to sing more. I would love to see Michigan bands work more for a fair wage.
Liz Ruiner (The Ruiners)
I remember back in the day when I was a kid, my grandma and aunts were still alive and they used to buy me lots of cool gifts. But the best gift I received when I was 10 years old from my parents was a guitar. I'm hoping this new year to finally put out a CD with my band the Luckouts.
Ty Stone
The greatest gift I ever received for Christmas was a trip to space camp when I was 11. My parents saved all year for it. It was a huge deal to a junior space cadet. This year I'm excited to be spending the holidays with my beautiful fiancee, Val, as we prepare for our upcoming wedding. Val&Ty's Day.
Katie Grace
The best Christmas gift I ever got was from my parents. I am the youngest of four siblings. I have three older brothers, so as you can imagine, I was a bit of a tomboy growing up. Which all started on the day of my birth. My parents were in the hospital expecting the baby coming out to make it an even four boys. But, as I made my first appearance into the world, the doctor held me up and exclaimed, "Congratulations! It's a girl!" In the excitement of the moment, my parents look at each other and say, "A girl?! What do you do with a girl?!" Fast forward to Christmas morning. I was 12 years old. My parents, three brothers and I are gathered around the Christmas tree ready to open presents. We open presents in order from oldest, to youngest, so I patiently wait my turn to open the biggest present! Finally it was my turn to tear my present open and my dad exclaimed, "Wow! Look at that! It's a scroll saw." In the excitement of the moment, I turn and look at my parents and say, "A scroll saw?! What do you do with a scroll saw?!" I never got the traditional teenage girl gifts of training bras and lip balm — I got woodworking projects.
Tasha Lord (The Flutter and Wow)
Christmas 2007 in Boca Raton, Fla., with the Jewish-Mexican side of my family. At the time we didn't have much money and the trip was costly, so I didn't have a fancy holiday dress and our gifts were pretty humble. I got a pair of gloves and a knife set from [my now-husband] Brian — all stuff I needed so I was grateful, but you know, not the kind of stuff that makes your toes tingle. Early in the day my stepmom asked me if I thought Brian and I would ever get married. We knew we would since the first week we met, but it was never on my mind as to when. As cheesy as it sounds my dream had already come true finding that man, so I was in no hurry and had no clue how we might afford a ring, wedding and all that jazz anyway. The Christmas parties get very boisterous over at my Jewish dad's house, as you could imagine, and Brian kept disappearing, which left me irritable and at about midnight I was ready to retire when the second wave of Christmas partiers arrived. Brian finally reappeared and led me outside to a secluded area of my dad's property where he got on both knees in front of my legs. Thinking he was getting frisky with me in my dad's yard, I questioned his sobriety since my dad can snap a man's neck with his forefinger and thumb. After he had quieted me down, which is a talent of his, he slipped a beautiful ring on the wrong finger of the wrong hand, and asked if I would marry him. After a big yes, drunken dancing and speeches and the best Christmas ever proceeded. As for this year, every year my stepmom buys all three of us girls the most awesome fancy lingerie sets! I also can't wait to see the Jewish/Mexican side of our family again since it has been much too long since our last trip!
Jason Stollsteimer (Hounds Below)
My favorite holiday memory is going shopping for my family at my elementary school. My school would set up a "store" full of crap little items, but to a 7-year-old little boy, it was all gold. I remember feeling so mature and proud to be able to pick out all the presents for my family members without any help.
Shawn (Child Bite)
The year that my dad bought me a Sega Genesis. He said it was out in his car, and I was in such a rush that I slipped on the ice and slid halfway under the car. Of course I ended up playing Altered Beast for the next 48 hours or so straight. Rise from your grave.
Paula Messner (Candy Band)
One of my favorite recent memories is during our annual Christmas Party — I told all the guests that a surprise was coming — they thought I hired a stripper (yeah, the kids would have liked that). Well, they were shocked when about a dozen members of the Royal Oak High School Marching Band came into the basement to play Christmas songs (very loud). The dog sat in the middle of them and barked the whole time. It was hilarious. This year, I am hoping to get a good quality chef's knife or a new pillow under the tree.
T.Linder (Detroit Techno Militia)
The best gift that I ever got was when I was 11 years old. My parents got me the G.I. Joe "U.S.S. Flagg" play set. It was a 7-foot-long plastic replica of a Nimitz Class Aircraft Carrier. This year I am hoping that I get two vinyl copies of the out-of-print Piranha EP by Underground Resistance. It's the only record in the UR catalog that I don't have.
Drew Podgorski (IamDrew, Just Ask, Running With Panthers)
I don't remember how old, but I know I was dressed as a ninja in my pajamas. I snuck out and saw a Nintendo under the tree. It was "get in trouble" early, but this was a defining moment in my life. It was when I learned to say "fuck it," and I played some shitty Godzilla game till my eyes felt like they do now. Why is it parents always want to sleep in on Christmas? Fuckers. This year I hope to spread positivity around Detroit and put fun videos on the Internet!
Vivian George
One Christmas Eve, I was finishing up a tune at Roscoe's on the east side. I started the drive back to my Harper Woods family in my newly purchased used Pontiac when I was pulled over by the police for having tinted windows. I was asked if they could search my car. ... I said yes. A German shepherd was let loose where he hopped around a bunch on the backseat and the front before settling on the front passenger side. That was enough to implicate me under some type of suspicion. I was promptly joined by three more police cars and offered the option of confessing to something or being jailed for not confessing to something and locked up for the next three days until the judge came back from Christmas vacation. After a unique turn of events, I was released an hour later and free for a family Christmas morning wake up — instead of a jail cell Christmas morning wake up. I think that was the best Christmas present I never thought to list on Santa's To Do's. Thank you, Santa — you rule!
Robert Gillespie (Detroit Daggers, Powertrane, Torpedos)
[My best Christmas] would have to be Christmas 1965. The year started off really horrifying, as my mother passed away in May. I was so sad having to spend that Christmas without her, so my father tried to make it really special and he did. I was 11 years old and had been taking guitar lessons for almost a year. I'd seen the Beatles and Rolling Stones on Ed Sullivan like so many millions of others and knew what I wanted to do with my life. My dad got me a Gibson/Epiphone Casino guitar just like John Lennon used. That made me so very, very happy and helped take my mind off losing my mother in a way. This year for Christmas I'd love to get more work, more gigs for my band, the Detroit Daggers, finish our CD and release it, then take the Daggers on tour in Europe.
Frank Woodman (Woodman, Ungrateful Daughter)
I'm super-hyped to be playing music with my kids and a reunited Woodman this holiday season. It's the best gift I could get.
Jeremy Mackinder (Deadstring Brothers)
Greatest gift ever was probably coming down the stairs for a drink of water when I was 15 and there was my first bass, a Jazz Bass copy that my dad picked up at a pawnshop. My ma heard me get up, followed me down, told me plug it in, so I did. At 6:30 in the morning, my little brother heard it turn on and was down the stairs in about two seconds, finding the guitar they bought for him. Some of the most horrible sounds ever came out of those out-of-tune $25 instruments, and I think I blew the speaker on my little Gorilla amp in the first 15 minutes. For this year, it's the first time in eight years that my entire immediate family will be getting together in the same place. Based on our vastly different lifestyles and locations, it's probably not gonna happen again. If we get along, it'll be great.
Amanda Baily (Annabelle Road)
When I was 4, I spotted a beautiful Precious Moments ballerina on a family trip to see Santa. She was amazing! She twirled around on her toes while music played. I will never forget the sound of the music that played. I saw Santa a few minutes later and only told him that I wanted her. As we left the store, I looked to see the ballerina one more time. She was gone. Santa wouldn't be able to get her for me now! Christmas morning came, Santa didn't let me down. She was wrapped up, last gift under the tree. That's how I knew Santa was real.
Amy Gore
The most distinctive memory is seeing the Santa at Oakland Mall en route to his throne scratching himself. Upon seeing me he mumbled, "Ho ho ho." This year, I'm looking forward to food, family and playing with the toys I got for my nieces and nephews. Playing with the kids is a blast.
Jeffrey Freer (Real Spicolis)
Best Christmas memory: Sega Genesis. What I want this year: Sega Genesis.
Brett Callwood writes City Slang for Metro Times. Send comments to [email protected]