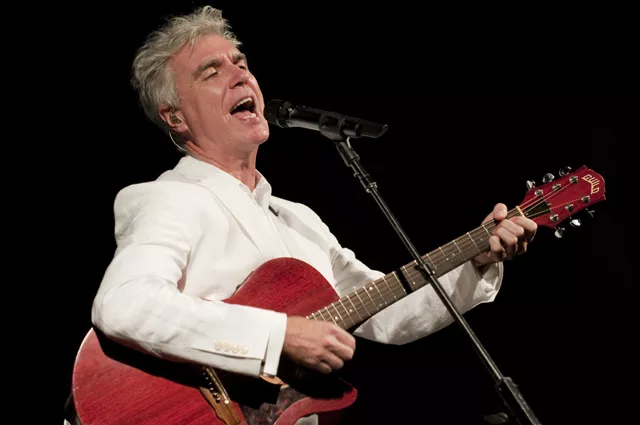 How Music Works
David Byrne
McSweeney's, $32, 352 pp., hardcover
How Music Works
David Byrne
McSweeney's, $32, 352 pp., hardcover
David Byrne has always been something of a musical visionary, from his days in the Talking Heads up to his recent collaboration with singer-songwriter St. Vincent. His new book, How Music Works, proves that he is also a hell of a thinker and writer. This isn't your standard memoir of a rock star — though there is a little of that — nor is it a technical manual — though there is some of that too. Rather, the book is precisely what it promises to be: a serious exploration of how music works and what it means in the context of human life.
"I had an extremely slow-dawning insight about creation. That insight is that context largely determines what is written, painted, sculpted, sung or performed," Byrne writes in the opening sentences of the first chapter. He begins by examining the rock 'n' roll club, specifically CBGB, where the Talking Heads and so many early punk and post-punk bands started, comparing it with Tootsie's Orchid Lounge, the legendary Nashville incubator for the 1960s country scene. They are, he writes, very similar spaces. They serve the same social function, and the music created there was relatively similar in structure. African drumming was created for the outdoor environment where it was performed, and organ music was designed for the cathedrals in which people came to hear it. "We don't make music," Byrne writes. "It makes us. Which is maybe the point of this whole book."
He makes that point again and again in surprising ways, sometimes drawing from his own career. Byrne touches on everything from how he chose his onstage apparel when he was in the Talking Heads — he was influenced by a form of classical Japanese musical theater called Noh — to how he wrote, recorded, toured and sold music. Anecdotes, dense ruminations on contractual arrangements and the history of recording, and philosophical musings about authenticity and authorship all seamlessly blend.
All pretty heady stuff, but How Music Works could also function as a field guide for anyone who wants to succeed in music. In certain practical sections, Byrne runs through the various kinds of contracts artists may sign for promotion and distribution, analyzing the pros and cons of each model, and offers useful tips on recording, songwriting and collaboration.
The section "How to Make a Scene" is one of the best in the book not only because it describes the Talking Heads' early days at CBGB but also because, in laying out what he sees as essential to any scene, Byrne offers a useful tool for examining a city's music scene.
Some of the points are obvious: "There Must Be a Venue that Is the Appropriate Size and Location in which to Present New Material," and "Artists Should Be Allowed to Play Their Own Material," but others are surprising. For instance, Byrne's third requirement, "Performing Musicians Must Get in Free on Their Off Nights (and Maybe Get Free Beer Too)" is something many a venue owner could learn from. (This performing musician would benefit greatly from the free-beer clause.) In "There Must Be a Sense of Alienation from the Prevailing Music Scene," Byrne lays out the ways that different bands in New York in the late 1970s were alienated from the prevailing scene, thus creating the wide variety of sounds that emerged.
Byrne argues that "Rent Must Be Low — and It Must Stay Low," in order for there to be a viable scene, because low rents allow musicians to remain alienated from the prevailing popular music. Cheap rent also allows for the amateurism that Byrne finds essential. "Show someone three chords on the guitar, show them how to program beats, how to play a keyboard, and if you don't expect virtuosity right away, you might get something moving and affecting. You as a listener, or as a creator, might be touched in a way that is every bit as deep as you would be by something that demands a more complicated skill set."
Byrne may have approached the book from a similar amateurish perspective. It came about after he faxed McSweeney's editor Dave Eggers his tour journals "[f]or his amusement," but the result is as moving and thought-provoking as a book on music is likely to be.
This review originally appeared in Baltimore's City Paper.