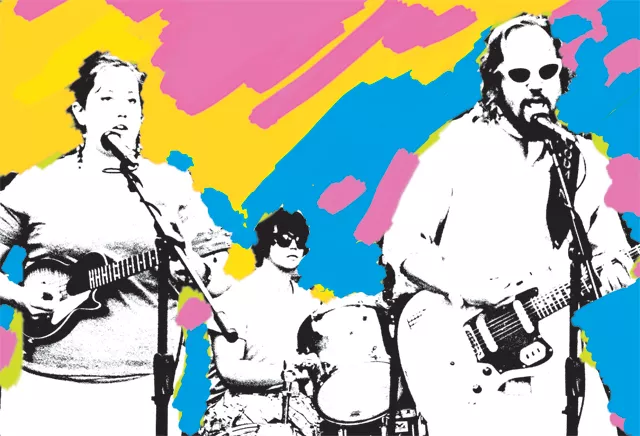 Ungrateful Daughter opens the Alley Stage at Dally in the Alley this Saturday, September 8 at noon. The band then plays the Ferndale DIY Street Fair on Sunday, September 16, performing on the Metro Times Stage at 2:00 p.m.
Take a look at the bill for both this Saturday's Dally in the Alley festival in Detroit and the following weekend's DIY Street Fair in Ferndale, and the name Ungrateful Daughter is most likely a cipher to you even if you're the type who regularly patronizes the music scene. But regulars likely know a key name behind it: Frank Woodman.
Having started the band Woodman just a few years ago with his son Derek, his daughter Hillary and Derek's friend Adam Fuller, the project had to be put on hold when Derek and Fuller went off to college.
"I don't want to do the break-up thing because we're a family band, and we'll be playing when I have grandkids in some backyard," Frank says. "I don't ever want to consider it done. It's just on the shelf for now. Derek still plays guitar while going to law school."
At loose ends, Frank and Hillary decided to put a new band together with her boyfriend Ryan Michels. That band is rather amusingly called Ungrateful Daughter. Frank is keen to point out that there are far bigger differences between Woodman and the new band than the fact that his son and Fuller aren't in it.
"It's more collaborative," Frank. says. "I want to give Hillary almost equal songwriting opportunities. Even artistic-wise, I want her to be a big part of it. It was her idea to start new, and she wanted to get away from the folk thing a little. Maybe a little more punk louder and obnoxious, but still kind of beautiful. Hillary's the driving force behind this band. She's talented too, and she knows how to play the ukulele."
Yep, Hillary Woodman plays the ukulele in Ungrateful Daughter, which some would say is a very underused instrument. Frank stresses, though, that Hillary has a punk side, it just needs coaxing out a little.
"Her voice is mellow, I'm bringing the crazy vocal," he says. "I'm hoping to get her to be more aggressive vocally, but with me being aggressive and her being mellow underneath it, it sounds pretty cool. She's playing a ukulele through a guitar amp with a pedal box. That sounds super-weird and otherworldly. I'm bringing in the guitar. Vocally and instrument-wise, it's like we've got an opposite thing and we put it together. Her boyfriend just randomly happened to be a pretty damned good drummer. He's never played in a band before."
You have to admire the self-effacing nature of a father-daughter band calling itself Ungrateful Daughter. "It was around Christmastime and we were all drinking and joking about band names," says Frank. "We fight a lot. We're like brother and sister. We're so much alike that we get on each other's nerves. We're strong personalities and we both want things a certain way. This band's fought way more than Woodman ever did. Otherwise, we'd play more shows, we'd write more. We clash quite a bit, but I'm sticking with it, and I think she is too, because I think we've got something really cool. A different sound. Anyway, I think I said something like, 'You're an ungrateful daughter. Hey, let's use that.' She had a sense of humor and let it be."
That's the Ungrateful Daughter dynamic. You have the natural tension that is going to arise when a father and his offspring play together, and then you can practically feel the awkwardness from Michels through the tunes. Imagine having to sit through rehearsal after rehearsal hearing your girl and her pops tearing into each other. Poor lad.
Still, the results are fascinating. You have the folk-rock of the Woodman band, but with a heap of garage-punk aggression and a dash of art rock. "We wanted to incorporate some of the weirder folk stuff into a harder-edged sound," Frank says. "We've played a lot in Detroit. We want to be noisier and it's fun to be noisy, plus it's hard to play folk in Detroit. It's a rock 'n' roll town. They want 'Blaahhh' and I like that so we'll give it to them. So we purposely wanted to be noisier, but we also wanted to be creative with it and not be Green Day. Nothing wrong with that, but we wanted to have an artier edge because we consider ourselves artists first and foremost."
That they are, and it is that edgy, arty quality that has landed this relatively new band a slot on the Dally in the Alley bill. Frank can't wait; he beams when considering the prestige of the event. 
"We're talking 35 years," he says. "The activists and hippies started this thing. I believe it's still non-corporate. It's just the festival where you see all kinds, drinking in the alleys. It's an amazing, joyful event. It's one day, so there are just a certain amount of acts they can have and we're not even six months old, so we're happy to play it. We're playing noon on the Alley Stage, we're going to go first and fuck it up early. I just think it's a great, one-day, quintessential Detroit party. If you ask a lot of bands, this is the one to play. DIY is great, but it has the 'suburb' thing hanging over it."
These are busy times for Ungrateful Daughter. The band has a four-track demo out, and that should eventually lead to an album. For now, Frank can't get these two festival sets out of his mind. 
"They're both early sets," he says. "They're going to be different crowds, so we could get away with doing the same set, but I'll bring something different to both of them for sure. Then, we're hoping to get enough songs to do a record. With the demo, I just sat an eight-track and one mike in the corner of my basement and I didn't mix anything. It sounds fucking amazing."
Anyone who knows Frank Woodman will tell you that he's an irrepressible soul. Whether he is billed as performing at a show or not, he won't be far from the stage, fist pumping in the air or harmonica wailing. He has more energy than, he would argue, his own kids.
"I want to play shows all the time, so it's really up to my daughter and school," he says. "We could have played this pretty cool show this past Wednesday, and I almost got on my knees and begged her, but she's got school early Thursday morning and she's in Ann Arbor. I'm like, 'I'll give you gas money. Come down, do the show, and head back to Ypsilanti.' They're going to Washtenaw Community College over there. But it's the first week of school. She's the sensible one."
Frank's pretending not to be pissed about missing a gig opportunity, but he is. "Grab the shows. I'd play every show that I'm asked to."
He would too.
Brett Callwood writes City Slang for Metro Times. Send comments to [email protected]