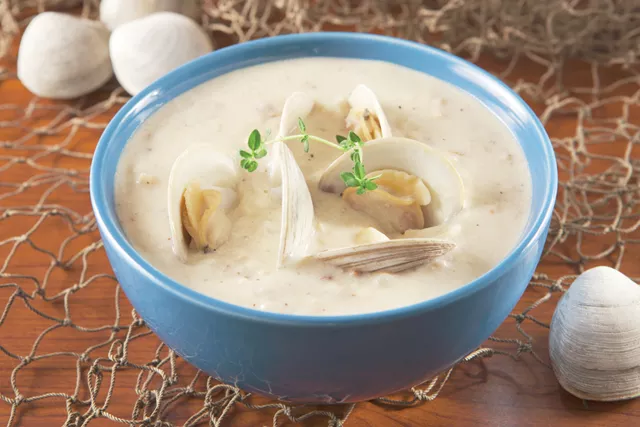 Ajishin Sushi & Noodles 42270 Grand River Ave., Novi; 248-380-9850: Ajishin's udon soup is extraordinary. The base broth is developed from seaweed and fish and has so much umami flavor going on it's like a black hole for hangovers or the common cold. The namesake of the soup, the udon noodle, is a thick, wheat-based noodle; along with a bit of briny seaweed, imitation crab and green onion, it makes up the basic soup.
Bastone Brewery 419 S. Main St., Royal Oak; 248-544-6250; bastone.net: When it comes to how our soups thicken as the weather chills, the kitchen at Bastone is in tune, prepared with such comforting soups as the potato, leek and bacon soup. It's a chicken-stock based soup that draws out the natural starch in the potatoes and certain gelatinous products in the leek to thicken the soup without the use of flour. This makes it a shoo-in for diners who've gone gluten-free, because there isn't any flour used as a thickener in the soup. The addition of shallots, onions and garlic only adds to the hearty fall flavor.
Big Fish 700 Town Center Dr., Dearborn; 313-336-6350; muer.com: This Chuck Muer Restaurant, billed as a "high quality, moderately priced, casual seafood" restaurant, has two open dining rooms and what could be the largest cocktail bar in town. Among the fruit of the sea that fills their bill of fare, you'll find the "Big Fish Chowder," a pleasing mélange of smoked fish, salmon, Tasso ham and fresh-diced tomatoes.
Bookies Bar & Grille 2208 Cass Ave., Detroit; 313-962-0319; bookiesbar.com: Bookie's is a good spot on game days, right in the heart of tailgate country, sporting enough plasma screens to warm the heart of any sports fan. If you need more warming, you could do worse than their white chicken chili, chicken base made rich with chicken, red and green peppers, white beans and red onion. It's a Bookies staple, from the original menu, and going for $4.50 a cup, $7.50 a bowl.
Claddagh Irish Pub 17800 Haggerty Rd., Livonia; 734-542-8141; claddaghirishpubs.com: One of 15 Claddagh Irish Pubs in the Midwest, this is the only Detroit-area outpost of the Irish mini-chain. And it's not chain-standardized fare, as amply proved by the joint's clam chowder. Made from Claddagh's own house recipe, it's a New England-style seafood chowder, loaded with clams, potatoes, onions and celery, thickened with wheat flour. It's $4.99 a bowl.
Honest Johns Bar & Grill 488 Selden St., Detroit; 313-832-5646; honestjohnsdetroit.com: Serving up breakfast till noon on weekdays and till 5 on weekends, Honest John's offers a surprisingly strong group of soups, going well beyond simple New England-style clam chowder. Gumbo is on the regular menu, loaded with Andouille sausage, chicken, red and green peppers, onions, garlic, sassafras, gumbo filé powder, their very own Cajun roux and, of course, the rice. They also serve a popular vegetarian chili. This four-bean (kidney, pinto, black and white) creation skips the cilantro, but piles on the tomato strips, corn, tomato sauce, chunky tomatoes and garlic. Chef Mike Dakoske says, "The beans hold it up very well, and we use chunky tomato so it's very thick and chunky. It's real thick."
Leo's Coney Island 110 S. Main St., Royal Oak; 248-336-8093; many more locations at leosconeyisland.com: Maybe some all-night spots treat chili as a mere condiment for the coney dog, but not Leo's. They lavish attention on the meaty meal, serving it in a cup, beans or not, onions optional. They also have a chili "special cup," made with chili, loose hamburger and onions. And that's nothing compared to Leo's "Super Chili," made with spaghetti and cheddar cheese, a chili fit for a manly meal. It's affordable and filling, and you know it's good because they sell it by the quart to go!
Lily's Seafood 410 S. Washington Ave., Royal Oak; 248-591-5459; lilysseafood.com: Lily's Seafood is a hot spot that offers not only a stunning interior and friendly service, but most importantly a kitchen that believes homemade is best. They serve a traditional yet exceptionally thick New England clam chowder (best bet is to go when they make it on Friday, it can run out fast). Available daily, their signature Creole soup contains Andouille sausage, crawfish tails, and chicken breast "all set adrift in a hearty broth of chunky tomatoes and fresh garden vegetables." It goes down well with one of Lily's IPA brews.
Mitchell's Fish Market 117 Willits St., Birmingham; 248-646-3663; 17600 Haggerty Rd., Livonia; 734-464-3663; 370 N. Adams St., Rochester Hills; 248-340-5900; mitchellsfishmarket.com: With a large selection of fish (12 varieties at any given time) and menus reprinted over the course of the day to reflect changes in availability, you can be sure of freshness. And the hearty soups are less than $5 a cup, though you'll probably pay the extra dollar for a bowl. Among the choices are a Little Neck clam chowder, a New Orleans seafood gumbo and a Maine lobster bisque.
Motor City Brewing Works 470 W. Canfield St., Detroit; motorcitybeer.com; 313-832-2700: This brewpub has a quirky tiled interior, affordable Wednesday-night art shows, and a sturdy menu of pizzas and small plates. For less than $10, you can get a pizza made with ingredients sourced as locally as possible, or a cheese, baguette and salametti plate. The beers are excellent, Octoberfest on tap, which they sometimes serve in Thor-sized 2-pint glasses. Their $4 vegetarian chili is smoky, thick, and comes in a small ceramic bowl still bubbling hot, with a good bean variety, chunks of tomato, and little bits of garlic still intact that burst with flavor. The garnish of cilantro or dollop of sour cream are optional, a scattering of crunchy tortilla chips will help you get a taste while it's still boiling, and when it cools you'll be scouring the inside with your spoon to eat every bit.
Mudgie's 1300 Porter St., Detroit; 313-961-2000; mudgiesdeli.com: The artisanal Corktown sandwich shop, uses only the freshest, highest-quality ingredients, local when possible. Soups are always fresh and change daily. Check their website or Twitter feed for what's on offer day-to-day. One recent offering was a vegetarian "creamy cabbage."
PJ's Lager House 1254 Michigan Ave., Detroit; 313-961-4668; pjslagerhouse.com: The Lager House, long a destination for shows and suds, not only has added food, but the new kitchen is aiming high and being creative. One of the best things we've ever had there, though, was a tasty potato-leek soup, with skin-on potato chunks and just enough thickness to coat a spoon.
Red Coat Tavern 31542 Woodward Ave., Royal Oak; 248-549-0300: Red Coat is just so well-known as a burger joint that it's easy to forget that the tavern keeps a full menu, and serves excellent renditions of classics. So why should the chili be anything less than top-notch?
R.P. McMurphy's 2922 Biddle Ave., Wyandotte; 734-285-4885: One of our co-workers was raving about this place's Northeast Clam Chowder, biscuits and lobster gravy, and other treats, calling it "Maine meets Downriver!" We haven't been there, but, with rants like that, it sounds like it could be worth a try.
Sweet Lorraine's 29101 Greenfield Rd., Southfield; 248-559-5985; sweetlorraines.com: For more than a decade, metro Detroiters have been grateful to count on the moderately priced pleasure of Lorraine Platman's casual but sophisticated cuisine. Though they only serve two soups at a time, call ahead to find out if they're serving their spicy Thai corn chowder. It's thicker than your usual soups, sort of like a cream of corn soup, but rich with corn, onions, lemon grass, coconut milk, red curry paste, lime juice, Hungarian paprika and tomato paste, all on a base of mushroom and vegetable stock. At 2.75 a cup, $3.95 a bowl, this sounds like one of the more innovative treats of the season.
Tap Room 201 W. Michigan Ave., Ypsilanti; 734-482-5320; taproomypsi.com: Established in 1941, the Tap Room enjoys a quaint existence on the corner of one of downtown Ypsilanti's main drags. But it's not all just beer and song, there's a full menu of bar fare, including warm soups and homemade hearty chilis that get a bit of extra attention from the chef in the kitchen, as a former Tap Room chef told us that the chili comes from "an old recipe, handed down to me from the owner. It's very basic — your normal chili — but you put a little bit of love into it."
Tom's Oyster Bar 519 E. Jefferson Ave., Detroit; 313-964-4010; tomsoysterbar.com: Check the blackboard for a list of the daily specials; they include six ever-changing varieties of raw oysters. Around this time of year, though, what we crave are those satisfying and warm soups, including seafood chowder, crawfish bisque or seafood chili.
Union Street 4145 Woodward Ave., Detroit; 313-831-3965; unionstreetdetroit.com: Hearty bowls abound at this stylish Midtown fixture. There's a seafood chowder, New England-style, with bay scallops, shrimp, clams and even fresh hickory-smoked salmon ($4 a cup, $5 a bowl). Then there's the chili, with Black Angus steak tips "simmered in red Mexican chili beans, assorted herbs and spices, delicious and full-bodied." Hotter than most, it can be topped with sour cream, scallions and cheddar cheese.
Wasabi 15 E. Kirby St., enter on Woodward side, Detroit; 313-638-1272; wasabidetroit.com: Japanese cuisine isn't known for rich, thick soups, but the comfort factor of some soups really soars. The nabeyaki udon comes in a hot pot, a potent broth in which swirls mushrooms, shrimp tempura, and even egg. But best of all are the thick udon noodles, which can be piled into a Japanese soup spoon and consumed by the mouthful. Spice-loving diners may shake a bit of shichimi powder over everything for a bit of extra heat.