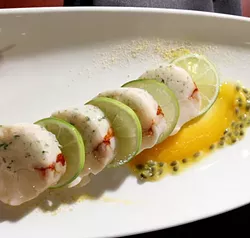 Gastronomy
1 Town Square, Southfield, 248-864-4410
theepicureangroup.com/gastronomy.html
Handicap accessible
Lunch: $10-$20 • Dinner: $20-$60
Open for lunch 11 a.m.-2:30 p.m. Monday-Friday; bar open 11 a.m.-4 p.m., 5-10 p.m. Monday-Saturday, with bar menu available 2:30-4:30 p.m.; open for dinner 5-10 p.m. Monday-Wednesday and 5-10:30 p.m. Thursday-Saturday.
The phrase "from scratch" generally implies a casual, down-home, rustic approach perhaps evoking reminiscences of grandma's kitchen. Chunky biscuits, canned garden veggies, etc. Plenty of restaurants have embraced scratch cooking, but none in southeast Michigan have so thoroughly extended the definition as the recently opened Gastronomy.
Far removed from the bucolic implications of family dinners or restaurant comfort food, they put to plate elegant, refined food made entirely in-house.
And it's very, very good.
Launched by the Epicurean Group in August, Gastronomy employs numerous contemporary techniques — like dehydrating prosciutto and turning it into a powder or compressing watermelon and juice under vacuum to heighten flavor. These tools of the trade have been overused to the point of gimmickry in plenty of restaurants around the country, but here, chef Adam Hightower takes a judicious approach, ensuring that the flavors truly shine rather than merely entertain.
In evaluating Gastronomy, it would be quite easy, as it often is, to simply recount a few menu highlights, lauding particular dishes for their quality. But their food is universally stellar, and their menu is thoroughly creative. Cherry-picking from their offerings thus seems something of a disservice.
Frankly, diners should expect to be delighted with whatever they order.
On one visit, we were so intrigued by so many options that we chose to dine from the tasting menu ($90), a marathon-like panoply of on- and off-menu dishes, each as grin-inducing as the next. The remainder of the menu is divided into a list of standard offerings and a selection of ethnic cuisine that will regularly rotate by region of the world.
Restaurant writers love to remind us that we eat with our eyes. Overly simplistic as that sentiment may be, one cannot deny that chef Hightower has a gift for arresting presentation. And he uses a wide assortment of creatively shaped dishware to complement his talents. The walleye chowder ($7), for example, is accommodated by an attractive, minimalist bowl with a massive rim. Or even more impressively, if ordering from the tasting menu, it arrives in a copper pot set upon an individual wood-burning stove, smoke wafting from underneath.
Impossibly, the bar set by the presentation is bested by the food on the plate.
At lunch, we tried several items courtesy of the American Lunch Box ($16), which arrives in a sleek Western-style bento box showcasing five items — one each among salads, soups, sides, mains, and desserts. Our main was Indonesian fried rice from the ethnic offerings. Served on its own for only $16 at dinner, this overnight rice with shrimp was densely packed with flavor.
But dinner is where Gastronomy is at its best: Salads dusted with dehydrated strawberry, lobster paired with piquant dehydrated lime and potent passion fruit sauce ($14), delicious homemade feta in the watermelon salad, scallops ($25) that melt in your mouth, reimagined brisket, and salmon ($26) served with an apple quinoa salad that could be a menu item all its own. Not sure what to get? Throw a dart at the menu. Trust me; you'll be fine.
Service quality nearly matches the food, even mere weeks after opening. The waitstaff we met were knowledgeable and friendly on multiple occasions, and a few of the bartenders have local credentials that include Atlas Global Bistro and the Oakland.
The decor, for what it's worth, is rather unremarkable. In its previous life, the dining room belonged to Morton's: The Steakhouse, and that generic interior still prevails today. Outside, things aren't much better: Gastronomy is situated on the first floor of the Baker Tilly building, a charmless corporate tower among other charmless corporate towers sandwiched between freeway service drives.
Ample personality provided by the chef, management and staff, however, gives life to the otherwise sterile environs.
If there's any room for nitpicking, it's in the beverages. Cocktails range from solid (though occasionally too sweet) to outstanding. There are a number of good beer options, but at least half the list is composed of popular but largely food-unfriendly brews like some IPAs, a Java Porter, Founder's Dirty Bastard and so on.
And the wine list is somewhat paradoxical: It's competitively priced and generally affordable, and despite plenty of big, fruit-forward bottles, the list has a number of balanced, lively, meal-worthy wines. (We enjoyed a surprisingly racy Riesling for around $30 from Chateau Ste. Michelle in Washington.) However, the decision to limit the selection to American wines is confounding. Gastronomy calls itself a modern American bistro, and as the food menu itself illustrates, the culinary boundaries in the United States are fluid, with influences that extend beyond our borders. There's literally a world of dry, balanced, food-friendly wines that would be a welcome addition to round out their selection.
Still, there's nothing to stand in the way of a memorable meal. My friends still talk about the presentation of that walleye chowder, the intensity of flavor in the compressed watermelon salad, the whimsy of a foie gras and tenderloin hot dog, and the hedonistic joy of the bacon-wrapped pork tenderloin. Upscale dining must be difficult to execute in an increasingly casual world, but Gastronomy absolutely kills it where it counts — on the plate