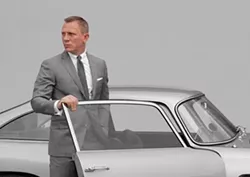 Skyfall | A-
So, as it turns out you can teach an old dog new tricks.
When Jason Bourne hit the big screen in 2002, many heralded the other JB's inevitable demise. After all, how could Bond's graying, all too eager-to-please formulaic smarm compete with the real-world grittiness and innate humanity of Matt Damon's tortured spy saga? Tragically, 2008's ill-conceived Quantum of Solace reinforced the critique, as director Mark Forster delivered a Bourne-Bond hybrid that failed as both a spy thriller and popcorn entertainment. 
Now there's Skyfall, the 23rd entry in the canon and easily one of Bond's best. Far from a reboot, director Sam Mendes (American Beauty, Revolutionary Road) and lead screenwriter John Logan (Gladiator, Hugo, The Last Samurai) help rebuild, reincarnate and re-energize the franchise by grounding their movie in real-world concerns yet embracing what makes Bond appealing in the first place. Along with the spectacular action scenes, beautiful women and exotic locales, their story is surprisingly character-driven and boasts thematic forays into betrayal and mortality. It's an exciting yet melancholy actioner that isn't afraid to deepen the man behind the myth. 
Opening with a breathlessly frantic chase scene, Skyfall sends Bond (Daniel Craig) racing across Istanbul's rooftops, alleyways and motorways before finally jumping onto a moving train in an attempt to retrieve a hard drive filled with the identities of undercover spies around the globe. Unfortunately, the heavy gets away as our hero is accidentally felled by a fellow agent's bullet and presumed dead. 
The pre-title sequence is very much in sync with the Bond openings we've seen in the past, and yet something's askew. The tone is darker and less off-the-cuff. There's a moment where 007 is ordered by M (Judi Dench) to leave a bleeding partner behind. The choice means death for the agent, and the callous pragmatism that fuels M's decision becomes the foundation for Skyfall's ambitious narrative ... and the nihilistic credit sequence that follows. Instead of the typical writhing visual metaphors for sexual intercourse, Adele's soaring retro theme accompanies an amazing kaleidoscope of death-themed imagery.
When Bond finally returns to service, he not only contends with diminished skills, he questions his convictions. Mendes quickly establishes the film's fallen-hero-must-rise premise as 007 attempts to track down a cyber-terrorist with a vendetta against MI6 and, in particular, the unflappable and ruthless M. It makes for an unexpectedly suspenseful drama in which Bond's success never seems a given and the plot is motivated by personal agendas. 
But what becomes more apparent over the two-hour-and-20-minute running time is that Skyfall is less about pulling the super agent's psyche apart and more about exploring the thematic underpinnings of the entire Bond series. As the movie's villain, Raul Silva (played by the incomparable Javier Bardem) is offered up as a twisted reflection of 007, one who has been scarred physically and psychologically by his loyalty to the British secret service. Both agents have a complicated relationship with M, who is depicted as a stern mother figure who creates dependency in the young male orphans she adopts in order to manipulate them into unquestioned service to country. Talk about a playground for Freudian dysfunction. The approach may not achieve any actual depths of insight, but it does add welcome weight to a series that can often seem wafer-thin.
Bardem, one of only two Oscar winners to ever play a Bond bad guy (Christopher Walken was the other — and the less said the better), expertly straddles the line between camp and menace, creating a sexually ambiguous villain who is as disturbing as he is wounded. His scheme — which doesn't really hold up to serious scrutiny — is driven by deeply personal pain, forcing Bond to reflect on his own origins and loyalties. More notably, there's more chemistry between the two actors than any of the series' Bond-Bond girl pair-ups. 
While it is inevitable that Mendes will be credited with giving 007 his fullest movie treatment to date, it's ace director of photography Roger Deakins (No Country For Old Men, The Shawshank Redemption) who ultimately elevates Skyfall, establishing it as the most visually arresting film in the Bond pantheon. Not only does he make each and every location feel authentic and unique, he provides stunning compositions that amaze with clarity, color and richness. The standout is a stealthy Shanghai showdown between Bond and an assassin in a glass-and-neon-filled skyscraper. 
For all the craftsmanship, intelligence and soulfulness on display, Skyfall does tend to ramble a bit, with a midsection that's less urgent than it should be and a final siege on Bond's boyhood home that feels unnecessarily protracted. Mendes also falls victim to the too-many-endings syndrome that plagues many epic endeavors. Still, it's unlikely audiences will care much about these flaws. Instead they'll be suitably impressed by a film that retains all the 007 glamour, thrills and humor, while adding in a fresh layer of emotional and psychological complexity. At 50 years old, James Bond has matured in the best sense of the word. mt
Opens Friday, Nov. 9.