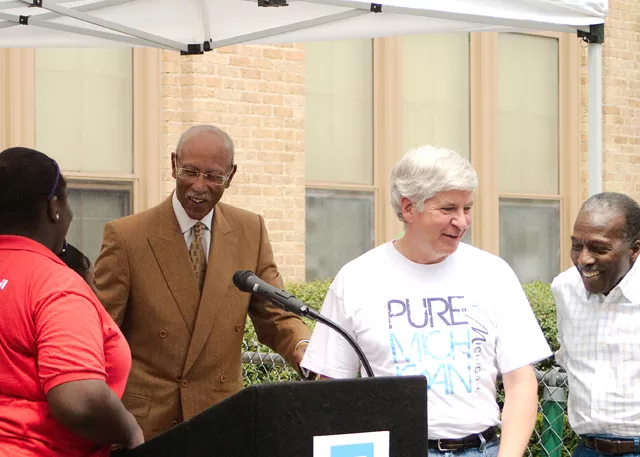 There was actually some good news last week, which is why I decided not to write this column about the Octomom becoming a porn star. I have always said that when all hope was lost, I would write a final column about the Octomom, and then open my veins.
But I was saved, for another week anyway, by an astonishingly sensible deal between Gov. Rick Snyder and Mayor Dave Bing to save and improve Belle Isle, long one of Detroit's best jewels.
Belle Isle is, at nearly 1,000 acres, the largest city island park in North America. It is even bigger than New York's Central Park. Old baby boomers like me have fond memories of the casino and other fairy-tale buildings, of the beaches, of fishing there with our dads, concerts, the fountain, pretty girls and picnics.
There were concerts and boats, the child-size little zoo, the Belle Isle aquarium, and a herd of shy wild European deer who we always looked for and very rarely saw. Then times changed.
Detroit became poorer, much poorer, and there was less money to keep up Belle Isle. The zoo closed, then the aquarium.
The concerts stopped. Some of the deer got sick; the rest were captured and taken away. Seventeen years ago, a jerk named Martell Welch flew into a rage after a woman scraped his car one summer night on Belle Isle. He then pulled her out of her car.
As scores of people watched without doing a thing, he beat the hum out of poor Deletha Word until, terrified, she jumped from the bridge, even though she couldn't swim. She drowned, hopefully before a boat propeller cut her leg off. Welch was swiftly convicted.
But that was enough to drive many people, especially suburbanites, away. Today, you can sometimes drive onto the island on a nice day and find it sparsely used. The city spends about $2.8 million a year on maintenance, but it isn't enough.
Belle Isle doesn't yet deserve the name the French originally gave it — Island of the Pigs. But it has been starting to look shabby.
However, the deal now on the table would fix that. The island would be leased to the state for 30 years, with an option to renew. Michigan would then run Belle Isle as a state park. This is a win-win situation for almost everyone. The city will save millions, and the state will pour millions more into fixing up the park.
That is, if the City Council approves. There is the usual moaning about not letting "them" take "our" park. Well, there doesn't seem to be any plan to tow Belle Isle away. Opponents do have one legitimate gripe: Under the deal, cars would have to have the $10 annual recreation passport that admits them to all state parks.
Pedestrians, bicyclists and those who ride the bus will still get in free, but not drivers. This may anger poor Detroiters, who feel they can't afford a pass for Belle Isle and shouldn't have to pay to enter.
Finding a compromise should be pretty simple. If anybody asked me (ha) I would suggest allowing those whose driver's licenses say they are Detroit residents to be allowed to drive onto the island free for a year, after which they could get a Belle Isle-only sticker for half of the normal cost — $5 a year, or less than a pack of smokes.
Say what you will about Snyder, he does seem to understand that the prosperity of this entire state is linked to having a healthy, vibrant and livable Detroit. Sadly, in his own party, he seems to be almost alone. Ironically, on the same day the Belle Isle deal was announced, Republican state Senate Majority Leader Randy Richardville announced he was giving up trying to put together an authority to fix Detroit's dysfunctional street lighting system.
Naturally, he blamed Detroit Democrats. Richardville said he was willing to help them, but the Democrats in the state Senate wouldn't support a proposed agreement, and so "we weren't going to be the people that swooped in and solve their problems for them."
Detroit state senators like Tupac Hunter and Bert Johnson said they didn't know what he was talking about. About the only thing clear is this: Most of Detroit is still plunged in darkness when the sun goes down, something criminals love.
And our elected representatives in Lansing don't give enough of a damn to reach an agreement to get the lights back on.
Singing the blues: I was pretty suspicious when, earlier in the week, the governor announced a proposal to allow Blue Cross/Blue Shield to convert itself into a nonprofit mutual fund.
The Blues are officially a charity, even if they are the only charity I know that pays its CEO more than $3 million a year. The Blues provide health insurance to more people, by far, than anybody else in Michigan. What their status as a charity means is this:
They have to offer health insurance to everybody, regardless of any pre-existing condition. The governor's plan would mean the Blues wouldn't have to do that anymore. They would also no longer be under the same intense state scrutiny and oversight as now. They would lose their current $100 million state tax exemption, and they would probably find it easier and faster to raise rates.
The governor's rationale was that this was all right, since President Obama's Affordable Care Act means people can no longer be denied health insurance because of a pre-existing condition.
But what if Mitt Romney wins and national health insurance is repealed? Frank Kelley paid special attention to consumer protection during the 37 years he was Michigan's attorney general.
He calmed my fears somewhat. "Don't worry," he said. "Romney isn't going to win, and in any event this deal won't happen if it looks like Obamacare would be repealed. But it won't be."
He does share my suspicion that this will lead to the Blues converting themselves into a for-profit insurer, and thereby making a few top executives very rich. But he doesn't think people will be hurt.
But I wonder.
More news of the dying Free Press: If you ever were silly enough to wonder whether the Gannett newspaper chain cares about journalism more than chasing down every last nickel, you got your answer this week. This week, it was learned that Gannett is completing the cheapening and trivializing of the paper by getting rid of a huge number of its remaining experienced staffers.
Among those going over the side: Ron Dzwonkowski, the former editorial page editor; Pulitzer Prize-winner David Ashenfelter; longtime Lansing correspondent Dawson Bell; and the familiar bylines Cecil Angel, Joe Swickard, Eric Sharp, medical writer Pat Anstett, photo director Craig Porter, veteran photographers Pat Beck and Susan Tusa, and a bunch more.
They committed the crime, in corporate eyes, of making decent salaries. The newspaper will probably hire a few much cheaper, small-market reporters in return. All this raises the question of whether there will be anything worthwhile reading in the Free Press.
The answer is yes, sort of. On the days Brian Dickerson or Stephen Henderson's columns appear, anyway. And then there's the Gannett weather map. You can also read Mitch Albom plugging his latest smarmy book or attempt to make money out of Ernie Harwell's corpse. Beyond that, there's the brilliant comic strip, Pearls Before Swine. And say ... did I mention the weather map?
Jack Lessenberry opines weekly for Metro Times. Write to [email protected]