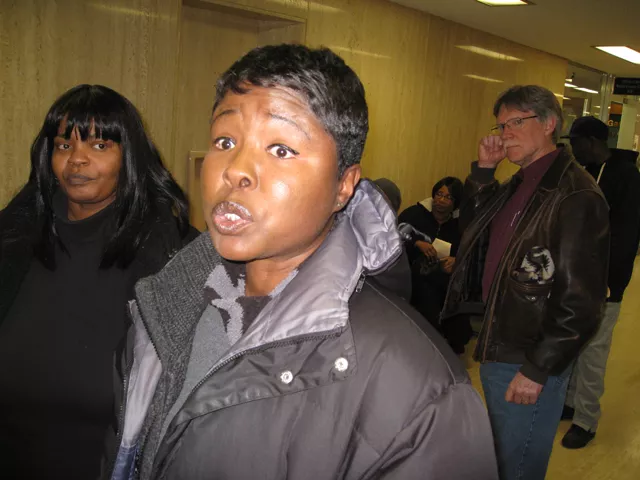 Unsuspecting homebuyers caught up in a $10 million scandal involving the Detroit Police and Fire Retirement System Board showed up at a board meeting last week hoping to have their concerns addressed.
They were sent away, unheard.
After taking care of some perfunctory issues, the board quickly went into closed session, and the frustrated victims (along with their supporters) were kicked out of a packed conference room on the ninth floor of the Coleman A. Young Municipal Center.
They were told, however, that they would be put on the agenda for the board's Nov. 29 meeting.
That session cannot come quickly enough for dozens of people who have been left in limbo since discovering they may be forced from homes they thought they were trying to purchase.
When News Hits first wrote about this back in July, we described the situation as a "clusterfuck."
Now, four months later, the situation has yet to be unfucked.
In fact, there's been a tightening of screws since the summer.
"It's a real mess," says Robert Day, a Legal Aid & Defender Association attorney who represents some of the victims.
Here's the background:
In 2008, the Detroit Police and Fire Retirement System loaned Paramount Land Holdings $10 million to buy and resell distressed properties, mostly in Detroit. About 2,500 properties were purchased, some for as little as $1.
In May 2011, the pension board filed suit against Paramount's owners — Abner McWhorter and George and Teresa Kastanes — alleging that the portfolio had been "grossly mismanaged," according to published reports. McWhorter, facing allegations that he'd been involved in a Ponzi scheme, committed suicide soon after the lawsuit was filed.
In March of this year, U.S. Judge Raymond Ray ordered the arrest of the Kastaneses after they repeatedly failed to appear in his court in Fort Lauderdale, where the couple had filed for bankruptcy.
They had fled the country. Both are back in the United States now and have reportedly been arrested.
The Detroit News has done a commendable job reporting that aspect of the story. The plight of the homebuyers caught up in this legal thicket, however, has mostly been missed by the mainstream media. A story in the News on Monday finally got around to airing their frustrations.
They face a twofold threat.
For starters, when they purchased their homes on land contracts from Paramount, it was not disclosed that the company had failed to pay back property taxes. The company also failed to properly transfer titles for homes it was supposed to have purchased. Day estimates that between 100 to 200 families may have moved into homes they now might be kicked out of.
The Wayne County Treasurer's office, with a few exceptions, has so far held back on foreclosing on these properties, but that reprieve may come to an end early in 2013, says attorney Day.
The attorney, who works for a nonprofit geared toward helping low-income clients, says part of the problem is that the back taxes that should have been paid by Paramount often amount to much more than the homes are actually worth.
In some cases, taxes totaling $10,000 or more are owed on property worth virtually nothing in Detroit's depressed housing market.
As Day explains it, given the low value of the property and high amount of taxes owed, it doesn't make any financial sense for the duped homebuyers to try to gain title — which they thought they were already doing legally — by paying off the back taxes piled up by Paramount.
In addition, as a result of the suit filed by the pension board against Paramount, a receiver appointed by a Wayne County Circuit Court judge is now responsible for the homes — numbering about 2,000 — that Paramount was supposed to have purchased with the loaned money.
It is not clear how the people who made good-faith efforts to buy the homes from Paramount will fare now that a receiver is in control. The concern is that they will be left out in the cold.
In a statement emailed to News Hits, PFRS Board Chairman Matt Gnatek says that none of the homebuyers is being held responsible for any delinquent taxes accrued by Paramount.
He also says the pension board is wrongly being depicted as a villain in all this.
"The bottom line is the Pension Fund has no control over these properties — that is all in the hands of the court Appointed Receiver by law," Gnatek writes. "The Pension Fund has great compassion for these individuals. The original purpose of the loan was to help low-income people secure home ownership and to provide stability to Detroit neighborhoods and that continues to be the goal of the Pension Fund."
The way the buyers see it, they are being treated as if they are "squatters" trying to illegally occupy houses in which they have no rights. In reality, they say, they're victims caught up in the same web of fraud that ensnared the pension board.
The difference, they say, is that if the board had done due diligence before making the multimillion-dollar loan, the problem would never have occurred in the first place.
Moreover, homebuyers such as Steve Bynum and Kim Pierce worry that the thousands of dollars they have put into upgrading the home they thought they were buying on Detroit's west side will be lost.
As Bynum and Pierce, who are married, told us back in July, they had agreed to purchase a home on Westwood Street on a land contract for $35,000 in January. They put $560 down and agreed to make payments of $400 a month — for a property that they say Paramount purchased for $1 and then left unsecured, allowing it to be stripped of everything of value. To make the place livable, the couple says they put an estimated $8,000 to $9,000 into fixing the place up. Pierce said she borrowed that money from her 401(k) account.
Bynum, who is disabled, has also been keeping tabs on another Paramount home across the street, boarding it up to fend off strippers and keeping the grass cut. Day says that he thinks most of the homes acquired by Paramount have been left open, bringing down the value of neighboring homes.
Day also claims that, after a receiver was appointed, some of the people attempting to purchase the Paramount homes were notified that they were in danger of being evicted.
"We're on edge. We don't know what's going on," one of the homebuyers who showed up at the pension board meeting last week told News Hits.
"They are treating us like welfare recipients," another told us.
"We are fighting this every day," says Pierce, who also came to confront the pension board.
She says that she's being contacted by others who are just now learning that they are caught up in the same mess.
It is the board's position, however, that issues involving burned homebuyers are now entirely in the hands of the receiver, and that those will have to be reviewed on a case-by-case basis.
For their part, the buyers keep trying to draw attention to their predicament. That's why they showed up en masse at the pension board meeting.
They have organized, says Day. And their numbers are growing.
By banding together, and working to draw attention to their plight, they are hoping that a fair settlement that allows them to stay in their homes will be achieved.
Right now, though, they are left wondering who in authority is ultimately looking out for their interests.
As one of them told us last week:
"We're the ones getting caught in the crossfire of all this."
News Hits is written by Curt Guyette. Contact the column at 313-202-8004 or [email protected]