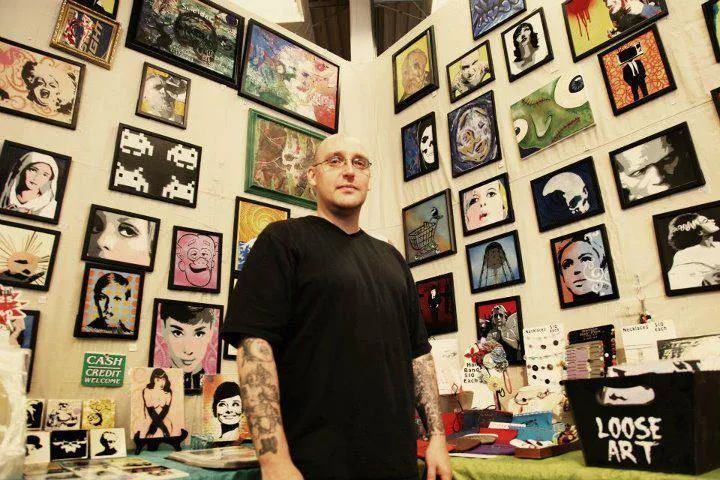 In 2007, Jerry Shirts needed a way to cope with the oppressive amount of free time he suddenly had on his hands after losing the job he'd had at an auto parts supply warehouse for 15 years. All of his skills and experience were tied to the automotive industry and no one was hiring. "Painting really helped me keep my sanity through the tough times I had after I lost my job."
Shirts has loved to draw since he was a kid, but has never had any formal training. Art had always just been something of a hobby. But with his newfound free time, this hobby grew into a passion. He searched online to see if he could find other people who were into the same things he was. Shirts' work tends to be a bit on the dark side and is heavily inspired by punk rock and horror and sci-fi movies. Though he does paint on canvas, he also uses less conventional surfaces such as records, skateboards, ceramic tiles, glass bottles, and various wooden objects. His techniques are self-taught; many of them, including stenciling, are culled from his younger days as a skater back in the early 1980s, when he'd stencil images on his board. By searching online, he found other artists with the same DIY sensibilities and bent toward the macabre. His debut in the Detroit art scene was a group show called Multiple Personalities at Lift Gallery in Royal Oak, followed by a second group show, Unfiltered at Octane Gallery. This second show is where he met Mike Kelly (owner of Funhouse Gallery), which led to a third group show curated by Kelly at the Majestic Cafe titled Ghouls-a-go-go.
Since he started making art, Shirts has never looked back. What started as a sanity-saving hobby is now a source of income that is creatively gratifying. Shirts consistently shows his work at art festivals, gallery shows, and comic and horror conventions. He also has a booth at Rust Belt Market in Ferndale that he shares with fellow artist and girlfriend, Theresa Walding.
Jerry Shirts' art will be featured at upcoming shows: Aug. 17- 18, at Zombie Con, MPI Film, 2040 Crooks Rd., Troy, and Sept. 5-7 at Ultra-Violence: A Visual Vocabulary of Stanley Kubrick, at Tangent Gallery, 715 E. Milwaukee St., Detroit.
Check out a slideshow of artwork by Jerry Shirts here.
Want to open your studio to Metro Times? Email [email protected]