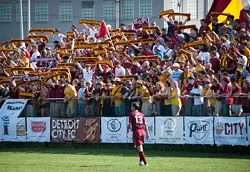 AS WE CELEBRATE 4/20 and everything that marijuana has given the world, I am reminded of Ricky Otto. That name will almost certainly mean nothing to you (to be fair, he is barely remembered in his native England), but, growing up, this professional soccer player had quite an impact on a young me. Otto played for Birmingham City, Charlton Athletic and a few other teams, never making the leap into the Premier League, but earning a decent living in the lower divisions. He was also a bit of a pothead.
Otto was "cautioned" in 1995, after police found cannabis in his car, and subsequently fined three years after, again for possessing cannabis. He was 25 years old that first time, 28 the second. In 1995, I was an impressionable 20-year-old and, even then, I remember thinking, "Dude, you're living the dream. You're a professional soccer player at a relatively big club on a good salary and the potential to get to the top. Why the fuck would you blow it by smoking a joint?"
Ricky Otto wasn't the first athlete to dabble in recreational drugs, and he certainly wasn't the last, but the image of him seeing out his playing days with an amateur club, the weight piled on and the pace gone, is enduring. Happy 4/20.
ONE WOULD HOPE that the players at Detroit City FC, a professional soccer franchise, are a lot smarter than Ricky Otto since they already have enough barriers to overcome. However, this grassroots organization seems to have some smart people behind it, and it might stand a chance of achieving something quite special.
This isn't the first time Detroit has attempted to create a soccer franchise. In 1967, the city made the rather odd move of importing a group of players from Glentoran F.C. of the Northern Irish League and calling them the Detroit Cougars. It didn't last; the Cougars (who played at Tiger Stadium) were dissolved in '68. There have been others too, but recently we had Detroit Arsenal (with an emblem ripped from Arsenal of the English Premier League), which existed from 1997 to 2007, playing in the fourth tier of U.S. Soccer at Berkley High School. They simply disappeared too.
The Detroit Ignition, an indoor soccer team, seemed to be kicking all kinds of ass but suffered when every league they entered folded.
If the owners of Detroit City F.C. are looking for examples of how not to do things, they need not look very far: There's a 45-year blooper reel to pull from. Of course, not everything that has gone wrong can be blamed on the Cougars, the Arsenal, the Ignition, or any other club who gave it a go.
We Detroiters are blessed in that we have four competitive professional sports franchises (to varying degrees). Throw in the popularity of college sports (particularly, but not exclusively, Michigan and Michigan State athletics), and we already have plenty to occupy us and spend money on (i.e. tickets and merchandise).
The people behind Detroit City are attempting to throw something new into that pile and, what's more, something that has repeatedly failed in the past. What's different now?
DETROIT CITY PLAYED its first ever season in 2012 in the National Premier Soccer League's Midwest Division, hosting matches at Cass Tech. Nicknamed "Le Rouge," and with a crest featuring the Spirit of Detroit, the team ended with a respectable 5-2-5 record. At the end of the season, Canadian Kofi Opare left City to sign a professional contract with the L.A. Galaxy. That's great, but isn't the aim of Detroit City's handlers to make the club one that players want to stay at? Fuck L.A.!
The co-owners of Le Rouge are Alex Wright and Sean Mann, local businessmen looking to give something back to their community. Well aware that Detroit City isn't about to compete with the Tigers et al., Wright says the whole thing is easier if your ambitions are modest.
"Sean and I didn't look at it from that business macro point of view," Wright says. "We are both local Detroiters and our work is in the city. We came together through a rec league Sean had founded, discovered the interest and tapped into that. We decided to start small and smart. When you do that, you don't have the worries that the pro teams have."
Wright says that soccer is already popular in this country, so the idea that Detroit City is going to be the team to carry the sport forward is nonsensical.
Rather, he and the team simply have to tap into a couple of thousand fans in southeast Michigan and encourage them to come to Cass Tech to see a game. "I do think it's inevitable that eventually the pro-soccer experiment will come to Detroit," Wright says. "But pro-soccer will only succeed if the small clubs grow first. Our job is simply to build the supporter base and provide a winning team. It's hard to imagine Detroit City going pro, because the amount of capital required to build a pro team is astronomical. It's just not the way the business works."
For Wright, the fact that his team is competing in its league, producing quality soccer and offering affordable entertainment to the locals is reward enough. "We're very passionate about the city," he says. "It's important that we offer $5 games because we know that there are plenty of options for Detroiters to spend their money on. It's important that we partner with local businesses, and it's important that we reach out to local ethnic communities and say, 'Hey, we share your passion for this game.'"
While there is passion for the game, a team like Detroit City has a chance.
City till I die.
Find out more at www.detcityfc.com
Brett Callwood is a staff writer for Metro Times. Send comments to [email protected]