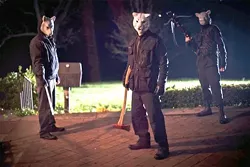 You're Next | B-
Characters in horror movies have a nasty habit of behaving like people who have never seen a horror movie, which helps explain why the venal trust-fund dimwits in this effective yet cynical thriller spend most of their time stumbling around darkened rooms, screaming incoherently and trundling down to the basement solo.
Of course, the movie is keenly self-aware and quite proud of its own meta-textual alertness as it simultaneously dispenses with its cast and with genre tropes — all with gleeful enthusiasm.
The basic set-up has a family of affluent, up-tight WASPS and their significant others convening at their stately summer manse for a weekend of bonding and bickering in the woods.
The occasion is a significant wedding anniversary for an attractive, well-heeled middle-aged couple whose amusing resemblance to Mitt and Ann Romney is too close to be entirely coincidental.
Their brood of petulant adult children, and their various dates, can barely suppress their host of insecurities, vanities and ongoing rivalries long enough to pass the dinner rolls. Obnoxious middle brother Drake (Detroit-born Joe Swanberg) is haughtily dismissive of everybody, particularly his timid lit professor sibling Crispin (A.J. Bowen), who brought his comely young Australian girlfriend Erin (Sharni Vinson).
When Erin, of sweet nature and keen mind, casually mentions growing up in a survivalist community, we're pretty much clued in that she's a strong candidate to make it all the way to the credits.
Not so lucky is the poor shlub who suddenly gets a crossbow bolt through his skull, which oddly enough wrecks appetites before the entrée course. Inexplicably, the house is under siege by a band of merciless attackers who start savagely picking off the inhabitants, one by one.
Predictably everyone panics and starts making some seriously bad choices, everyone, that is, except Erin — who arms herself with a meat hammer and other kitchen gadgets, resourcefully striking back against the marauders.
Bodies stack quickly — as do genre clichés — though director Adam Wingard tries to legitimize the tired tropes by drawing attention to them. Slick, stylistic touches trump serious ideas: Like using '80s sound cues and a Dwight Tilley tune on repeat, and having the killers sport animal masks for no other reason than it looks cool.
As glib and gory as it is, You're Next is a swift and energetic tweak of the dumb home invasion genre; and better than The Purge because it has a heroine actually worth rooting for.
You're Next is in theaters now and is rated R with a running time of 94 minutes. Watch trailer here.