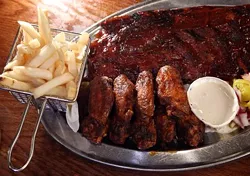 It's a Tuesday afternoon just after opening time at Warren's Falling Down Beer Company. Co-owner Mark Larson is there, although he's just back from a "research" visit to Sherwood Brewing Company in Shelby Township, and therefore still recovering from what sounds like more than a few pours of Chai Tea Ale. That said, he's already at work in the vat room, occupying the rear of this squat, single-story building on East 10 Mile Road that could have been a former Arby's. It's unpretentious to the extreme, and yet it represents the third in a triumvirate of creative breweries that have sprung up in Warren over the last decade.
What is it about Warren that makes it so attractive to craft brewers? Larson explains that when he and co-owner George Lang, both longtime home brewers, were looking to open their brewery, they first took their business plan to a few chain-choked Detroit suburbs, which shall remain nameless here. The city fathers told this twosome that unless they had $2 million to invest, they wouldn't be let in the door.
"Then we started talking to Warren," Larson says, "and they were really great. They were familiar with craft brewing, and sort of held our hands through the process."
That process culminated in March with the opening of Falling Down, constituting a sort of craft beer critical mass in this inner-ring suburb. Of course, with Kunnhenn's and Dragonmead in the same city, Falling Down has to set itself apart from the other local offerings. Larson agrees that Dragonmead is known for its high-alcohol specialty beers and share of tricked-out nitro taps, and Kunnhenn is noted for its eye-popping sour beers. He says Falling Down aims to make its name by honoring brewing history, adhering to older beermaking recipes.
In this sense, Larson is a traditionalist. He's proud that Falling Down's Old Irish Ale is made from an Irish red recipe from the 1700s, and lauds Dogfish Head for exhuming an even more ancient Egyptian beer recipe and bottling it.
He describes his taste in beer as "malt-forward," but admits that some great results come from the tension between himself and brewing assistant Eric Stephenson, whom Larson teases affectionately as a "hophead."
The magic happens in the brewing room, where they can make both 10-barrel and one-barrel batches. From eight taps flows a rotating menu of brews in a classic range of light to dark. We tried the whole flight. It was refreshing to drink beer that wasn't insanely overcarbonated, to taste beer that doesn't float over the tongue but seeps into the taste buds and gives the subtle tugs and flavors of a real mouth-feel. The poundable blond has cherry notes that come from Balaton cherry syrup pressed outside Traverse City. The English Mild, a roasty stout, tasted best after warming up to about 45 or 50 degrees. One drinker declared the D-IPA to be the maltiest IPA he'd ever had. The English-style bitter wasn't bitter — ever the traditionalist, Larson explained it's an old term for everyday, common beer — but was super malty, although they're still trying to work out a "chill haze" it gets from its yeast. If anything, we noted that this bitter tasted slightly cidery, prompting Larson to suggest that was because it was made with a Nottingham yeast that's used in a lot of ciders. The brewery's porter, which one of our party described as "good as Founder's," is the brew Falling Down would like to put into distribution first. It's brewed with caramel flavors and a small amount of chocolate nibs from Ecuador, making for subtle flavors.
The Falling Down crew even broke out some experimental brews for us, such as an India brown ale, a work in progress by the hop-forward Stephenson. He said he had hoped to avoid that super-roasted, raisiny flavor you can get with chocolate, so he restricted himself to just caramel. The quaff comes in at a healthy 7.9 percent ABV.
Larson clearly doesn't want to go overboard into sours that index so sky-high in "international bitterness units" that they practically kick you in the face, but things have to hop at least a little. "It's all about balance, balancing the bitterness with the malt," he says. In fact, Larson relies on a producer from Wisconsin for his malted grain, showing just how far he's willing to go for that traditional flavor.
Speaking of flavor, the kitchen doesn't stint on food, producing some of the more inventive bar dishes we've had. Their deep-fried Reuben egg rolls are proof that 1 billion people can be wrong. One of us vacuumed up the pub burger in a flash. The hand-cut fries can come with the brewery's special "pub cheese," a mixture of beer and cheese that must marks some sort of new decadence in condiments. Even their Thousand Island dressing is made in-house.
While our party was busy crushing burgers and pounding beer, the game crowd was already beginning to drift in, including one particularly cantankerous man volubly holding forth on Jim Leland's lack of postseason panache. A decade earlier, he'd have been having industrial beer from a can, yet today he was barely blinking over the wonders he was drinking down. Why not? In Warren, this is normal now.
Falling Down Beer Company is at 2270 E. 10 Mile Rd., Warren; 586-799-BREW; fallingdownbeer.com.