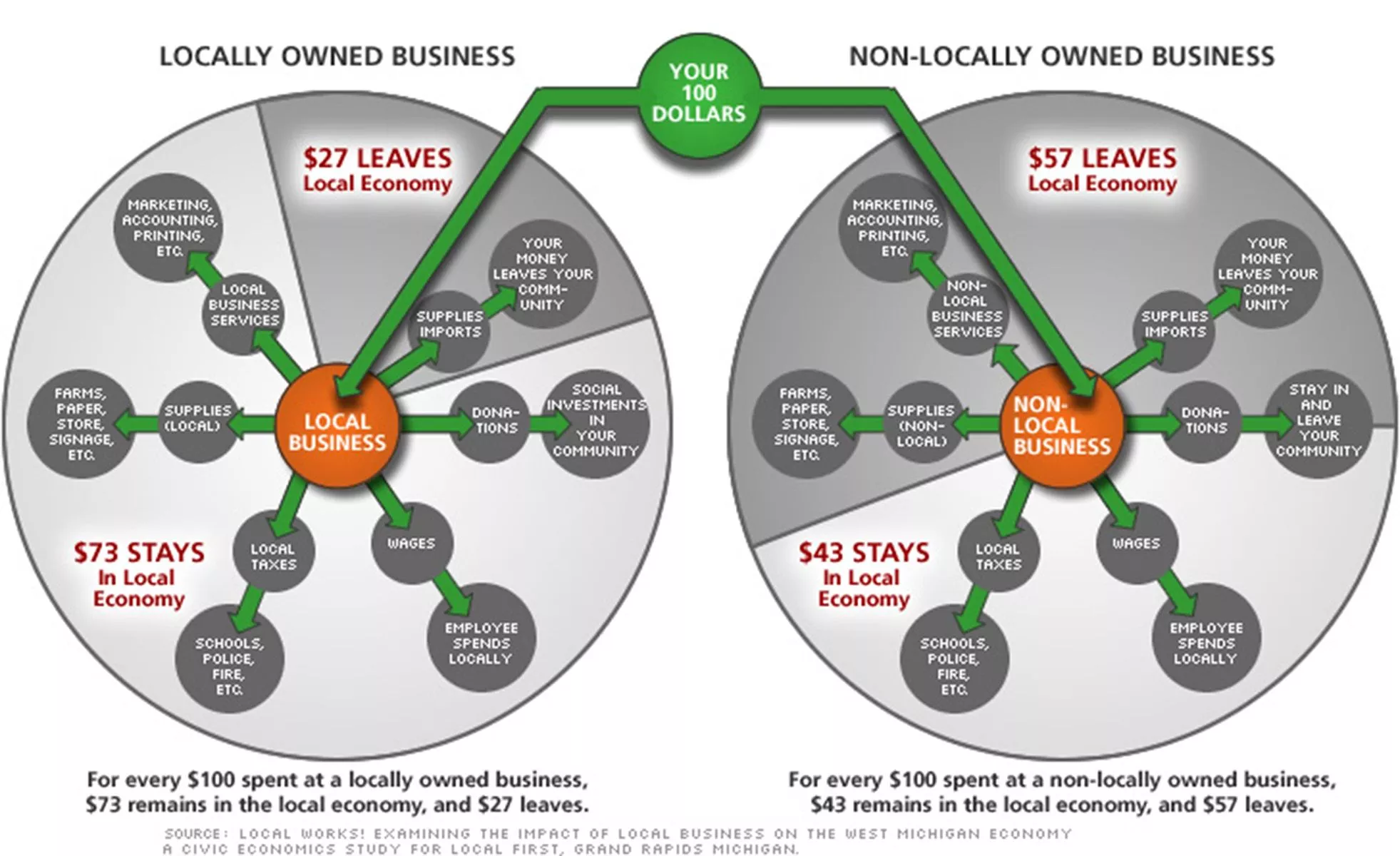 Ten years ago, when a small group of Grand Rapids business owners began thinking about ways to promote a "local first" campaign, there weren't many established models for them to follow.
"We were one of the first three 'buy local'-type campaigns in the United States," says Elissa Hillary.
What began as an informal effort has since turned into a nonprofit called "Local First." Hillary has been its executive director since 2007 and the movement it exemplifies has spread far and wide.
"There are now more than 150 organizations similar to ours," she says. "It has really become a national trend, with thousands of campaigns having been launched. It's all a result of people trying to figure out how to build strong, sustainable local economies."
Getting people and businesses to buy locally has proved to be a surefire way to do just that.
In 2008, the nonprofit commissioned Austin, Texas-based firm Civic Economics to study the economic impact of buying locally produced goods and services.
Civic Economics had done similar studies in its hometown of Austin, as well as Chicago and San Francisco. Grand Rapids and greater Kent County offered an opportunity to look at the potential benefits a "buy local" campaign could have in a place other than a major metropolitan area.
The results of that study were eye-opening, Hillary says.
As noted in the report, "one modest shift in consumer behavior — a 10 percent shift in market share from chains to locals, across the retail landscape," would result in an "additional 1,600 jobs … with wages of $53 million being added to local payrolls, if such a swing in purchasing behavior could be achieved."
A 2009 article in Bloomberg Businessweek explains why such campaigns can pack such a wallop:
"The economic argument behind buy-local campaigns goes like this: Spending at local businesses, rather than at chain stores or online, helps local economies because those firms are more likely to buy from local suppliers and hire local service providers for needs such as accounting. The jobs that those dollars support stay in the community, rather than going to chains that consolidate their suppliers and back-office functions elsewhere. The profits, too, stay with local owners who spend in the community, rather than going to out-of-state owners or shareholders."
In 2007, Livonia business consultant Lisa Diggs decided to take the concept statewide.
As she recalls, it was just before Thanksgiving, and she was contemplating the fact most of her customers were located out of state, and that prompted her to look for a way to help generate support for Michigan businesses. Her solution: the "Buy Michigan Now" campaign.
As part of that campaign, she launched a website that, among other things, features a searchable directory of businesses based in the state, making it easier for people interested in seeing their money stay in Michigan.
The site also allows people to pledge they will "play an active role in building a strong, vibrant, and diverse Michigan economy. I will be a part of the solution by speaking positively about the state, learning about our products and services, and making a concerted effort to buy from Michigan businesses. I will Think Michigan First!"
At last count, nearly 7,200 people had promised to do just that. In addition, from a start of just a few hundred businesses, there are now almost 5,000 businesses taking an active part in the campaign, she says.
The economic meltdown that occurred in 2008 only added to the impetus, she says.
"When it comes to the economy, there are so many things that we can't control," she explains. "One thing that we can control, though, is where every single one of our dollars go. It only takes a change in thinking to become part of the solution."
Part of it is a matter of awareness, knowing what's Michigan-made and what isn't, so when you go to buy cake mix, you'll pick up a box of Jiffy instead of some other brand, or grab a bag of Better Made potato chips (or maybe Uncle Ray's) instead of some national brand.
In Detroit, much of the "buy local" focus lately has been placed at the institutional rather than individual level. Source Detroit (a program formerly known as Buy Detroit) connects the Midtown "anchor institutions of Henry Ford Health System, Wayne State University and Detroit Medical Center with Detroit-based businesses "in order to stir spending and economic growth in the city" according to information posted on the program's website.
Created as a partnership between Midtown Detroit Inc., U3 Ventures, the Detroit Economic Growth Corporation, and the three anchors, the program has so far resulted in $16.5 million in spending being transferred to Detroit-based businesses.
The common thread that connects individuals, small businesses, large corporations and big institutions is this: Where money is spent matters. A lot.
News Hits is written by Curt Guyette. Contact the column at 313-202-8004 or [email protected]