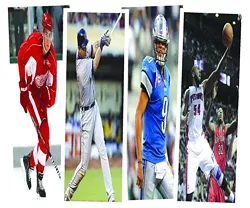 Last Friday, while the Tigers were starting their opening-round playoff series with the Oakland Athletics, the Red Wings were mid-game with the Carolina Hurricanes.
Hockey? Baseball? What?????
As of last Tuesday, the puck has dropped. And what does the start of the long-winded NHL season mean? I'll tell you — it means we're kicking off one of the best months of the year for sports.
I think it's hard to argue that, at least as months go, March isn't tough to beat (obviously college basketball's NCAA Tournament is the highlight of every avid hoops fan's year). October is close, though.
First there's playoff baseball. Late-game rallies, clutch hits, walk-off home runs, dominating pitching performances; playoff baseball has it all. It's like the MLB took all of the best moments from 26 long, hard weeks of the regular-season, and squeezed it into one crazy month of baseball — it's terrific.
And if you're unsure, try to remember 2006, when Magglio Ordonez hit a walk-off home run in the ALCS and the city went wild. That's what October baseball's all about and that's why it's one-of-a-kind.
I understand that for cities without playoff-caliber baseball teams, you might not be as interested in October baseball as others. But Detroiters aren't in that category: the Tigers are in their third-consecutive ALDS series, and hope to go a step further than last year and win the World Series.
But, Detroiters, your support shouldn't stop there. Not only did the Red Wings' season kick off last week, but they're in a new conference too. That means that you'll get to regularly watch Datsyuk and Zetterberg match wits with the likes of Sidney Crosby and Alexander Ovechkin. Not that the Red Wings didn't ever see those guys before, but it'll be a lot more often this season.
There's a reason you hear the "Hockey Song" by Stompin' Tom Connors at pretty much every Red Wings home game. You know the lyrics: "Oh, the good old hockey game, it's the best game you can name. The best game you can name is the good old hockey game."
Where else can you watch a guy with filthy moves like Datsyuk slip through opponents like a knife through butter, and then a minute later watch two grown men drop their sticks and brawl like one of them just insulted the other's wife? Just the fact that you get baseball (traditionally a summer sport) and hockey (a winter sport) in the same month makes October pretty damn special in my eyes.
If you manage to peel your eyes away from the Tigers and Red Wings, try to save some game-attending afternoons for football. The NFL started less than a month ago, and nothing says October more than a game of touch football in the back yard, followed by a day spent on the couch watching NFL games.
If you throw in a jug of cider — preferably Franklin Cider Mill cider — again, I'm not sure what more you could ask for? The Lions seem to be on the right track this season, making Sunday a nice time for a trip to Ford Field. If the NFL isn't your cup of cider, you've also got your pick of local college football teams to root for.
And finally, let's say you're a diehard NBA fan (not sure why you would be) scorning everything because your precious Pistons haven't started. Well, you've got the full preseason to look forward to until the official tip-off on Oct. 29. Even the NBA's start squeaks into this October extravaganza.
The month of October is like the Christmas (or Chanukah) of months for sports. You get a taste of all the major sports. Since we live in a city that has four quality teams — more than a lot of other cities can say — we can vivaciously cheer them all on without losing a sweat. That is, until a home Tigers playoff game gets scheduled during a Lions home game, and then you sit in hours of traffic to get down there. When all is said and done, it's usually still warm outside, fergodsakes. Just enjoy it while it lasts: I mean nothing says October more than: "Winter is coming."
Michael Laurila writes about sports for Metro Times. Send comments to [email protected]