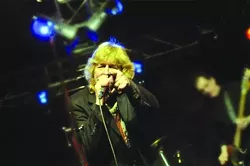 Many of you who frequent shows and festivals around metro Detroit will be familiar with Danny D, the Rod Stewart tribute artist who both sounds and looks the part. D's admiration and adoration for Stewart is always on display; he's rarely seen in public without the full garb and he does his job well.
The Look's Dave Edwards doesn't do any of those things. However, it can be argued that Stewart's spirit runs through Edwards' veins (even if Stewart isn't dead) — more so even than D's.
Edwards has been fronting the Look since the late '70s, adding a Detroit edge to the blues-based sleazy hard rock that the Faces did so gloriously, back before Rod got all insecure and asked us all if we think he's "sexy."
Edwards formed the Look in 1977 from the ashes of his first band, Tantrum, taking a cue from local heroes like the MC5.
"The Look did a few songs from the Tantrum era when I started the Look in '77," Edwards says. "When I was 15, the very first concert I saw in Pontiac was Bob Seger. It was the Bob Seger System — a power trio at that time — the MC5, the Stooges. I love punk music."
Edwards might admire the attitude and energy of the punk movement, but that vibe, and certainly that aesthetic, isn't apparent when you see his band live. His list of influences gives more away.
"In the early days, guys like Little Richard, Wilson Pickett, Otis Redding — I listened to a lot of CKLW, a
radio station in Windsor," Edwards explains. "They played black and white music together. The Beatles were a big influence, the Rolling Stones, the Who, the Kinks. (I opened for the Kinks once.) People do compare me to Rod. I never consciously imitated him, but I do love Rod in his early days. When people say I look like Robert Plant and sound like Bryan Adams and Rod Stewart — I'll take all of those."
It's easy to forget, but the Look was one of the first Detroit bands to be featured on MTV (back when the channel really spun videos 24 hours a day). The band had some national success and generated an almost-audible buzz for a while.
"I played with Peter Frampton once, and the girls were chasing us around like Beatles-mania," Edwards says. "Even in the Tantrum days, people in the audience would claw at me. The Look and the Romantics were the first two Detroit bands on MTV, and the video thing really helped. We toured the United States because of that."
The Look released four albums, scoring a chart hit with the song "We're Gonna Rock," then it all seemed to be over as quickly as it began.
"We signed with Fantasy Records on a five-record deal," Edwards says. "They put keyboards on our
records, and they didn't make videos. We became
disillusioned and it kind of just fell apart after that. Now we've learned how to record really well. I write a lot of songs. I think that there are only two kinds of music — good and bad … I've been working on my own stuff, which leaves little time."
Nowadays, Edwards seems to alternate his time
between a reanimated Look, the Dave Edwards Band, and his reggae group the Belle Islanders. In truth, the Look and the Dave Edwards Band are one and the same. Only Edwards remains from the original Look group, but he will forever be associated with that band name.
"A lot of people associate me with the Look and I can't shake it," he says. "Paul Rodgers and Bad
Company — Paul's tried to go solo but he can't shake Bad Company. Roger Daltrey and the Who, Rod Stewart and the Faces; There's really no difference, it's like an 'aka.'"
Edwards says he can't shake the Look, but then again, why should he? "Everybody knows the tunes. People ask me if I ever get tired of singing 'We're Gonna Rock' — absolutely not. At least I have two or three songs that people know and expect me to sing every night. I have no problem singing those songs."
Speaking of his reggae band, they have a new album out. "My last rock album was recorded live, The Red Light is On," Edwards says. "The record I'm promoting right now is by my reggae band, the Belle Islanders. That album's called Nothing's Gonna Stop Us. I think my rock band will be playing a couple of songs off of it too.
"I saw Bob Marley at the Masonic Temple. … in the late '70s. I always liked reggae. … I always joked with my producer that we should have a reggae band called the Belle Islanders … and we used to laugh about it. … This is our second album. I'm really proud of this record."
This Saturday, the Look plays Callahan's in Auburn Hills, a venue that is fast becoming a haven for fans of classic rock and blues-rock.
"I have to do 'We're Gonna Rock,'" Edwards says. "It should be a really good, high energy, high-powered rock show. I love Callahan's. This will be my fourth or fifth appearance there. We opened for the Hell Drivers, who later became the Rockets. I did a super session there. I love that place. I used to live in Auburn Hills — my parents had a house there."
High-powered and high-energy is as good a description of the Look as any. They might not be grabbing the headlines or getting videos onto mainstream television anymore, but Edwards still has a voice like honey on sandpaper, the old songs still sound great and the new ones match them.
Who needs fucking MTV?
The Look plays Callahan's on Saturday, Aug. 17,
with Chrome Mollie; 2105 South Blvd., Auburn Hills; 248-858-9508
Brett Callwood writes City Slang. Send comments to him at [email protected]