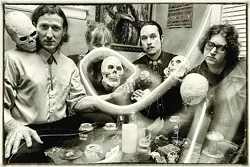 The further out this band spreads itself, the more centralized it becomes. It may sound very strange to you, but then Duende's guitarist Joel McCune says that it's kind of the whole point. That's the only conclusion he can draw after the rush of a eureka moments this local quartet experienced in the studio recently, recording its fourth full-length album, Murder Doesn't Hide the Truth.
"As a band" is a phrase each member repeats more than a couple times in the hour we spent with them: McCune, singer-guitarist Jeff Howitt, drummer Laura Willem and bassist Scott Sanford. After more than seven years of steady shows, tours and releases, they're waxing philosophical, reflecting on intriguing if mystic thoughts such as how to get "better at being Duende." And, what does that exactly mean? For this band, known for, if anything, its chameleon-like shifting styles, that question is both valid and exasperating.
It's late, Tuesday night, and the band members are gearing up for tomorrow's Duensdeday — the monthly local music showcase they host at the Loving Touch in Ferndale. Plastic record sheaths clutter the rug of the apartment belonging to Scotty Hagen, who heads Ferndale-based Bellyache Records. The members sit in a semi-circle on the floor, packaging their vinyl, which includes a genuine mock Playbill detailing the "cast" and plot-teasers for their "Murder Mystery."
Thick with theatrical lyrics threading a mystical narrative ruminating on Death as transitory and Truth as humbling obligation, Murder affects what Howitt called "this feeling of traveling." They've arrived at a kind of playful dinner-theater aesthetic, (like a game of Clue, but by way of David Lynch), as a theme for their release show this weekend.
McCune calls the opener, a punk-ish, jangly boogie called "Do What I Want," a musical embodiment of "a philosophy of what's to come on the album."
"As a band, we've tried not to tether ourselves," McCune says. "If anything, we've tried to spread ourselves out with influences."
Howitt laughs at the hollow vanity some bands assign to image, with self-aggrandizing "band bios" or flamboyant photo shoots. "You can place your energy in things that don't need your energy. I don't even list our influences on our website and, man, I can't even finish our own band bio. … It's crazy-talk. It's like I'm telling you what I'm doing instead of showing you."
The band hasn't made its definitive album yet. Heck, the group has been inherently indefinable for its seven-year run. Were they psychobilly revivalists or just indie-rockers who didn't mind a bit of twang? Blues-worshippers preoccupied with psychedelic garage? No one could place their sound.
Murder could be the mission statement that Howitt and McCune have been drafting for a decade. The Michigan-raised pair met by musical chance, while both were living out in Phoenix 10 years back and their paths crossed down some fateful used record shop's aisles. Howitt returned in mid-'03, McCune came soon after.
After he met Willem, Howitt started dreaming up "the idea" for Duende. Back in early 2005, with Willem on drums along with a handful of friends, they jammed whimsically together in a Ferndale basement on a hot summer night. Most of those "first" members flitted in and out or away from the band for its first two years. Their operation continued to be loose and inspired by "the jam."
Not an uncommon conception or origin story, but Duende's plot twist is that instead of honing in on a sound, the band continued stretching out, clutching that exploratory process as strength. Not a jam in some exhaustively heady Grateful Dead or aloofly hazy Phish sense but more like a mad scientist-angled experiment, trying one thing, then another — and then something completely different.
"There's very few Duende songs where I have a part that I play the same way every time we play that song," McCune says.
"Open to interpretation," winks Howitt. "I liken it to a jazz structure. There's a root, but the expression is open for debate, always."
But what do their songs sound like? Well, Howitt's right, they've never "listed" influences. But, imagine if Lou Reed, R.L. Burnside and Jon Spencer ran a record store together; you'd find some Duende's singles in their stacks. Or if Tom Waits, Ian Svenonius and Wanda Jackson co-owned an all-night, dusty juke joint that converted into a UFO just before dawn? Duende could be their house band.
"I have to stay on my toes," says Sanford, who joined Duende in mid-2010. "You don't know where the song's gonna go, there's detours you're not expecting."
"Or sometimes we just fuck up," Joel charmingly jumps in with a hearty chuckle.
Murder could also be that transcendent experience where a band really takes ownership, or maybe actualization, of what McCune considers a "philosophy."
"There's this theme of responsibility there," Howitt says, calling back to the title track, ("Do What I Want.") "'Lest it hurt no-one, I do what I want!' I think people can miss the golden rule about that sentiment."
Howitt continues to discuss the album, saying, "We treat 'Death' in the old way, where it's respected as change. These days, preference and opinions often overtake the cold facts and consensus. I go back to this being like 'ownership,' owning it, putting in enough years. Joel and I have a deep history. We're a band that's in between popular, never up there with the six current whatever-buzz-bands, but when those six bands break up, we're able to sustain and open for national bands, or tour, or … there's just something, then, to just trusting yourself."
None of them says out loud that they'd walked into Dave Feeney's Tempermill studio ready to write the most important record of their lives, even if that's how it feels, now. (But something really hit them, they all admit, since, in that short period of time they banged out two collaborative singles with Passalacqua, a music video, and the entire 11-song album nearly an hour long).
It's owed to acting on instinct, Willem says. "There was an ease these last two years where every practice we'd have a new idea that became a new song by the end of a night."
McCune says, "We all know what each is going to do, even things we don't expect them to do." And then he gets mystical and philosophical again, musing on communicating "as it's happening," on stage or in the studio.
Murder isn't a statement, then, but a conversation. It flows like a dialogue. Thus, a play — a "Murder Mystery."
Duende's Murder Doesn't Hide the Truth release show with Outrageous Cherry and The Blueflowers starts at 9 p.m. Saturday, March 23, at the Old Miami, 3930 Cass Ave., Detroit; 313-831-3830.