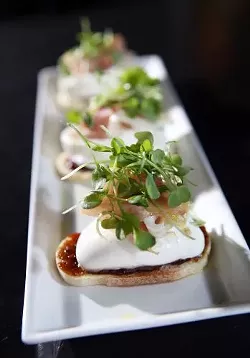 Garage Grill & Fuel Bar
202 W. Main, Northville 48167
248-924-3367
Handicap accessible
Entrées: $15.50-$29
Pizza: $10-$13
Sandwiches: $11.50-$14
Open 11 a.m.-8 p.m. Sunday, 4-10 p.m. Monday, 11 a.m.-10 p.m. Tuesday-Thursday, and 11 a.m.-11 p.m. Friday-Saturday.
Not counting waterside, there can't be many more pleasant venues for summer dining than the wrap-around patio at Northville's seven-month-old Garage Grill. Management even provides soft gray fleece blankets in case of a nip in the air.
The restaurant was a Gulf station back in the '40s, and later a Sunoco station and a dry cleaning shop. All traces of solvents and leaded gasoline were eradicated, though, with a brownfield grant from the state, which paid to get the soil replaced.
Servers wear gas-station shirts with their names in white ovals. The men's room sports old-fashioned calendar pinups. A 1930 Model A sits in the banquet room, the former body shop. Vintage gas pumps and air pumps serve as decorations.
Despite the auto-fun, I didn't enjoy dining indoors as much as on the patio, as the noise level is very high. Wait times for food and drink are quite long — and even longer if you come on a popular night, which is almost every night. The no-reservations policy (unless your party is six or more) means waits of as long as an hour-and-a-half on weekends. Clearly, chef Jeremiah Korpusic has struck a Northville nerve with his menu, which cycles through many well-established trends (fish tacos, iceberg wedge, Cobb salad) with a few surprises.
Dishes my parties sampled ranged from wonderful to decent-but-I-wouldn't-come-back. High on the list was a misnamed roasted beet-arugula salad (not enough beets) — beautifully light with a touch of grapefruit and a refreshing citrus vinaigrette.
Also lovely was shrimp-pesto pizza, with grilled zucchini and pristine arugula scattered on top. The pie plate is set atop a vintage-looking Texaco oil can (motto: "lubricates perfectly").
A seafood chowder advertised as a "Garage favorite" had its thickness in the right place: the creamy broth avoided the clotted heaviness you find too often, but the soup was dense with critters.
I also liked a grapey Argentinian Malbec, which I'll admit I ordered partly for the name as well as the price (waitress: "I love The Show"). A California Sauvignon Blanc was more ordinary.
My companion loved a special called "Steak and Cake" (crabcake). He'd ordered the steak very, very rare and the chef believed him. It came that way, with both a good mushroom sauce and an avocado aioli.
I had mixed luck with a grilled romaine and asparagus salad: grilling had done the romaine, a whole head, no favors, just partially wilting it, and the garlic dressing was heavy. The skinny asparagus was done just right, though, as was the perfectly fried egg — it had nice crisp edges.
Fish tacos with mahi mahi were pretty good, though made with flour tortillas and, IMO, too much lime crème. A "Garage favorite" perch was lemony but mostly just bland. Opinions differed on the huge calamari starter: I thought it was too soft and greasy, but another guy said the softness was an asset. True, soft beats rubbery.
A pork tenderloin wrapped in prosciutto, with risotto, sounded great — two types of pig in one bite! — but in the execution the prosciutto added just a good crispness rather than much distinctive flavor. And the risotto was mundane. This was the least expensive entrée, but almost as low is one of the menu surprises: panzanella, an Italian salad usually of bread and tomatoes but here dressed up with chicken, pancetta and roasted grapes, of all things.
A side note: This is not to pick on Garage at all, since everyone is doing it. Notice how, even when restaurateurs keep their entrée prices from climbing, the appetizers have crept closer and closer to entrée level? Am I wrong in remembering that an appetizer used to cost about a third the price of a main dish, and now it's closer to half, with many starters in two figures?
I'm not saying the work and ingredients involved don't justify the money. I'm just saying. And how about those $6 vegetables and potatoes you see everywhere, listed under "sides"? Garage's sides are just $4 and $5 — but still, for red beans and rice, whipped potatoes, and green bean casserole?
Desserts include bread pudding, cream puffs and banana sticks. We tried a semifreddo (half cold), which was chocolate gelato mixed with chocolate mousse, creating a pleasant grainy texture. Five little scoops plus raspberry sauce was plenty.
Jane Slaughter dines for Metro Times. Send comments to [email protected]