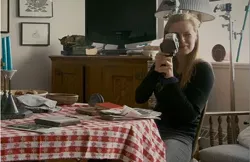 Stories We Tell | A-
Few directors can honestly claim they were born to make a particular film. Sarah Polley is clearly the exception. In the actor-turned-filmmaker's formidably talented hands, Stories We Tell elevates autobiographical navel-gazing to a minor masterpiece of meta examination. In fact, this experimental memoir may be the best film I've seen this year so far.
When Polley was 11 years old, her mother Diane died from cancer, leaving her to be raised by her father, Michael. During that time, her older siblings would tease her about how little she looked like dad. This became the foundation for her documentary, an absorbing mixture of private soap opera, artistic interrogation and imaginative intellectual exercise.
Putting a long list of not-always-willing family members and friends on camera, Polley not only delves into her parents' intimate past — both were Toronto-based actors — and her own possible origins, but questions the very nature of storytelling itself. Though her family's story is actually quite ordinary — there are no tragic reversals or traumatic confrontations — Polley masterfully surprises, engages and provokes her audience. Conflicting points of view, old home movies that are uncannily revealing and abundant, and the very mechanics of filmmaking are transformed into an impishly constructed and nakedly intimate investigation of unreliable storytelling. After all, stories, particularly the stories told by families, have a way of becoming trim and uncluttered over time. But what is the truth and how do we tell it? Is one person's account more reliable than another's?
Though it goes on a little longer than it needs,Stories We Tell is self-indulgent in the best way possible, embracing the untidiness of personal history as it delicately tries to capture the essence of a mother Polley barely remembers. And though she offers few confessions about how she feels about her discoveries, Polley's imagined vision of the past (and intellectual conceit) is made clear in an ingenious late-moment reveal. It's a bold sleight-of-hand that will impress some and, possibly, put others off.
I am firmly in the former camp. Though Stories We Tell slyly manipulates our expectations — in a way you'd expect from a family of actors — Polley's filmmaking is so heartfelt and generous, so clearly a love letter to the father who raised her and, ultimately, help shape the artist she's become, that I couldn't resist the friction generated by this loving daughter and inquisitive filmmaker.
At the start of the film, Michael is in a recording studio, reading from an autobiographical essay. It will appear later as voice-over narration. Polley, acting as director, interrupts her dad and asks him to redo a line. "You see what a vicious director you are," he half-jokes. Right off the bat, Stories We Tell shows us that the truth and the way its told are two very different things. Polley's wonderful documentary honors both by preferring neither.
Rated PG-13. Running time: 108 minutes
Now showing at the Main Art Theatre in Royal Oak.