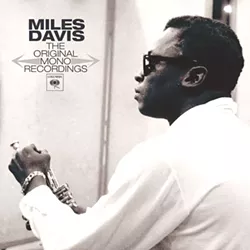 Miles Davis
The Original Mono Recordings / Nine CD Box Set
Columbia Legacy
You would be hard-pressed to find a jazz fan that believes the music of the great Miles Davis doesn't deserve a revisit. Thank you, Columbia, because the label has obliged with a nine-disc set of stunning material, much of it rare and originally recorded between '56 and '61.

The music has been re-released in its original monaural format in a new box set, all in mini-LP replica jackets. Re-mastered from the original analog master tapes, listeners can hear this music in mono as originally intended.

While some consider stereo to be superior, George Avakian, the Grammy award-winning producer who signed Davis to Columbia, said that, "Mono has always been truer to the studio sound and the original intent. Mono featured less audio trickery, and fewer audio distractions, so you can hear the musical conversation between Miles and the other musicians as it occurred in the studio."

This collection represents some of Miles Davis' most significant releases, with six CDs featuring his "first great quintet" and spotlighting John Coltrane: 'Round Midnight, Milestones, Someday My Prince Will Come, Jazz Track, Miles and Monk at Newport and the legendary Kind of Blue - the greatest-selling jazz album of all time. The collection also contains three albums from the famous collaborations between Miles and Gil Evans' Orchestra: the sumptuous masterpieces Sketches of Spain, Miles Ahead and Porgy and Bess.

Two of these albums haven't been readily available for many years. Jazz Track was recorded in Paris with European musicians in '57 for the Louis Malle film Ascenseur pour l'Echafaud (Elevator to the Gallows), and it also includes tracks with the sextet of John Coltrane, Cannonball Adderley, Bill Evans, Paul Chambers and Jimmy Cobb. Miles and Monk at Newport is another treasure that captures the sextet and the newly signed Thelonius Monk Quartet, recorded live at the '58 Newport Jazz Festival.
This collection is a must for Davis fans with a need to rediscover these timeless, classic recordings. It is also essential listening for those who have only heard Kind of Blue and know little else about this most important of jazz artists.

For audiophiles who want the complete and more authentic analog experience, Columbia has also released vinyl mono editions of many of these same albums, including Kind of Blue, Sketches of Spain and 'Round Midnight. Regardless of your preferred format, this is the ideal and most authentic way in which to listen to Davis' work.