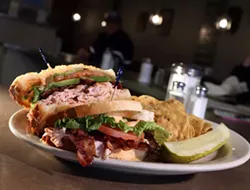 Coco Fairfield's
2959 W. 12 Mile Rd., Berkley
248-399-2626
cocofairfields.com
Handicap accessible
Breakfast and lunch: $4-$12
Hours: 7 a.m.-3 p.m. Tuesday-Sunday, closed Monday
It's hard not to have a soft spot for a place like Coco Fairfield's. The small mom-and-pop diner in downtown Berkley has a lot of heart, from the children's drawings taped to the walls to an affirmation proclaiming that "Every Day is Filled With Awesome." Marty Miller, chef and co-owner (with wife Nicole), even made his own custom chandeliers out of cutlery to adorn the dining room.

The restaurant is only open for breakfast and lunch, and as a bonus for late risers and egg lovers, you can order breakfast anytime. The menu is billed as a combination of "naughty and nice" items, as reflected by the restaurant's logo, a drawing of a waitress sporting both angel's wings and a devil's horns and tail. The "naughty" portion consists of more decadent items, such as pastrami sandwiches, stuffed French toast and a "bacon a bleu" burger; the "nice" portion caters to those with food restrictions and allergies, with items like the vegan sloppy Joe or a hummus bowl.

Our first visit was on a Sunday. The place was packed, but we were offered coffee while we were waiting, and were seated relatively quickly. Once seated, however, it was apparent that the servers were struggling mightily to keep up; we heard "Thank you for your patience" uttered multiple times as an apology for delays with food or follow-up. Although the place may be too small to justify an additional server, a busser to fill drinks and clear plates would be a welcome addition to make things run more smoothly.

Coco Fairfield's runs several daily specials, and we were fortunate enough to be there for the crab cakes Benedict, which are only served on Sundays. This dish alone is reason enough to pay a visit. It's not an exaggeration to say that I've never had such perfectly executed crab cakes, even in fine dining restaurants, and let alone for a mere $10. Big, moist chunks of crabmeat are perfectly seasoned and just barely bound together, without the high ratio of disappointing breadcrumb filler you often find in lesser specimens. These are topped with over-easy eggs and Hollandaise sauce (also exemplary), with potatoes on the side. Usually at breakfast I only manage about half my plate, but this was promptly devoured.

If you're planning on ordering off the "specials" menu, you may want to arrive on the earlier side. We were eyeing a savory waffle special that sounded quite good, with spinach, red pepper, an egg your way, and Hollandaise. Chef Marty talked it up to us and we were on the verge of ordering it when the special sold out. My co-diner ended up getting pastrami hash. He was perfectly happy with the hash, but lamented that the waffle had sounded more like something you couldn't get elsewhere.
Returning for lunch, we were greeted with the same warm hospitality as before, and it was clear that the previous service issues were due to being understaffed and not a lack of competence or caring. We ordered soups to start, a cream of mushroom and a tomato basil, both of which were tasty and made from scratch. So far, so good.
We followed these with the "bacon and bleu" burger and a "you pick two" combo of half a pastrami sandwich, and a side of lentil and quinoa salad. We wanted to like these, but there were some serious issues. The quinoa in the salad was described on the menu as light and fluffy, but came out sodden and overcooked; meanwhile, the lentils were undercooked. The salad contained a few chopped vegetables, but not many. If we had ordered the full portion, at a pricy $9, we would have been even more let down by the lack of additional vegetables.

Both sandwiches were served warm, but the cheese was not melted on either. The burger was ordered medium, but the patty was only about 1/4-inch thick, which made it pretty impossible to cook to order. Most strangely, the "blue cheese" on the burger was a processed, pre-sliced portion. I wouldn't expect a frozen, pre-formed patty or processed cheese on any burger priced north of $5 or $6, and this one was $11. One redeeming aspect was the burger's croissant bun. We thought the bun might fall apart, but it held up nicely and had good flavor.

The lunch visit created some confusion, as our lunch experience was comparable to a coney dining, while the breakfast was more akin to an upscale joint like Toast. That said, we wholeheartedly endorse a visit to Coco Fairfield's because of the welcoming, friendly ambience, unique breakfast items, like the savory waffle, and of course, those to-die-for crab cakes. Just don't eat them all before we get there.