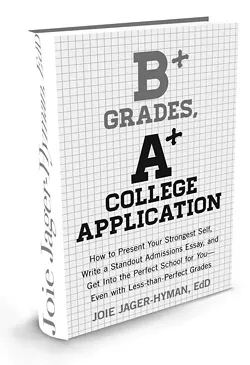 Don't know what to study in college? Want to attend an Ivy League school but don't have a 4.0? No idea how to write a compelling college essay? Not a problem, according to Joie Jager-Hyman. The former assistant director of admissions for Dartmouth College promises that all these problems and more can be solved with her new book, B+ Grades, A+ College Application (Crown Publishing Group, $14.99).
While at first glance the book looks like it would be a torturous read, (even our managing editor, Michael Jackman, walked by as I was reading and commented, "That looks dry as hell"), it's actually quite the opposite.
In short, don't let the cover fool you. It's an easy read and the information inside is very valuable. Of course, there are pros and cons — as with most things in life — and this book is no exception.
Let's start with the pros: Because of Jager-Hyman's background, readers will receive an insider's look at what really goes on during the college admissions process, which is incredibly useful when trying to stand above the competition.
Also, the book is jam-packed with information in each chapter, so it's easy to start feeling overwhelmed as you're reading. To eliminate that problem, there is a box at the end of each chapter highlighting the main action steps readers should take.
Lastly, students will appreciate how the author uses real-life examples of successful college essays, recommendation letters, cover letters and résumés throughout the book.
Of course, every honeymoon eventually comes to an end, and I have a bit of a bone to pick with Jager-Hyman. Throughout the book, she wrongly assumes that "B" students are the only ones struggling with choosing a major, narrowing down colleges, writing college essays, so on and so forth, hence the book's title, B+ Grades, A+ College Application.
Although it's clear she has good intentions, the fact is that all students — even straight-A students — struggle with making the transition from high school to college.
As a straight-A student (pardon the gloat), even I wasn't exactly sure what to study (although there were some obvious signs that journalism was my calling), let alone what college to attend.
The point is: Regardless of differences in GPA, students are pretty much all in the same boat when it comes to the college application process: It's a stressful, confusing and nerve-racking experience, and assuming otherwise is a disservice — because all students can benefit from reading this book.
That rant aside, B+ Grades, A+ College Application is worth the money. During my read, there were many things I came across that I wish I had known about before college.
Students will likely walk away from the book feeling more confident upon entering the post-secondary application process because Jager-Hyman is there guiding them every step of the way. Definitely worth the read!
Princess Gabbara is a beloved teacher's pet and former editorial intern for Metro Times. Send comments to [email protected]