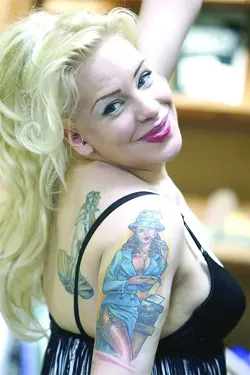 As news of Sarah Klein's death spread last week, both divergence and convergence could be found in many of the responses from those touched by her loss.
Klein, 36, was a passenger in a red Honda coupe driven by her husband, Raul "Bones" Padilla, 43, when the car was involved in a collision with a party bus on Highway 101 south of San Francisco, according to news reports. Padilla remains hospitalized.
The divergence, as noted by Sarah's father, Ypsilanti resident George Klein, had to do with whether people knew her as a transplant to the West Coast, where she achieved international recognition as a burlesque performer, or here in her home state, where she primarily made her mark as a feature writer, columnist and culture editor for Metro Times.
As a writer, Klein was attracted to the offbeat and the edgy. In a December 2006 story she wrote for MT as she was preparing to leave for California, Klein noted:
"I've been writing about the cultural underground of Detroit for Metro Times for nearly seven years. In that time, I've seen a lot: the good, the bad, the beyond ugly, the touching, the profound, and the tragic. I've ridden shotgun with designer kidnappers in vinyl catsuits, dived into the Detroit River in the middle of December, and crawled around in the woods with a bunch of geeks hitting each other with foam rubber swords. I've knocked around the dive bars, soaked up live music, crawled through urban ruins, met the people and shared their stories."
Former editor W. Kim Heron pointed out that Klein had a real knack for penning stories that attracted a huge audience. As measured by web hits, many of her articles remain the most popular ever published in MT.
"Sarah was really about self-expression," Heron said. "That's the way she lived her life, and it's also a quality she celebrated in the people she sought out and wrote about."
Sean Bieri, formerly the paper's editorial design director, recalls how rewarding it was creating drawings to go along with Klein's stories.
"The coolest illustrations I did had to do with the things she wrote about," Bieri said. Among those standing out in his memory are a piece about Christian motorcyclists titled "Born Again to be Wild" and a cover story about suburban Satan worshippers.
"She really gave me the opportunity to do great stuff," Bieri said. "And it wasn't just me. A lot of people are echoing that feeling."
Statuesque and voluptuous, with platinum blond hair, Klein cultivated the look of a 1940s pinup girl — a quality that, along with her sense of humor, served her well onstage where she performed under the name Sparkly Devil.
Posted on her Sparkly Devil website is a quote Klein said really captured the essence off her philosophy about life:
"Be fucking fabulous, live for joy, embrace the beauty of the absurd, & fuck anyone who gets in the way of your happy."
The Burlesque Hall of Fame was planning a special tribute to remember Klein, who had an international following. Information on other memorial services and tributes will be posted on her site, sparklydevil.com.
A spokesman for the California Highway Patrol told reporters that Padilla was driving southbound on Highway 101 when the vehicle spun out of control near Burlingame and crashed into the middle divider.
After the vehicle came to rest facing northbound, a party bus carrying 18 people crashed head-on into the car Padilla and Klein were in. She wasn't wearing a seat belt, and both she and Padilla had reportedly been drinking. It is not yet known if alcohol was determined to be a contributing factor.
No one in the party bus was seriously injured. Padilla remains hospitalized in critical condition.
"She was the kind of person who would jump into a project feet-first and wholeheartedly," Bieri said. "She was big-hearted, bright and fearless."
"Karma and cutting up"
Sarah was a cut-up, no way around it. I don't know what she was like in school, but I can imagine her holding forth at the back of the class. If you were back there near her, your grades would go down, but you'd learn a thing or two.
Like lots of newsrooms, MT's was a pretty profane place, a funny profane workplace. I used to keep a file of the office witticisms, and I dug it out the other day, and there were plenty of a Sarah lines. For me the quips brought back the memory of what it was like to be around of her. Not that I can quite remember the context of the line "I'll just pull a Pop-Tart out of my ass." To which another co-worker responded, "Speaking of pulling a Pop-Tart out of your ass ..."
"If there's one thing I hate, it's poetry. If there's one thing I hate even more, it's goth poetry," she informed us, probably at an editorial meeting. And discussing whether we should continue to use a certain freelancer, she informed us, "I already fired him once."
Of course, if you didn't know – I originally wrote "don't know," hard to realize she's gone – Sarah, you're not hearing her delivery in your head. For instance, when she said, "Here's a reporter question: What do I wear to the gay bar?" Or when she'd – I believe – purposely mishear things. Someone said something about "the sound of boots on the floor," and she shot back, "Did he just say the sound of boobs on the floor?" To "Is that your nickel?" she shot back: "Did you say, 'Is that your nipple?'"
It's probably not surprising to that she'd keep us up on her other career in burlesque.
"My butt is in the LA Weekly," she informed us once. "Spin magazine took a picture of my bruise," at another time.
We'd hear about her rehearsals and gigs and the travails of costuming. And during her goodbye gathering in November 2006 she asked, "Does anyone want a used pastie?"
The other evening I ran into Paul Keller, great bassist and bandleader and friend of the Klein family who'd known Sarah since her childhood.
He recalled that she once hit him with the line "Your karma just ran over my dogma."
I asked to repeat the line to make sure I had it straight.
I'm sure that in the long run, it was Sarah's karma that did most of the running over.
–W. Kim Heron, former managing editor and editor, Metro Times
"Real story finder"
Sarah Klein had a wonderful talent for finding stories that combined two elements you wouldn't think went together at all. Suburbia and Satanists. Islam and LGBT. Role-playing games in living action. Pole dancing and suburban moms. Quadriplegics and rugby. Bikers and born-again Christianity. Vaginas and plastic surgery. She had a knack for not only fusing these concepts that seemed diametrically opposed to each other, but making it real and believable. She could plunge into a controversial topic and come up with a moving portrait of a real human being. She never took any low blows or plucked any low-hanging jokes, but let the glorious oddity of her subjects shine through. In person, she could be brusque or blunt, and suffered from no outward shortage of self-esteem. That said, in this business, if you're a woman, you have to be tough. That she was. — Michael Jackman, Metro Times managing editor
"Always a laugh"
I sat in the office adjacent to Sarah's when we worked at the Metro Times. She was loud, opinionated and laughed — a lot. A perfect coworker, in other words. She helped me out when I was still new kid on the block in an office full of strong personalities. She knew how to find a great story about offbeat Detroit and how to write it up. Expressing herself was not something she found difficult, either in writing or in daily life.
One thing I will say - if she had to go, I think she would have appreciated it being via a collision with a party bus. — Ben Lefebvre, former Metro Times staff writer