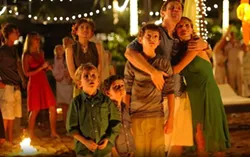 B-
On a visceral level, Juan Antonio Bayona's The Impossible delivers an astounding feat of cinematic action and disaster. With a budget far below Hollywood's tent-pole standard ($45 million), this Spanish production puts to screen one of the most horrifying and intense natural disasters sequences I've ever seen.
It's 2004, and we're by the pool with Maria (Naomi Watts), Henry (Ewan MacGregor) and their trio of button-nosed boys at a beachside resort in Thailand. The bar's whirring blender suddenly stops mid-tropical drink, a strange wind sucks objects toward the sand and then, ominously, the view reverses. We are out at sea, watching the idyllic beach from a menacing, too-high vantage point. The set-up is deviously Hitchcockian. Then the tsunami hits, an apocalypse of water that engulfs our stars as they race to grab their kids. It is the same southeast Asian tsunami that ended up killing nearly quarter of a million people.
Bayona batters his cast and audience with a ferocity that overwhelms. In a good theater you will hear and feel the impact of these crashing waves as much as witness their destruction. The rush of water is like a freight train, and we watch as Maria is sent toppling and twisting through its currents, submerged into soundless, murky depths then surfacing to a maelstrom of mayhem and screams. It's the kind of filmmaking that leaves your jaw open in amazement, wondering how the hell they did it.
What immediately follows is the agony and terror of a family injured and, more despairingly, separated from one another. In a landscape blasted beyond all recognition, they must first find help then one another. The wasteland imaginings of films like Road Warrior or I Am Legend can't compare with the real-life devastation wrought by the day-after Christmas tsunami.
After displaying such colossal technical panache, however, The Impossible's second halfdescends into something far hokier, much more contrived, and ethically troubling. Disaster gives way to Hollywood cliché. The mortally injured Maria and her eldest son Lucas (Tom Holland) make it to an overcrowded medical center only to struggle to survive the chaos and bureaucracy of a system overwhelmed by the catastrophe. I'll refrain from giving away the fate of the rest of the family. Suffice to say, Bayona and his screenwriter Sergio Sánchez (who also teamed on 2007's ghostly The Orphanage) are neither subtle nor insightful in their quest to construct an uplifting monument to familial love, and The Impossible transitions from Hitchcockain suspense to Spielbergian sentimentality. This allows Fernando Velázquez's histrionic score to put an unfortunate exclamation point on every heart-breaking scene.
But keep in mind that the real-life Maria Belon and her Spanish family have been turned into blond and beautiful Brits with upper-class accents and a bourgeois sense of entitlement (a decision guided by box office, no doubt). Yes, Bayona seems to suggest that nature, with just a shrug of its shoulders, can erase the power of privilege and leave all its victims equally vulnerable —if only until the insurance company sends a private jet to whisk the family away to safety. But there's a disturbing subtext to The Impossible that in the story of the tsunami's tragic wake there weren't enough white people included.
For the record, a quick web search reveals that nearly 9,000 foreign tourists died, and many more were injured. Their experiences, of course, matter. But watching a true-life disaster film where indigenous locals who have lost everything become little more than props in a melodrama that magnifies the plight of attractive Europeans hints at a distasteful moral callousness. How hard would it have been to permit a subplot centered around some of the surviving Thais?
The leads are, of course, dependably excellent, with McGregor turning a phone call home into an emotional gut punch. Watts' grueling acts of survival and Christ-like suffering are the kind that earn an Oscar nomination. But it's young Tom Holland who really shines as a glowering teen who learns to act selflessly. It's an unaffected performance from an unfamiliar actor that feels authentic even when the film's coincidences don't.
The Impossibleis an earnest and exhausting experience, first physically then emotionally pummeling you into submission. Bayona has the uncanny ability to put viewers in the moment, allowing them to vividly experience the family's struggles. But for all his formidable skills and artistic vision, his compassion is distressingly myopic. It's easy to understand how audiences would be blindsided by the movie's big, heart-wrenching moments; it's hard to celebrate the triumph of a few WASP-y big-name stars while ignoring the hundreds of thousands of real-world brown-skinned locals who lost their communities, loved ones, and lives