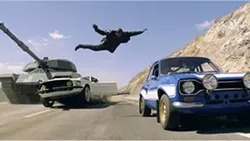 Fast And Furious 6 | B-
It was pretty much given that the plot to Fast And Furious 6 was going to be stupid. This is, after all, junk food cinema; but did it have to be this stupid? Not only does the on-the-nose dialog have the effect of listening to your idiot cousin at the family BBQ go on and on about cars and loyalty, as if every cliché he spouts is an expression of sheer profundity, but didn't the franchise go to the "round up the gang for one more job" well last time around?
Granted, it was bound to be hard topping the giddy heights of Furious 5 (how many fifth films can claim to be the best in the series?), which made the smart choice of centering its plot around an Oceans 11-style heist (only with cars instead of talented actors). Furious 6's script is so awkwardly expository that, every time the action slows down for more childishly tough-guy talk, cheese ball one-liners and self-important hand-wringing over Dom (Vin Diesel) and Letty's (Michelle Rodriguez) past, you can be forgiven for seeing it as an opportunity to hit the concession stand and/or bathroom.
I won't waste the space in this rag synopsizing the movie's bare-bones plot (suffice it to say there is something worth protecting called "the component"), but I will mention that screenwriter Chris Morgan briefly flirts with the insanely clever idea of having Dom and Luke Hobbs' (Dwayne Johnson) team face off against a group of villains that are their evil twins.
Unfortunately, the concept never goes anywhere. In the end, the bad guys are just another colorless bunch. Paul Walker proves that his character is as disposable as ever and only a well-executed final act twist delivers any surprise.
Director Justin Lin returns for the fourth time to the decade-old series, and you can tell it's his last time (Saw's James Wan takes over for installment seven). Some of the crazed car chases and stunts really pop, but others ¾ particularly in the film's first half ¾ struggle to distinguish themselves.
London offers the least impressive set pieces, as low-slung formula racers flip cars into the path of their pursuers. The nighttime sequences are frantic and muddled, lacking the impressive sense of geography Lin displayed in Furious 5. On top of that, it's obvious that none of the film's heroes are ever in any real jeopardy. This makes for a tepid first hour, with only a furiously inter-cut fight between Rodriguez and Haywire's Gina Carano; and The Raid's Joe Taslim taking on two of Dom's crew, providing an adequate adrenaline rush.
When the action relocates to Spain, however, Lin shifts things into top gear insanity, delivering two completely bonkers action sequences. The first, along a dizzying Spanish bridge, is an unhinged face-off between Dom's turbo-charged street racers and a high-tech tank.
The chase is outrageously flamboyant, the digital effects are dodgy, and the concern for collateral damage (as bloodless as it may be) is utterly appalling. Nevertheless, the preview audience repeatedly burst into delighted laughter as each stunt reached new preposterous heights. The second, which relies on the longest runway ever built, involves a gargantuan cargo plane, several dangling vehicles and a half-dozen simultaneous fights (involving cars, guns and fists).
For audiences eager to see bald-headed dudes butt heads, and vehicles destroyed in every conceivable fashion, Fast And Furious 6 is a pretty entertaining reason to enjoy two hours of multiplex air conditioning. Die hards should stick around for the mid-credit stinger, which introduces a well-known action movie hero as the team's next opponent.
Fast and Furious 6 is playing in theaters now. This film is rated R and has a running time of 130 minutes.