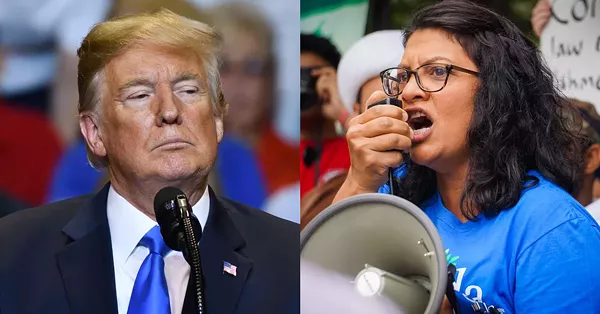 U.S. Rep. Rashida Tlaib renewed calls for a congressional investigation to determine whether Trump should be impeached after the recent release of special counsel Robert Mueller's
report
on the investigation into Russian interference in the 2016 presidential election.
"Everything outlined in the #MuellerReport is further proof of what I've been saying for a long time: it's #TimetoImpeach," Tlaib tweeted Thursday evening. "The first step? The House Judiciary Committee launching an investigation into whether Trump committed impeachable offenses."
Two other freshmen Democrats, Alexandria Ocasio-Cortez and Ilhan Omar, also threw their support behind Tlaib's call for impeachment hearings.
"Mueller's report is clear in pointing to Congress' responsibility in investigating obstruction of justice by the President," Ocasio-Cortez tweeted. "It is our job as outlined in Article 1, Sec 2, Clause 5 of the US Constitution. As such, I'll be signing onto @RashidaTlaib's impeachment resolution."
Tlaib introduced the resolution last month, saying the proceedings are an effort to ensure "we don't have a lawless society that results in irreparable harm to the American people."
Whether the trio of progressive Democrats have enough support to pass the resolution is unknown. Even though Democrats gained control of the U.S. House in January, the moderate wing of the party has been reluctant to discuss impeachment proceedings.
On Friday, House Speaker Nancy Pelosi declined to comment on Tlaib's resolution.
Democrats plan to meet Friday to discuss how to proceed after the release of the Mueller report, which suggested Trump may have obstructed justice.
In January, Tlaib became a household name after telling supporters she wanted to "impeach the motherfucker." The same day, she laid out her case to impeach Trump in an op-ed co-written by her in
The Detroit Free Press
.
Stay on top of Detroit news and views. Sign up for our weekly issue newsletter delivered each Wednesday.