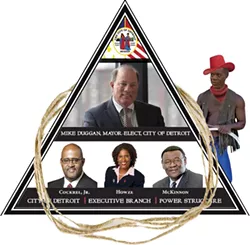 It's the end of the year — a time when people make assessments of the past and prognosticate on the future. Both of those things are encapsulated in the civic events taking plans as we move forward with political change. I find it promising that soon-to-be Mayor Mike Duggan has dug in and tapped some great Detroiters to be on his team.
I mean the likes of Dr. Ike McKinnon, former chief of police, who has signed on as deputy mayor for the Duggan administration; former City Council President and Mayor, Ken Cockrel Jr., who will direct the Detroit Future City implementation team; and former state rep and mayoral candidate Lisa Howze, who will serve as Duggan's chief of staff.
McKinnon, who left the Detroit Police in 1998, subsequently joined the faculty of the University of Detroit-Mercy as an associate professor of Education and Human Services. His institutional knowledge will be crucial moving forward to pull this administration together.
Institutional memory is also the key to Cockrel's role in the non-government office. As far as I'm concerned, DFC is the best process for remaking Detroit. Regarding Howze, I've found her to be among the more credible and refreshing candidates in the past two mayoral primaries.
The point here is that we seem to have lost a political generation that we need to recover. The Kwame Kilpatrick debacle was a large part of that, but there were other happenstances and sheer foolishness impacting that break. I think we shouldn't toss those who previously served us honorably on the scrap heap.
That is, in fact, what Kilpatrick did when his administration rolled into town and his cronies were installed in key positions. Yes, we need new faces and I see some of them on the incoming City Council. But there is no need to cut all ties with the past. Good people are needed everywhere as we embark on this unprecedented civic expedition.
Last week, Duggan and Emergency Manager Kevyn Orr rolled out their separation of powers agreement. Duggan is in charge of day-to-day operations, and Orr is in charge of financial matters and the police department; and Orr can pretty much veto anything Duggan does.
So Orr has dominion over the purse and the police — pretty much the main power positions. However, there are some things that Orr doesn't need or want to do as the real skin is in the bankruptcy game. That's what he was brought here to do. It lights his fire. So Duggan can appoint department heads, fight fires and blight, and figure out the public lighting mess — all the normal bureaucratic stuff.
Don't discount that. Those things have a big effect on daily life in the city. If that is all we get in these circumstances, then let's step up with some of our best and do a hell of a job. Put our city back together and send Orr packing next September.
Duggan is the guy that Detroiters elected to do the job. He reached out and pulled in some folks who know their way down Woodward Avenue and across town, people who can create comfort by just being familiar.
And I commend Cockrel for stepping up, taking a high profile position and staying in the civic spotlight rather than flipping off voters who chose Dave Bing over him as mayor — and disappearing into the corporate shadows.
None of these folks is going to call us fat and lazy, as Orr did, or make cracks about shooting somebody in a hoodie, as Orr's former appointee did. In the end, Orr's legacy in Detroit will be colored by how our retirees are treated in the financial settlement of the bankruptcy.
City finances need fixing, but so does our political functioning. Bankruptcies are about past mismanagement. Our political functioning is about how we move forward. Anybody who pays attention knows that the old way of doing politics in Detroit is over. Both the infrastructure and the bureaucracy require updates, but we can't totally disconnect from who we are. Therein lies the challenge. Here are a few other things of note that took place this past year:
Urban Agriculture Ordinance
Last winter, as Gov. Rick Snyder's appointment of Orr was grabbing all the headlines, City Council quietly passed an Urban Agriculture Ordinance, setting up rules for how citizens can move forward with the burgeoning farming movement. The agriculture movement, growing for a few decades, has come out from the shadows to be a player in how the city is reorganized. Detroit Future City incorporates agriculture and green infrastructure development as part of our identity. Passing the ordinance adds some order and officialdom to the agriculturalists as they work toward a food system in the city that goes from field to plate.
71-year-old Leaves
I wrote about this before, but it was one of the biggest impacts to my personal life. A woman I know — a lifelong Detroiter — moved to the suburbs after her house was broken into while she was at church. This woman was dedicated to staying in the city despite even her kids wanting her to move out. She owned her house and kept it up on a block where empty, burned hulks dominated the landscape. After the break-in and robbery, she gave up. I don't blame her, but this stuff has to stop.
Heidelberg Arsonist
Somebody has been burning down the houses of the Heidelberg Project over the past several months. The Heidelberg has a controversial history, but it is a world-famous art installation that draws tourists to Detroit and its eastside neighborhood. Burning down the Heidelberg is as bad as selling off the Detroit Institute of Arts treasures. I've heard the fires are a comeuppance from a neighborhood beef. I hope it gets settled before it's all gone.
Detroit Buzz
While the city still got slapped around in negative Top 10 lists again this past year — Forbes listed Detroit as No. 1 of America's "Most Miserable Cities" — there was recently a great one: Fodor's Travel named the Motor City one of the top three "buzzy hot spots" in its 2014 go list. Why go now? Fodor's says: "A hip, new, culturally and design-savvy Detroit is emerging, filled with microbreweries, coffee shops, organic bakeries, guerilla farming, forward-fashion boutiques and funky cocktail spots." It goes on to mention the DIA, the Heidelberg Project and Eastern Market as cool places to visit. Let's keep the buzz going.
Big Brother is Watching
No, I'm not referring to the National Security Agency spying on our personal communications. I'm talking about the ominous event taking place on New Year's Day. Little Brother, Michigan State University, will take on Stanford in the Rose Bowl. Big Brother, resting up from its Buffalo Wild Wings Bowl appearance, will be watching. (Full disclosure: Yes, I am a Spartan.)
It's been a big year and 2014 could be potentially bigger with the bankruptcy getting sorted out and a new mayoral administration coming in. It could be big for neighborhoods if the blight gets addressed and gardeners keep growing food. One thing is for certain, there's no going back to the same-old, same-old here, in this city.