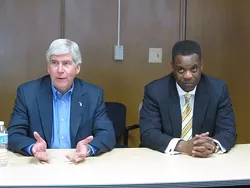 As best as we can tell, there are two ways of looking at what happened last week when an emergency financial manager was appointed to take control of Detroit city government.
For many — and we do mean many — the reaction was, essentially, "At last!"
A city deep in debt and wracked by dysfunction will finally have someone in charge who will stop the ship from sinking. The man, hand-picked by Gov. Rick Snyder to do this is Kevyn Orr, a Washington, D.C.-based attorney specializing in corporate restructuring and bankruptcy.
"This is the Olympics of restructuring," Orr said during a press conference held before he was actually appointed to the job by the state's Local Financial Emergency Assistance Board.
Apparently nobody seemed bothered that his appointment was a done deal, seemingly worked out in advance of the public meeting where it was supposed to have been decided. As for the timing of all this, well, that's just one more thing for the nitpickers to pick at.
As we reported last week, the state's previous emergency manager law had been roundly rejected by 52 percent of the state's voters in a referendum held in November 2012. Despite that, the Republican-controlled Legislature in Lansing passed a new EM law during its lame-duck session the following month; and Snyder signed it into law.
But it doesn't take effect until March 28, 2013. If the appointment had been delayed just a few weeks, the city of Detroit would have some say in deciding its fate. Now it has no choice.
During the press conference, it was asked if the fast-approaching date for the new law to take effect figured in to the timing of Orr's appointment.
Absolutely not, replied the governor. Detroit is in a crisis, he explained, and there was no time to waste.
During that same press conference, Detroit Mayor Dave Bing stood shoulder to shoulder with Snyder and Orr. Twice in recent weeks the mayor issued press releases declaring a workable plan was in place to solve the city's financial crisis.
The plan Bing referenced was based, in large part, on the consent agreement the state essentially coerced the city into signing last year; it was either that, or an emergency manager would be imposed immediately.
So the state, for nearly a year now, has been playing a significant role in running Detroit. But it wasn't good enough. The state contends that the city has been too slow in implementing all aspects of the consent agreement
The city — in the form of the Detroit City Council and Ed Keelean, head of the city's Law Department — argued in an appeal hearing last week that it hadn't been granted enough time to make the sweeping changes mandated in the agreement. The consent agreement would work, they contended, but it would take time.
As we said, Bing agreed that a viable plan was in place, but that he wouldn't join in the fight to prevent a takeover. Part of his reason for that, it appears, is his stated belief that it doesn't matter who is in control as long as the services that Detroit residents desperately need are provided.
And that, in large part, is the view held by many of our most prominent opinion makers, including leading columnists and the editorial boards at the city's two daily papers. It's also the opinion held by MT columnist Jack Lessenberry elsewhere in this week's paper.
Then there is another view, one that's more skeptical. It is a view held by those who look at the fact that, just as it was revealed the governor had selected Orr to run the city, the Bing administration had, "completely independently," decided to contract with the law firm Jones Day to oversee the city's restructuring efforts. That's the same firm Orr was a partner at until he resigned last week upon his appointment by Snyder. His reason, he explained, was to avoid even the "appearance" that his interests were conflicted.
Under the old system, the Detroit City Council would have had to approve that contract with Jones Day. Now, it appears that Orr will be the one responsible for hiring a firm that he worked at for years. It's a relief to know there are no conflicts of interest at play.
It is worth pointing out that Jones Day, among its extensive list of clients, represents Bank of America.
Why is that noteworthy? According to Irvin Corley Jr., who heads the Detroit City Council's Fiscal Analysis Division, Bank of America/Merrill Lynch is one of the counterparties in a complex credit swap deal that includes a stipulation where the city would be forced to pay lenders a $400 million lump-sum payment in the event certain "termination events" occur. One of those triggers is the appointment of an emergency manager.
For his part, Orr has pledged to wield the "cudgel" of bankruptcy as a threat to wring concessions out of bondholders.
But he's also going to be doing a lot of other types of "restructuring."
Which brings us to the point of view held by skeptics. They are people like the Rev. Wendell Anthony, head of the Detroit branch of the NAACP. Anthony looks at the Jones Day client list and sees, along with some of the country's biggest financial institutions, the name Amway — the source of billionaire Dick DeVos' wealth. DeVos was also a major proponent of the anti-union "right to work" measure Snyder signed into law last year.
And this is what the skeptics fear: that Detroit and its 700,000 residents are going to be used to test the theories of the right wing, which believes that the route to fiscal salvation is found through imposed austerity and privatization.
"Emergency managers," said Anthony, "perform three particular functions: Cut, Slash and Sell! Our city cannot cut its way into the future or slash its way into stability or wind up selling every asset that it has to stimulate growth in the economy."
Maybe not, but it sure looks like the pieces are in place to give it a try.
News Hits is written by Curt Guyette. Contact the column at 313-202-8004 or [email protected]