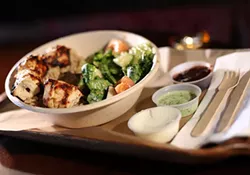 Loya Organic Kebab Cafe
4284 Orchard Lake Rd.
West Bloomfield
248-681-9640
Lunch: $7-$15
Dinner: $10-$25
Open 11:30 a.m.-9 p.m. Sunday to Thursday, 11:30 a.m.-10 p.m.
Friday and Saturday.

Metro Detroit has a preponderance of Middle Eastern restaurants, so if restaurateurs want to stand out from the crowd, they have to do something different. West Bloomfield's Loya Organic Kebab Cafe sets itself apart with an explicit commitment to food quality and integrity — and taste that backs it up.

Like many of its competitors, Loya Organic is a smallish establishment, seating about 20 at small tables and several more at two low tables set off to one side of the dining room and surrounded with cushions. There's a walk-up register as well, and a kitchen open to the dining area. The space has an organic feeling in what might otherwise be a small, sterile storefront, using dark woods for the furniture and flooring, wooden trays for service, and decorative Middle Eastern art in earthy hues. There's a fireplace with a small table and two comfy chairs in front of it. It's a neat little place, much more welcoming than the average takeout-friendly storefront restaurant. Service is friendly and casual, and one server can handily wait on the whole dining room.

Loya includes "organic" in its name for a reason, and makes a point of highlighting the local proximity of its food: Beef is from west Michigan, grass-fed, and organically raised, and the restaurant's owners routinely visit the sources of their poultry, lamb and other fresh products to ensure that standards are being kept high. The staff can answer all manner of questions about their ingredients. Even Loya's canned and dry goods are organically sourced, and some examples are kept in view. When appropriate, food is served with biodegradable plates and bowls, accompanied by wooden knives and forks. The latter are a little bit cumbersome to get used to, but they fit the ethos of environmentally conscious food and can be somewhat fun to use. For soup, and presumably for those who ask, there's metal silverware on hand, and china mugs and bowls are used as well when appropriate.

Soups are all made fresh. A lentil soup, partly puréed, contains carrots, onions, and rich cumin and coriander flavors, along with roughly chopped leaves of cilantro. The flavors are deep, rich and authentic. Toum, that ubiquitous garlic sauce, is executed here with a clear flavor and pungency that attests to its freshness and the care taken in its preparation. Eat it with fresh-baked pita, with your rice (or anything on your plate) or on its own, and revel in the garlic.

It is very difficult to discuss Loya's menu without first describing the brown rice that accompanies dishes to table. It's organically grown, of course, and liberally seasoned with coriander and cumin seeds, bay leaves and wonderfully charred onions. The surprisingly full-flavored side dish can be served up liberally.
Plentiful it is too, because Loya feeds you with a different intent: The portions of protein are not massive — one skewer of kafta or kebab makes up a lunch portion, two a dinner — but the salad and rice are portioned generously; this falls in line with the eating traditions of other cultures, if not quite American expectations. This isn't problematic, however, because the salad is fresh, crisp and well-seasoned, and you're likely to find yourself going back to your plate for forkful after forkful of rice. Try the Afghan chicken for a very different set of spices on your kebab — black pepper and cumin at the forefront of other herb flavors — or the lamb kafta, one of the best we've had. Lime, garlic and pepper make frequent appearances in menu items, providing a twist on familiar flavors.

Vegetarians and vegans are provided with a few entrées of their own, including an alluring spinach-and-tomato pie. There's also the familiar tabbouleh and a more exotic (and more health-trend-friendly) Goji berry salad. A variety of fresh juices are part of the offerings and include something for everyone, from fresh citruses to vegetables to fruit smoothies. Teas are also available, and the Kashmiri Chai is especially worth drinking.

The world needs more restaurants with mission statements about "good honest farmers," and, more importantly, establishments that actually follow through and provide food that matches the stated intent. Loya definitely does this, in an unpretentious, straightforward and — above all else — delicious way. It's clear throughout every plate of food that Loya serves that the staff knows and cares what they're doing, and take pains to ensure that they live up to their own very high standards.