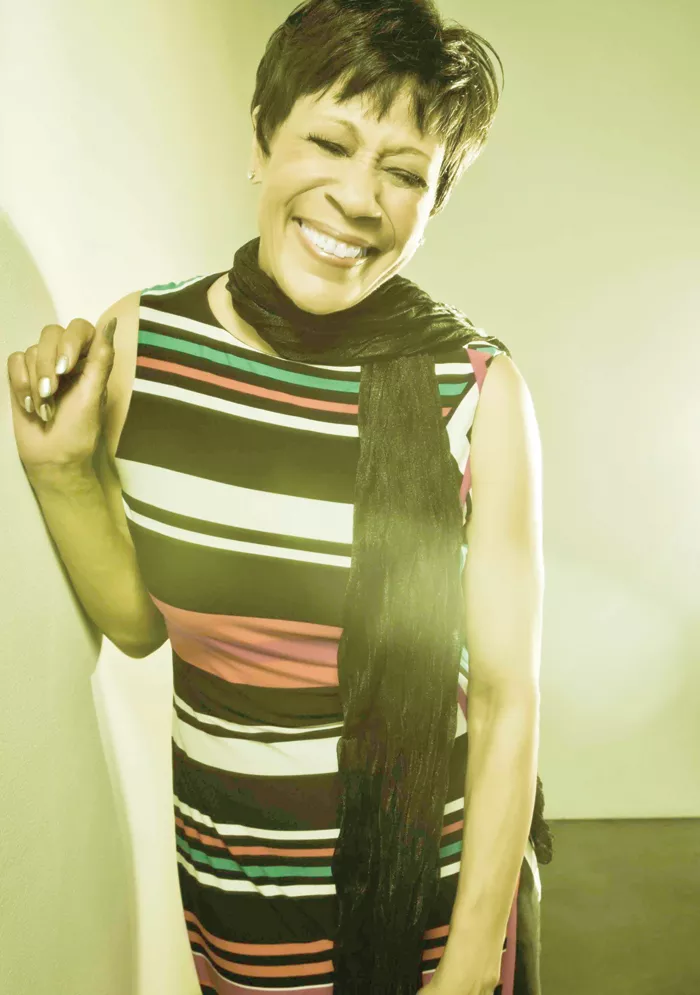 Bettye LaVette made her first record at age 16 — she's now 67 — and is the first to point out that her career hasn't been one of glamour and outrageous fortune. This R&B singer has fought and scraped for every little bit of success she's had, most of which has come her way only recently. But, as we all know, Detroit loves a fighter.
The upcoming Jan. 4 headline set at the AntiFreeze Blues Festival in Ferndale comes as she celebrates her 50th year in show business, following hot on the heels of her performances at a tribute to John Lennon in New York and the 80th birthday party of Mike Stoller (of Leiber and Stoller). Only a few years ago, she was playing for $50 a night at Bo-Mac's Lounge in Detroit.
"My career has not been one of sensation, it's been one of intermittent sensations," LaVette says. "I'm not a has-been; I'm a never-was. I took the first step in 1962 and I took the next one 10 years ago, in terms of the graduation of a career. No, I don't sing just because I love it, and I wouldn't do it for free — none of that — those days are over."
LaVette is wonderful in conversation, a glorious interviewee. She's humble but sassy — ending every other sentence with the word "baby." She laughs a lot and, rather than be bitter about having been overlooked by the masses for so long, she's simply happy that people are paying attention now.
Her voice has aged beautifully. The natural husk of age only benefits her raw, honest rhythm and blues music. "Rhythm and blues" is the tag that she bestows upon herself, by the way, and she's keen to point out that it's a label that must be earned.
"I'm a rhythm and blues singer, and Mariah Carey isn't," she says. "I say that because people seem to want to pigeonhole you, but they won't put you in the right hole. There are so many degrees of alcohol years and separation between Mariah Carey's sweet voice and mine; they couldn't be classified as the same thing. I get completely within the song when I'm singing it. It's been known to frighten some young people, not because it's so good but because it's so real."
LaVette, who performed at President Obama's inauguration gala in 2009 and has received a couple of Grammy nominations, should be known and adored by many more people. It would be tragic if people only started realizing how great she is after she's gone.
Take the '65 single "Let Me Down Easy." LaVette's voice soars one minute and purrs the next, each word practically dripping off her tongue. Performed live, the song sounds better today than it ever did, even if LaVette herself is getting tired of singing it.
"I get tired right now of the ones that I've had to sing when they were all I had," she says. "They were the only thing I had, and I had to keep singing them. But now, I have so many things to sing. I have tunes that actually identify with me."
LaVette believes that Detroit didn't have any bearing on her sound because the city didn't raise her; she left immediately after the release of her first single ("My Man — He's a Loving Man"). Her house is still here, and her daughter is an inner-city Detroit schoolteacher. Her granddaughter is a student at Western Michigan University, and her grandson recently graduated from Wayne State University and moved to New Jersey to live closer to LaVette.
"I was mostly somewhere else, most of the time, until these last 25 years," she says. "Show business raised me, not Detroit. But I know more about Detroit than anything because I knew it first and I knew it early. My attitude is that of a Detroiter, but my upbringing was cosmopolitan."
The singer's most recent album, Thankful and Thoughtful, was released last year. If you're unfamiliar with her music, it's as good a place to start as any. The record highlights the ridiculousness of her failure to hit huge, and LaVette believes the death of black radio had a hand in her journey into obscurity.
"All of my records died with black radio, other than the Northern Soul-ers," she says. "Just 10 years ago, all of the things that I've been trying to get — a husband, a record company and an agency — happened at the same time."
Over the course of her half-century career, the music business has dramatically changed. For LaVette, one thing that remains true is that "singers" should have to earn that title. She has no time for the cult of celebrity and is very clear when making the distinction between entertainer and star.
"I think that if John Legend continues exactly the way he's going, he can hang on and become a fine singer and entertainer," she says. "That's way different [than] a star. A fine entertainer and singer is somebody who's singing when they're 70. I don't think there are a lot of them. When you become a star and you are everywhere in 13 weeks, it kinda blocks out learning. If you are a star in 13 weeks, then you're a genius, and if there are that many geniuses, then we need another word because that one is overused."
The AntiFreeze Blues Festival, a wonderful event that neatly fills the otherwise dead first weekend after New Year's Day, celebrates 50 years of Bettye LaVette. The singer says she'll be putting together a set that includes songs from each of those five decades.
"We do at least a couple of tunes from at least one of my five careers," she says. "We cover everything from the most recent one to my very first recording. On this last CD, I have taken the tune "Dirty Old Town" and rewritten it so that the lyrics are about Detroit. I'll probably be doing that. I had to opportunity to do the theme on Low Winter Sun, and I also co-wrote it with the producer. That's about Detroit as well, so I'll probably be doing it just to show off. I was glad to be a part of it and to have my face associated with my city for 13 weeks, I was thrilled."
She won't, however, be looking to check out anyone else. She'll be too busy enjoying her time back in her hometown for that. "Sweetie, I wouldn't go see Jesus walk the water," she says. "I don't even know who else is on the bill. This isn't an event for me; it's another gig. It just happens to be at home. People doing stuff onstage basically get on my nerves."
The new year will see LaVette back out on the road, hopefully continuing to rope in new fans. In the "better late than never" category, LaVette is finally getting some attention for all her years of hard work, and she deserves it; she certainly won't stop enjoying it.
"Things are going so well," she says, "I'm sure I'll be able to get walkers to match my outfits."
Bettye LaVette plays the AntiFreeze Blues Fest at 8 p.m. on Jan. 4, at the Magic Bag with Laura Rain & the Caesars, the Greg Nagy Band, and RJ's Gang featuring Kenny Parker; 22920 Woodward Ave., Ferndale; 248-544-3030; $35.