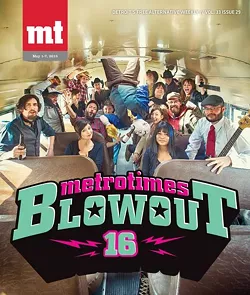 It's like short-term déjà vu. Last week was Blowout! This week is Blowout! Feeling a bit of whiplash? Never fear. We have the lowdown on some of the hottest bands that will play Blowout's inaugural second week, from the Bobby Electric to John Nelson & the New Girlfriends. And our full schedule details every one of the scores of acts scheduled to hit Blowout stages, from rock to pop to — comedy? It's all inside. See you at the corner of Nine and Woodward!
Ferndale Lineup
If variety is life's spice, this legendary lady has a range that makes her one savory dish.
by Brett Callwood
Patrick Davy finds himself playing solo but still believing in Ghosts.
by Jeff Milo
Blowout virgins the Crane Wives are diving full force into the Detroit music scene.
by Brett Callwood
The Beggars' lead singer Steven Tuthill is set to jump off the ropes and into your heart for Blowout.
by Jeff Milo
Musician-singer-songwriter John Nelson, who plays with three different bands — and has a day job — brings his New Girlfriends to the Blowout.
by Jeff Milo