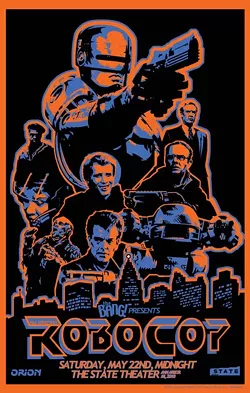 Jeremy Wheeler can'treally remember a time when he wasn't making art. One of his earliest pieces was a Santa with a bloody ax drawn on the back of a church handout. "I think I was way more into Silent Night, Deadly Night than I was 'Silent Night.'" His work is mostly inspired by movies, comics, pop art and ad art of the 1960s and 1970s, rock poster design and, most importantly, pizza.
Wheeler's education began early, first from his older brother, artist Grimbro, and then from studying his favorite comic artists, Bill Sienkiewicz and Frank Miller. He studied graphic design at the Art Institute of Pittsburgh. After graduation, Wheeler worked at various video, book and music stores, avoiding finding a real art job so he could pursue art through the creation of his own comics and zines. Wheeler's zine, Geek Monthly, was voted Best Local Zine of 2002 by Metro Times.
MT spoke with Wheeler about his art and he had this to say:
Metro Times:What inspires your work?
Jeremy Wheeler:Movies, comics, 70s ad art, 60s pop art and rock poster design, other artists who rock their own style, and an incredibly talented array of friends who are all in one way or another making the world a better place. Food also inspires me. Pizza is a great inspiration.
MT:How did you learn your craft? Are you self taught or did you receive a formal art education, if so where?
Wheeler:My older brother (artist Grimbro) taught me from a very young age. After that, it was lots of studying my favorite comic artists of the time (Bill Sienkiewicz, Frank Miller). Later I learned graphic design at the Art Institute of Pittsburgh, then worked at various video, book and music stores while ducking a real art job and creating comics & zines on the side (my zine, Geek Monthly, was voted Best Local Zine of 2002 by none other than Metro Times!). Around that time, I co-founded a dance party called The Bang! with local artist Jason Gibner and have made posters for every event we've thrown (which is well over 100 at this point). This has allowed me to make posters in whatever style I want, which is extremely liberating. I highly recommend artists throw more events just so they can create whatever art they want for it (Shawn Knight's killer posters for his band Child Bite are a great example of that).
MT: What materials do you prefer to work with and why?
Wheeler:I use only the most bootleg drawing utensils -- have for years. People think I'm nuts. Stems from my early days of raiding office supply cabinets. My hand drawn work consists mostly of Precise office pens and Sharpie markers on Bristol board. My computer art is done mainly with a Wacom tablet and a mix of Illustrator and Photoshop. Each piece dictates what method and style I end up using.
MT:Do you make art full time or do you have a day job? If so what is your day job and does it, if at all, influence your artwork?
Wheeler:I recently quit my job at the All Movie Guide after 12 long years inside a cubicle writing movie reviews and synopsis' while updating the 2nd largest movie database behind the IMDb. It was a good gig -- and the people there are great, but I burned myself out on double duty careers. My weeks now consist of freelance art and some part time work at VG Kids, the full service Ypsilanti silkscreen shop for whom I've worked with for years on my silkscreened posters. It also allowed me some time to work on Vault of Midnight's new shop in Grand Rapids, which I can't wait to make more art for. I also walk my dog, Sparky Coupon, a lot more and get to go to bed at the same time as my amazing wife (musician/librarian Mariah Cherem). It's a win-win situation. And The Bang! keeps on chugging along. Our 12-Year Anniversary party (The Dirty Dozen Bang!) is November 16.
MT:When did you start making art? What compelled you to make it? Is it the same thing that compels you to make art now?
Wheeler:I don't remember a time when I wasn't making art. My sister still tells the story of me drawing Santa with a bloody axe on the back of a church handout when I was a kid. I think I was way more into Silent Night Deadly Night than I was Silent Night. Other than horror movies, I'm really drawn to dynamic imagery. One of my favorite filmmakers is Brian DePalma, whose career is rife with style-over-substance critiques. While I always loved drawing, school gave me a love for design -- and the mechanics behind it. I'm compelled by just trying to outdo whatever I've done before. Or trying to create something new and bold that makes my brain hum in just the right way. That's when I know a piece is done.
MT:Does your artwork have a message or special meaning, or do you just like making shit that looks cool? Or is it somewhere in between? Describe your work.
Wheeler:Bold. Colorful. Dynamic. Expressive. There's really not great meaning lurking behind my stuff. I'm a pretty un-deep dude, though I could talk your ear off when it comes to design (or Jean-Claude Van Damme). I love directing the eye around. Breaking pieces of the art into shapes that interact with the rest of the piece. I like immediacy. I like absurdity. I like things to glow (literally -- I make blacklight posters with VG Kids).
MT:Do you have any upcoming shows or projects you are working on? please describe
Wheeler:I have some great stuff coming up -- some of which I can talk about and some I can't. I am included in the upcoming book Alternative Movie Posters: Film Art from the Underground, which I'm madly excited about and honored to be a part of. I also have a few fun things coming up with Death Waltz Recording Co., for whom I designed an art print for last Record Store Day (the Horror Business soundtrack by Zombi's Steve Moore). I continue to be an artist/writer contributor for Esquire. I'm also looking forward to making a new zine for the upcoming Zine Show at Vault in Ann Arbor on October 5th. Oh, and there's a Halloween Bang! in Ann Arbor on the 26th. I'm looking forward to making a shitty Judge Dredd outfit. Real shitty
Check out a new zine by Wheeler at the Zine Show at Vault 219 S. Main St., Ann Arbor on Oct. 5. Look for him in a shitty Judge Dredd outfit October 26 for Halloween Bang! at the Blind Pig, 208 S. First St., Ann Arbor;734-996-8555.
Click here to see a slideshow of Jeremy Wheeler's artwork. Click here to visit
Jeremy Wheeler's website
Katherine Montalto is Web editor at Metro Times. Send comments to [email protected]