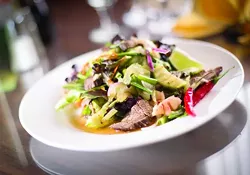 Mai's Authentic Thai Cuisine
6060 12 Mile Rd., Warren
586-751-1409
There once was a man with a dream. It wasn't the kind of dream that would change the world, but it was a dream nonetheless — a dream that could only be realized at Mai's Authentic Thai Cuisine in Warren, because that's the only place that serves the Super Bowl. For $31, you can get a punch bowl loaded with 15 pounds of pho, the signature soup of Vietnam. But that $31 price tag is waived for those strong enough — brave enough — to eat all 15 pounds in 45 minutes. This isn't some dainty soup either, friend. This soup is serious. It's served with a plate piled high with bean sprouts, peppers and basil to load into a bowl already chock-full of rich creamy beef broth, a tangled web of rice noodles, meatballs, beef slices and tripe.
The aforementioned man with a dream came into Mai's Authentic Thai Cuisine once a month — for many months — trying to conquer the mighty Super Bowl. Though he came close many times, he never realized his dream and … suddenly he stopped. The staff didn't see him for months. What became of our hero? Did he no longer like the soup? (No, this soup is just too good not to like.) Well, according to our server — who also works part-time at a gym — our hero threw in the Super Bowl towel for another dream. He got himself into a fitness program and is now half the size of his once portly self.
But don't be intimidated by these epic tales of Super Bowls; Mai's Authentic Thai Cuisine is the kind of place where you can get a nice meal that won't challenge your bravery, stamina or waistline. It's not the fanciest of restaurants but the decor inside is warm and inviting. There are golden Buddha statues in various meditative poses placed all around the restaurant. The walls are painted a deep burgundy with a golden stenciled lotus flower border. We were seated at a vinyl-covered booth by the window. The tabletop was covered in maps of Thailand and pages from the menu protected by a thick sheet of Plexiglas.
As we looked over the menu, our server brought us prawn chips, those rainbow-colored, air-puffed chips that are the Asian restaurant equivalent of complimentary bread or tortilla chips. These chips are made from a paste of shrimp, tapioca flour and water, which is cut into chips, dehydrated and then fried. When fried, they expand from thumb-sized semi-transparent chips to fluffy crackers.
Though we didn't get the Super Bowl, we couldn't resist the pho, which came in a much smaller container, though there was still enough for us to take home. (We asked for ours minus the tripe.) We've had better pho at other places in the Detroit area, but this version was still well worth the trip. The broth was rich and flavorful, the bean sprouts and peppers were very fresh, and the bowl was loaded with noodles. The meatballs were a bit bland and the beef slices weren't of the highest quality, but it was still quite good.
We also had the sweet and sour duck, which, at $12.50 for half of a bird, was the best value. The duck was served with bell peppers, tomatoes, cucumbers and onions swimming in a sweet and sour sauce. The meat was tender and juicy, and the skin was nice and crispy. The sauce was great, not too sweet. It tasted freshly made and not prepackaged.
Lastly we tried the pad Thai, the nontraditional Thai dish on which all Thai restaurants are judged. Pad Thai is originally from Vietnam and is made with pho noodles and Chinese vegetables. The dish was made popular in Thailand by Luang Phibunsongkhram, that country's prime minister during the late 1930s and 1940s. Thai spices were added and it was renamed pad Thai in an effort to reduce domestic rice consumption so that more rice could be exported. The pad Thai at Mai's was excellent. The portions size was quite large, so we had some to take home with our leftover pho. Large cuts of tender beef and plump shrimp tails were served on a bed of flat rice noodles with vegetables and cashews. The cashew portion was a bit on the light side, but there was plenty of sauce, which, even when ordered mild, had a bit of a kick to it. The spice of the sauce did not, however, overpower the great flavor, which had a hint of citrus.
If you're interested in taking on the Super Bowl challenge, you should know that no one (at least as of when we dined there) has finished it in the allotted 45 minutes. Who knows? Maybe you might realize the dream of our vanquished hero.
Katherine Montalto dines for Metro Times. Send comments to [email protected]