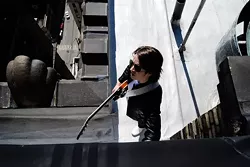 THE GHOSTS ARE not yet dead, or so says Patrick Davy. That is despite the folk-rock singer-songwriter's main performing and recording troupe, bassist Adam Padden and drummer Will Shattuck, both joined the busy touring act the Hounds Below (led by rocker Jason Stollsteimer, former frontman of the Von Bondies.) In three years, Patrick Davy & the Ghosts released three albums. Now, with his band "fragmented," Davy has, with trepidation, started playing solo.
This lifelong musician was raised in Grosse Pointe, starting on piano but quickly grabbed an electric guitar. Through his teens and 20s, he developed proclivities for earnest, edgy indie-rock troubadour types, like Jack White, Wilco (Jeff Tweedy), Neutral Milk Hotel — and especially Ryan Adams. In fact, he's been listening to Adams for a while. He's also been listening to Bach for a while, but you won't hear that on Ghost tunes.
You'll hear lots slick snarls from the fervently riffed guitar, bluesy stomping rhythms from the wild, whipping bass and the nimble percussion. And you'll hear that fine-toned, creaky rustbelt warble from our young balladeer's arching, often achy voice.
Metro Times: You just got back from New York and played a solo show. How's it been, so far, going it alone?
Patrick Davy: There is a loneliness to it, but I have always fostered that in my songwriting. There's something to be said about taking a song down to the vitals, to the very parts that make it an entity. Honestly, though, I like sneaking around with just an acoustic guitar and really playing with my voice. The Ghosts are fragmented at the moment, but maybe not over; not completely on ice.
MT: How has that impacted you: the push and pull between bands and Detroit music culture?
Davy: Sometimes groups stick through changes, sometimes they don't. It's survival, basically. The Hounds want to tour, so Adam and Will have to go for it. I'd rather focus on the positives. My music friends have all really supported me. They just helped me decide to keep playing. That's what I love about Detroit; it's supportive in a way that makes it really hard to just turn the lights off.
MT: Has your approach to songwriting and performing changed over the years? What've you learned playing clubs — alone and with bands?
Davy: Don't lose the melody or the words in the noise! It's easy to sound like everyone else. The whole city always feels like it's trying too hard. There is a sound to that, an aesthetic. Trying too hard is worse than not trying hard enough. I made two records where I was trying way too fucking hard. I've learned it's the negative space that counts. Like, to borrow a quote: "Silence is the canvas."
MT: Who have been some of your formative influences?
Davy: Here's what matters most to me: Radiohead, [Pink] Floyd, Neil Young; so many. Ryan Adams, Ryan Adams and Ryan Adams. I'm not a jazz freak, but there's the classic Miles Davis records and Brad Mehldau. I don't think I've gone a week without listening to [Mehldau's] "Highway Rider" or "Largo." His song, "Don't Be Sad," was the theme to my life for about two years.
MT: Blowout was one of the Ghosts' first shows, what was that like?
Davy: I remember playing the Whiskey in the Jar a few years ago, it was Will's first show and there was snow everywhere. The floor was all wet and I kept getting zapped by the microphone. We were after something easy then, just: get out there and play and see if people remember us.
MT: Fragmented, or solo, what do you see happening next?
Davy: I'm going to record an acoustic-driven set of songs in Los Angeles this summer. I hope to keep the Ghosts alive with the occasional gig. Topher [Horn, on keys], Adam and Will are the best group of musicians and people I have ever had the pleasure of working with. I'm going to try solo performances for now, mainly in New York and L.A. with the occasional Detroit date.
Patrick Davy and the Ghosts will be performing at 10:30 p.m., Saturday, May 4 at the Rust Belt Market, 22801 Woodward Ave., Ferndale.
Jeff Milo writes about music for Metro Times. Send comments to [email protected]