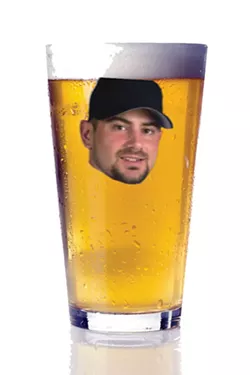 The only thing leading to more anger during the holidays than unbearable family members or mall rage is the anguish that ultimately comes with the baseball off-season. For the Detroit Tigers, another season has passed where team was again bounced before achieving World Series success. Where does that leave a team with a payroll exceeding $148 million? Seemingly back at square one and looking forward to this week's MLB winter meetings.
General Manager Dave Dombrowski has always been a calm and collected character when it comes to talking about future trades and signings. This was especially the case at the recent press conference announcing the signing of closer Joe Nathan.
Instead of laying out a grand scheme for the winter meetings, Dombrowski remained cooler than one of those multi-colored mixed drinks from Comerica Park in the middle of an Antarctic avalanche. Not a peep. Nothing.
Well, maybe I shouldn't say nothin'. Dombrowski did state that he didn't plan on signing "any of the major names that are being thrown out there." Fantastic. No immediate plans to replace Prince Fielder, Doug Fister or a nonexistent left fielder through free agency. Alright… So what now?
I've never erred on the side of caution when it comes to trusting Dombrowski. Since first bringing Pudge to the Detroit Tigers in 2004, the Tigers GM has (for the most part), used all of that Hot-N-Ready cash to build some semblance of a World Series-winning team. I have no doubt he's on the right track this year and that the trades and signings won't be complete until after the winter meetings.
In an effort to make the season a little brighter and bring some cheer, I've devised a little drinking game based on some of the potential targets for the Detroit Tigers. It's Win-Win for most situations: You get to have a drink and your beloved baseball team makes a great acquisition. However, in some cases, you end up footing the tab on an expensive drink that you didn't really mean to order in the first place (Hey, Prince!).

Shin-Soo Choo
Drink: Shirley Temple
There is a reason to drink a Shirley Temple honoring the signing of Shin-Soo Choo. It's the sweetest deal on the table that still exists for the Detroit Tigers and it would truly help to shore up the outfield. However, there is an underlying bittersweet sentiment, as Choo is two years removed from a DUI incident that occurred in Cleveland. Miguel Cabrera has seen a major post-DUI redemption in Detroit, so maybe this South Korean native can find some of the same mojo at Comerica.
Andre Ethier
Drink: Andre Champagne
A L.A. Dodger since 2006, Ethier could bring a much-needed sense of stability to the Detroit Tigers outfield. While the deal could be a stopgap for constant question marks like Andy Dirks and Donny Kelly Baby, I chose Andre Champagne as the drink of choice for a reason. This deal could help lead to some celebrations, but it could also cause more than a few headaches along the way.
Jesse Crain
Drink: Rogue White Crane Ale
The rumors about Tampa Bay relief pitcher Jesse Crain have persisted since around the time of the trade deadline earlier this year. Despite an injury that saw him not playing an inning of baseball for the Rays, this could be a simple pick-up for the Tigers that bolsters that middle of the team's bullpen. If you're worried about Bruce Rondon, a one-year contract for Crain could make you feel a whole lot better.