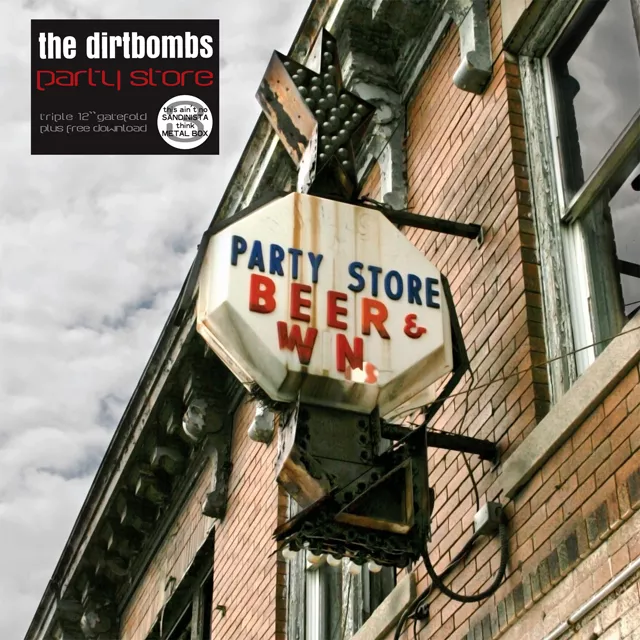 The Dirtbombs - Party Store
In the Red
Mick Collins has always seemed a little resentful of his rock 'n' roll hero status. As the Dirtbombs' frontman and member of forefront garage-ists the Gories, Collins has found himself repeatedly downplaying his relationship with garage rock specifically, insisting his musical interests lie all across the map. Perhaps as a reaction to this, the Dirtbombs became known for an arsenal of smart, if unlikely, cover songs. Their landmark Ultraglide in Black was a conceptual covers album of mostly R&B and soul songs that could mash up Curtis Mayfield with Bauhaus, while their prolific singles catalog features a range of covers from the Temptations to Adult.
Which is why it sounded surprising, but not impossible, that the band's latest LP Party Store would be an Ultraglide sequel centered on '80s Detroit techno. A decidedly self-conscious choice given the Dirtbombs' dual reputations as a "Detroit band" and a "rock band," but Party Store serves as a decent primer to the genre. Songs by each of the Belleville Three, Detroit techno's founding fathers, appear here: two songs from Juan Atkins's outfit Cybotron (regarded as creators of the first Detroit techno release), as well as Kevin Saunderson's Inner City and Derrick May's Rhythim is Rhythim.
But Party Store isn't just a history lesson. The songs that work the best strip the originals' absorption with then-new technology and cut to the hooks. Without its drum machines and samples, Cybotron's "Cosmic Cars" is reborn as an aggressive, muscular rocker. A Number of Names' "Shari Vari" stays close to the original's slinky noir-ish disco, but Collins ditches the original's digitized voice for his best Dracula impersonation. And Inner City's synth-pop hit "Good Life" is a knockout, its synthesizer track reimagined as a perfectly out-of-control guitar riff, with quite possibly Collins' best-ever vocal delivery. Overall, the collection feels right at home in the Dirtbombs' vein of sometimes dark, sometimes geeky, but always grungy pop.
That's not to say that this isn't the Dirtbombs' most sonically experimental record. The only times you might really be aware you're listening to a techno covers record may be during their inventive reinterpretations of all-instrumental electronic dance tracks, such as Rhythim is Rhythim's "Strings of Life" and Aztec Mystic's "Knights of the Jaguar." Not every experiment is perfect, though; "Tear the Club Up" sounds restrained compared to the relentless, manic stupidity of DJ Assault's version. Carl Craig's jazzy "Bug in the Bassbin" gets extended to 20-plus minutes, alternating between windstorm synthesizers, searing bursts of guitar, and a droning, hypnotic drumbeat. It's the album's most difficult track, but Craig offers the band his blessing by way of some guest synthesizer playing. For a band that has always featured two drummers and two bassists, the Dirtbombs have always gone for bigger and louder.
In the liner notes to their 2005 singles comp, Collins explained the Dirtbombs as being "a big, loud, touring kinetic sculpture masquerading as a rock band," able to shapeshift considerably while maintaining a consistent sound. The point? Perhaps that stylistic divisions — rock, soul, techno — are bullshit anyway. Collins and company have a knack for making every good song seem as though it's a rock 'n' roll song in the end. Which is why the Dirtbombs may very well be the ultimate rock 'n' roll band.