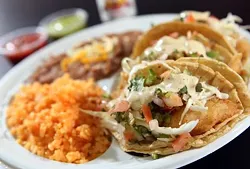 Carnival Fresh Mex
645 Griswold St., Detroit
313-223-1400
carnivalfreshmex.com
Open 7 a.m.-6 p.m. Monday-Friday; closed Saturday and Sunday.
Though there's no carnival inside, this fairly new downtown eatery lives up to its name with a menu full of tasty dishes loaded with fresh ingredients — offering a nice break from the drudgery of gray winter days. Yeah, the joint's signage may not look terrific, but, as the old saying goes, never judge a book by its cover. Sure, it's set up like a fast food joint with large backlit menus hung over an ordering counter. While the food is fast, it's not the same sadness pile slopped onto a tray masquerading as food you'll find at the big chains. Fresh Mex delivers the goods.
Most dishes come with your choice of meat, and you can choose among a wide variety of proteins, from such familiar favorites as marinated steak, chicken strips and shredded pork to more adventurous choices, including fried pork stomach. Fresh Mex also serves menudo for those lovers of beef tripe.
There's a salsa bar where patrons can load up on a mild pico de gallo, a zesty salsa verde, a red salsa with a medium burn, and hot salsa. Guacamole and sour cream are available for some extra coinage at the ordering counter.
We tried an assortment of menu items, even grabbing some breakfast before work. Is there a better way to start your day than with huevos con nopales, eggs scrambled with cactus, onion and chorizo, topped with cilantro and salsa, and served with tortillas? There isn't. What's even better is it can all be washed down with Sidral Mundet apple soda, made with real cane juice.
First, we went with the old standby: tacos. They're served taquería-style, with two or three warm corn tortilla layers to each taco. I chose the pork al pastor (pork marinated with pineapples, spices and onion) and topped it with pico de gallo. The pork was moist and tender, and the sweet pineapple flavor of the marinade went perfectly with the fresh de gallo.
The second lunch meal was the torta, a sandwich served with your choice of meat. We chose barbacoa this time, which, like the pork al pastor, was juicy and tender. The torta is made with a fresh-baked toasted bun topped with lettuce, tomatoes, guacamole and mayo. It comes with thick-cut fries, which were not as crispy as we prefer. We also picked up a couple of tamales on this trip, as well as a burrito for someone else in the office. The tamales were great, like homemade. Our office mate reported that the burrito was good but a bit bland and dry. That could very well be because we failed to grab him some salsa.
Carnival Fresh Mex is a family-run business owned by a father and his three sons. This is the family's second location; the first was in Pontiac. Asked why they chose to open up a second location in Detroit, Jason, one of the sons, said they had a four-part plan when deciding to move to the city. First, get a location downtown, which they achieved by getting in touch with Andreas Apostolopoulos just three days after he purchased the Penobscot Building. (The family business has worked with Apostolopoulos at some of his other properties.) The second step in the plan is to do a catering service, for which they have already completed a soft launch. Jason says that so far it has gone very well and they hope to launch a full catering menu soon. The third step in the plan is to have some retail items at the downtown location such as chips and handmade salsas. The final stage of the plan is obtaining a liquor license so they can serve beer and have a regular happy hour.
At the Pontiac site, the taqueria is inside a grocery store, which made it easy to always use and restock with fresh ingredients. The Detroit location gets fresh produce delivered from Eastern Market and meat from Sherwood Foods three times a week. If they ever run low on anything in between deliveries, they just bring it in from the Pontiac grocery store location.
Business in the downtown location has been doing well since opening about six weeks ago. Jason admits that the first weeks were a bit overwhelming, and they were surprised by the crowds eager to taste their wares. He says that the staff has found its groove and can work well through the lunch rush. We've been back a few times over the last few weeks and never waited longer than 10 minutes. You can call your order in ahead of time; if you can get together an order of $35 or more, they'll deliver.
Katherine Montalto dines for Metro Times. Send comments to [email protected].