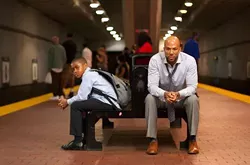 Luv C+
Heartfelt banality. Though co-writer and director Sheldon Candis and co-writer Justin Wilson's Luv follows a narrative path well-worn by all the Hollywood ex-cons who have planned to go straight only to get sucked back into their bad 'ol ways, this low-budget crime drama scores a few points for its craft and the sincerity of its performances.
Woody (Michael Rainey Jr.) is a watchful 11-year-old kid who lives with his grandmother (Lonette McKee) and recently released ex-con Uncle Vincent (Common) while mom gets clean in a drug treatment center. Though he's supposed to dropped off at school by his uncle, Woody instead spends the day with Vincent, learning "what it takes to be a man across the board." This includes getting a flashy suit, learning to drive, and accompanying him on rounds as he tries to drum up the money for his dream restaurant. Unfortunately, Vincent's meetings with his criminal mentors Mr. Fish (Dennis Haysbert, playing against type) and brother Arthur (Dennis Glover) don't yield the loan he desperately needs. They do, however, send him on an errand that drops him right back into the violent world he left behind.
"America is not a country, it's a corporation," teaches Vincent. And as nephew and uncle get caught up in ever-more-dangerous scenarios —culminating in a drug deal where Woody has to broker the exchange —we wonder whether the boy will survive, if not in body then in soul, the tough alpha-male love his uncle is offering.
Common and Rainey make for a good team. Though Vincent is portrayed as a particularly flawed man, all too willing to put his nephew in harm's way and often reacting with impulsive brutality, Common portrays him with earnest complexity, making clear that he's seeking redemption in the only way he knows how. Rainey Jr. is similarly fine as the boy who has to grow up much too quickly. Still one wonders if his story might have played better with a slightly older child.
Candis demonstrates a practiced hand in his direction, effectively framing many shots from Woody's perspective, keeping the pace brisk and, in the scenes that count, the tension taut. But there's no getting around Luv's meandering and highly formulaic script. Baltimore's gritty underbelly has been depicted with more originality and authenticity in such television shows as Homicide and The Wire, and, given the film's subject matter, you can't help but make the comparison. Worse, the dramatic wheels come completely off as the movie stumbles into its take-the-money-and-run final act.
With its top-notch all-black cast, Luv makes clear that there simply aren't enough dramas making use of actors like Haysbert, Glover and Charles Dutton, nor enough genre pictures incorporating the black experience into their narratives. If only Candis and Wilson could pen (or find) a script that matched their much-needed ambitions.